Fragile, čtvrté řadové album anglické artrockové skupiny Yes, byl pro mne vytrysklý pramen čisté nové hudební vody z hlubin země, která se životodárně etablovala na britské scéně zmítané náporem hardrocku, glamrocku, zvolna odeznívajícího blues a postpsychedelie. Z odstupem času ho řadím mezi umělecké vrcholy skupiny, kterými jsou pro mě, mimo tohoto alba, ještě Close To The Edge a Going For The One.
Příznačný název Fragile neznamená něco křehkého, zranitelného a zvýšeně opečovávatelného, ale zbrusu nové vzepnutí umělecké síly v podobě autorského přínosu, vynikajících instrumentálních výkonů, aranžérské práce a výtečných vokálních partů.
Tony Kaye, varhaník skupiny, na předešlých albech sice svůj hráčský potenciál nijak neumenšoval, ale přísnějším pohledem vzato nedosahoval takové kategorie jako ostatní hudebníci a bez ohledu na nějaké vnitřní pnutí v Yes místo opustil. Příchod Ricka Wakemana ze skupiny Strawbs znamenal významné posílení na postu klávesových nástrojů. Wakeman měl v Británii pověst mimořádně zdatného instrumentalisty, který nejen že měl vynikající techniky hry na klavír a varhany, ale navíc s jeho příchodem se na albu objevily i další klávesové instrumenty a tím se výrazně rozšířila barevná paleta zvuků, což bylo na Fragile více než patrné na první poslech.
Výtvarník Roger Dean připravil další ze svých fantasy obalů, které se staly typickým poznávacím znakem mnohých významných hudebních alb sedmdesátých let. Uvnitř byla vložena i obrazová příloha. Prostě člověk se mohl albem kochat z mnoha úhlů pohledu a přitom vnímat nejen tištěné texty zpívaných skladeb, ale především hudbu samotnou.
ROUNDABOUT – doznívající dlouhý tón, natočený v úvodu skladby pozpátku, má umocňující entrée a posluchač jakoby cítil, že přijde něco nečekaného, objevného a tak je zde navozen zvláštní až vzrušující pocit očekávání. Krásný flažolet na akustickou kytaru a procítěně nastavěné tóny, které v klasickém uchopení spíš připomenou barokní téma. Hned poté se ovšem rozběhne přesně seřízená rytmika a rockově pojednané téma. Brufordovy bicí nástroje se Squireovými přiostřenými basy jsou sledovány sekanými akordy Howeovy akustické kytary a Wakemanovy hammondky vyhrávají výrazné melodické téma. Andersonův zpěv má jasný výraz i melodickou linku a výtečně se propojuje s dalšími vokálními party. Skladba má jasnou koncepci a harmonickou strukturu a my cítíme, že kompoziční postupy byly vystavěny společně s vokálními harmoniemi přísně logicky podle nejlepších zákonů. Pečlivě proaranžované sebemenší detaily a vkládání vedlejších motivů do hlavního tématu představuje jedno z dalších stěžejních uměleckých principů. Wakeman zahraje v mezihře vynikající sólo na hammondky a v další části je tento prostor uvolněn Howeově elektrické kytaře. Radost poslouchat, jak vzájemně všechny instrumenty do sebe zapadají ve vysoké hudební estetice. Závěr je pojednán krátkým vstupem klasické akustické kytary. Jednoznačně famózní začátek!
CANS AND BRAHMS – Klasické téma vážné hudby, v níž Wakeman propojuje svou výtečnou klavírní hru s varhanními postupy. My se na chvíli vzdálíme od rockové výbojnosti a můžeme vnímat zpracování odlišného hudebního uchopení, v němž zpracoval fragment Čtvrté symfonie e moll Johannese Brahmse v necelém dvouminutovém fragmentu.
WE HAVE HEAVEN – Nádherné vokální kouzlení s téměř kánonickým uchopením harmonie. Úžasně zaranžované hlasy, které vytvářejí úžasnou bohatou melodickou linku, ale i andělské harmonie, které jsou doprovázeny akustickou kytarou bicími nástroji, percussion, bublající melodickou basovou linkou a klouzavými elektrickými ornamenty neustále se opakujícími dokola, se vzestupnou harmonickou stěnou, až se pojednou celá skladba pod nepříjemným zaskřípěním zhroutí agresívním úderem a následována úprkem lidských kroků, které už ovšem běží do následující skladby.
SOUTH SIDE OF THE SKY – Svištění větru přináší další píseň. Je výrazně rockové provenience. Howeovy kytarové party mají technickou suverenitu a elastičnost v ohýbání tónů. Spojování výrazné rytmické struktury se zpívajícím Andersonem se vynikajícím způsobem napojuje na wakemanovské klavírní struktury dodávající kompozici klasické vyznění, v němž se ústrojně propojují jemné klavírní nuance s úderností a akcenty jednotlivých obrazů harmonických proměn ve spojení s vynikajícími vokálními party vícehlasého sborového slohu. Ano, tohle je opravdové artrockové umění poučené praxí v chrámových sborech (nebo obecně, ve sborovém pojetí, které se běžný rocker pravděpodobně nikdy nenaučí). Ale je tady zpět rockové téma s řeřavou elektrickou kytarou a polyrytmickým členěním bicích nástrojů i baskytary. Howeovy kytarové party jsou jedinečné, technicky dokonalé a přestože mají rockové ostří, do hardrockových riffů se neuchylují (což je jenom dobře), také squierovské basy mají technicky bezchybně vystavěné postupy s výraznými melodickými linkami. Naechované přeznívání varhan a elektrického piana přivádí rovněž ohýbané tóny Moog synthesizeru. Velmi zajímavé!
FIVE PERCENT FOR THE NOTHING – Poněkud chaotické uchopení zvláštně vedených rytmických postupů, které ovšem mají svůj přísný vnitřní řád, dokreslují hammondky a baskytara. Mám trochu pocit, jako kdyby se vzájemně přesypávaly peníze v nějakém automatu a třídily jednotlivé mince(!?). Rytmická struktura podmiňovala Bruforda jako výtečného bubenického technika mimořádné úrovně.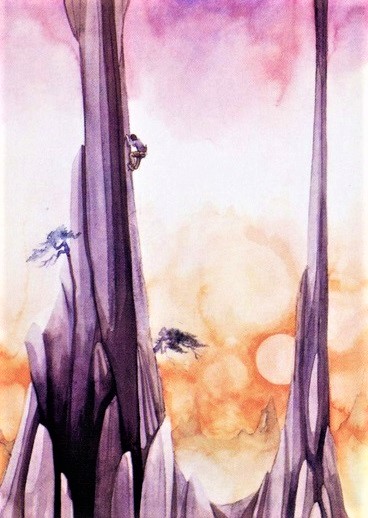 LONG DISTANCE RUNAROUND – Krásné unisono klavíru i kytary, pak už se rozbíhá rytmika a střídání postupů melodické linky se děje v řádu klasického uchopení tématu. Akcentovaný rytmus se promění do vlastní melodicky nosné skladby a rytmizované schéma se dále rozbíhá vpřed. Vynikající práce s rytmy a harmoniemi, která se dále rozvíjí. Zajímavé mezihrové téma dodává skladbě zase nový estetický ideál krásy a člověk žasne nad jednotlivostmi, páteřní harmonií a rozvíjením pobočných témat, které se vracejí zpět do základního motivu.
THE FISH (Schindleria praematurus) – Vynikající skladba s rytmickou složkou, propracovanou baskytarovou linkou, na kterou se nabaluje strojově přesná práce Brufordových bicích nástrojů a percussion. Howe nahrál do skladby výtečné kytarové party. Mění brvy pomocí wah wah pedálu i dalších přeznívaných tónových obrazů, nad kterými se vznáší klenutý andělský hlas Andersona a samozřejmě nemůžete přeslechnout výrazný basový attack Squire přes kompresor, který dává skladbě hutný základ. Vzpomínám si, jak jsem trápil profesorku latiny dotazem, co znamená Schindleria praematurus a docela jsem ji tím uvedl do rozpaků. Že se jedná o originální druh ryby miniaturních rozměrů jsme zjistili až později.
MOOD FOR A DAY – Krásná kytarová práce. Steve Howe vložil do skladby španělské téma, ale dokázal ho propojit s renesanční klasickou hudbou. Svou sólovou prezentaci vystavěl velmi citlivě, s výrazem i jemnými detaily a věrně dostál i emotivnímu názvu skladby. Jakoby se zde spojil Andrés Segovia i John Dowland a integrovali hudbu různých kultur. Howe je studovaný hudebník a z jeho hry je to krásně znát. Vynikající!
HEART OF THE SUNRISE – Divoký rytmus vypjatých basů a strojově přesných bicích nástrojů se propojí s varhanami i elektrickou kytarou. Z tématu slyším i mellotron a gradování schematické rytmické figury s sebou nese napětí jako před explozí, kterou tušíme a přemýšlíme, kdy k ní dojde. Velmi přesné prokreslované detaily a divoké eskapády tónových náletů jednotlivých instrumentů. Rockové téma ustupuje do pozadí. Prostor se otevře pro Andersonův sólový zpěv. Velebně se klene klenbou virtuálního dómu, podepřený výraznou basovou linkou. Squire je vynikající hráč a basové modulace mají jedinečný sound a barvu. Rockové téma se velmi zvolna vrací do tématu v pomalých postupech varhan, mellotronu, elektrické kytary a bicích nástrojů. Vnímáme i synthesizer, v dané době ještě ne zcela objevený klávesový instrument. To už se zase rozeběhnou divoká přediva instrumentálních kouzlení v rychlém chvatu napříč harmoniemi. Fascinuje mě ta vzájemné instrumentální propojenost do jednoho mocného celku ve velmi detailních spojeních. Klasická klavírní témata se spojují s rockovými postupy a my vstřebáváme jedinečnost těchto kontaktů jako samozřejmost. Přitom ještě před šesti až osmi lety by někdo něco takového vůbec nepovažoval za možné.
Album Fragile je skutečným uměleckým opusem par excellence. Uvnitř kapely si demokraticky poskytli vzájemný prostor pro sebevyjádření ve vlastních skladbách a tak se každý z nich měl možnost seberealizovat podle svého naturelu. Počátek sedmdesátých let do hudebních hitapádových žebříčků prosadil i některé artrockové projekty a zejména Fragile se těšilo velké přízni posluchačů, ale i nevyzpytatelných hudebních kritiků.

Yes si zde nastavili hodně vysoko laťku a přinesli na britskou a nebojím se říci světovou hudební scénu nový estetický model, který se dal jen těžko poměřovat s něčím jiným. V řadě aspektů je to předobraz dalšího vynikajícího alba, vydaném v roce 1972. Svědčí to o tom, kolik tvůrčího potenciálu a energetických sil bylo v řadách kapely. Zatímco Fragile obsahuje střídavě skladby kratší a delší stopáže, Close To The Edge už je posunutím jejich hudebních ambicí ještě víc dlouhou artrockovou suitou, která pokryla celou jednu stranu alba. Tím bych označil jistou rozdílnost mezi oběma vynikajícími projekty. Dodnes člověk nevychází z údivu, kam až se dalo v hudebních sférách zajít při zachování úžasné hráčské virtuozity, neotřelých aranžérských nápadů a vokální složky.
Pět hvězdiček bez jakýchkoliv diskusí!
SKLADBY:
1. Roundabout 8:29
2. Cans and Brahms /Brahms/Wakeman/ 1:35
3. We Have Heaven /Anderson/ 1:30
4. South Side of the Sky 8:04
5. Five Percent for Nothing /Bruford/ 0:35
6. Long Distance Runaround 3:33
7. The Fish (Schindleria Praematurus) /Squire/ 2:35
8. Mood for a Day /Howe/ 3:57
9. Heart of the Sunrise 10:34
All songs written by Jon Anderson, Chris Squire, Steve Howe, Rick Wakeman and Bill Bruford, except where noted.
SESTAVA:
Jon Anderson – lead & backing vocals
Steve Howe – electric & acoustic guitars (flamenco on 8), backing vocals
Rick Wakeman – Hammond organ, grand piano, RMI Electra-Piano, electric harpsichord, Mellotron, Moog synthesizer
Chris Squire – bass, backing vocals, guitar (1)
Bill Bruford – drums, percussion
NOTES:
Recorded at Advision Studios, London, September 1971.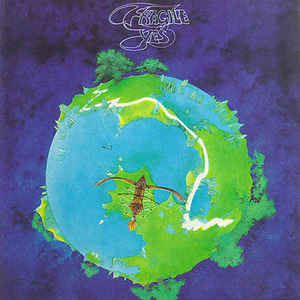 Fragile
Yes
Prog Rock
Atlantic
1971
LP
9