V Juhoslávii existovala LP platňa, ktorú po zakúpení majitelia niesli domov úmyselne bez tašky, aby každý videl, čo majú v rukách: LP s jemne ružovofialovým obalom so štyrmi písmenami na ňom – TIME.
Po prvej návšteve bývalej Juhoslávie sme sa so spevákom Dadom Topićom rozlúčili v momente, kedy po dvoch rokoch pôsobenia v Korni Grupa túto belehradskú skupinu opustil a vrátil sa do Chorvátska. Spevák, skladateľ, kapelník, rocková ikona a rebel dvakrát väznený za vyhýbanie sa základnej vojenskej službe, Adolf "Dado" Topić už v detstve zakladá svoju prvú bigbítovú kapelu Đavolji eliksiri (Diabolské elixíry). Po ukončení strednej školy nastupuje do známej Osijeckej skupiny Dinamiti a v roku 1969 prijíma pozvanie do skupiny Korni Grupa, s ktorou strávil významné obdobie svojej kariéry. Napriek skutočnosti, že spevácky post v Korni Grupa mu zabezpečilo celonárodný status rockovej ikony, Dado za mikrofónom nebol šťastný. Po boku vedúceho zoskupenia, Kornelije "Bata" Kovača sa tento mladý, ambiciózny umelec s hlavou plnou vlastných nápadov skladateľsky nedokázal presadiť tak, ako by si to on bol predstavoval, zákonite teda prišlo k odchodu. Opustiť skupinu na vrchole celonárodnej popularity mohlo ľahko vyvolať nevôľu zaskočenej mládeže ako aj nežičlivosť hudobného priemyslu. Netrvalo to však dlho a Dado všetkým pochybovačom odpovedal najlepším možným spôsobom, akým len ambiciózny umelec dokáže odpovedať. Pomocou priateľa, hudobného manažéra a producenta Vladimira Mihe Mihaljeka v roku 1971 v Záhrebe zakladá projekt, ktorý sa nezmazateľne zapísal do histórie rockovej hudby v krajine. Nová skupina dostala názov Time a k jej založeniu pozval päticu hudobníkov patriacich k vtedajšiemu výkvetu jazzovej a rockovej scény v krajine.
Gitarista Vedran Božić narodený v Záhrebe je dnes už považovaný za otca chorvátskej elektrickej gitary. V šesťdesiatych rokoch pôsobil so svojou skupinou Roboti na západoeurópskych pódiách, vo Frankfurte si dokonca zahral s Jimi Hendrixom, čo podstatne ovplyvnilo jeho ďalšiu hudobnú kariéru. Mimo pôsobenia v skupine Time hráva s rôznymi tributovými skupinami Hendrixovu hudbu, v roku 2013 so skupinou Rock Masters vydáva album Planet Hendrix. Macedončan narodený v Skopje, klávesák Tihomir Pop Asanovič si sprvoti vydobyl uznanie jazzového obecenstva. Už ako 18 ročný pracuje v západnom Nemecku zo skupinou Montenegro Five, po návrate domov ho čaká spolupráca so skvelým jazzovým vibrafonistom, Boškom Petrovićom a s jeho jazzovým big bandom B. P. Convention. Hudobný časopis Jazz Podium radí Asanoviča na 4. miesto medzi najlepšími jazzovými klávesákmi v Európe. V roku 1971 prijíma Topićovo pozvanie do skupiny Time, ale tiež pokračuje vo vlastných projektoch, hrá na desiatkach albumov rôznych rockových a jazzových formácií a tiež vydáva vlastné sólové platne. Ďalším do sixteta sa stal špičkový jazzman, basgitarista Mario Mavrin zo Záhrebu. Multiinštrumentalista ovládajúci hru na husle, bicie, kontrabas a basgitaru si už s Asanovičom zahral vo vyššie spomínanej skupine B. P. Convention. Stáva sa členom pôvodnej zostavy Time, s ktorou nahráva prvý album a hrá na úspešných vystúpeniach skupiny. Počas kariéry sa vypracoval na vrchol jazzovej elity a Chorvátska hudobná únia ho opakovane volí najlepším jazzovým basgitaristom v krajine. Bubeník Ratko Divjak narodený vo Vukovare sa stretáva s Dadom Topićom už vo skupine Dinamiti, neskôr s Asanovičom a Marvinom v B. P. Convention a po pôsobení v Time sa stáva členom iného Petrovičovho projektu, medzinárodného jazzového big bandu Nonconvertible All Stars, s ktorým vystupuje na rôznych jazzových festivaloch po celej Európe. Do dôchodku odchádza ako člen jazzového orchestra RTV Ľubľana v Slovinsku, na konte má sólový album Caravan z roku 1997. Druhým zakladajúcim členom skupiny, ktorý sa narodil v Skopje, bol Branislav (Brane) Lambert Živkovič, uznávaný hráč na flautu, klavír a elektrické piano. Na rozdiel od ostatných sa Brane angažoval hlavne vo svete filmovej hudby, počas kariéry získal viac domácich aj medzinárodných ocenení. Ako hudobný producent sa podieľa na vzniku mnohých albumov patriacich do zlatého fondu juhoslovanskej populárnej hudby a pôsobil tiež ako redaktor u hudobných vydavateľstiev Jugoton a Croatia Records.

Ako to z horeuvedeného vyplýva, aj napriek nízkemu priemernému veku členov skupiny, 23 rokov, už toho dosť dokázali preskákať a cesty sa im v minulosti navzájom prekrížili v rôznych hudobných projektoch. Po počiatočných treniciach počas aranžovania a nacvičovania nových skladieb spôsobenými nezosúladením vášní ambicióznych jednotlivcov nakoniec balkánsky temperament ustúpil a vystriedal ho umelecký prístup. Nezaškodilo, agilný Mihaljek im čoskoro vybavil u ľudí z Jugotonu nahrávaciu zmluvu. Určite mal silné argumenty, lebo propagovať speváka s krstným menom Adolf vyhýbajúcemu sa vojenčine bola i vo vtedajšej Juhoslávii silná káva. Podarilo sa a nahrávanie začalo začiatkom roka 1972. Keďže mali nacvičený materiál na kompletný album, rozhodli sa preskočiť bežné vydanie prvého oťukávacieho singla a nahrali rovno LP.  V lete sa napokon prvý album Time objavil na pultoch, zhruba v rovnakom čase s debutom skupiny Korni Grupa. Napriek Mihaljekovému vplyvu a známostiam vedenie Jugotonu neverilo, že rockový album môže byť úspešný na trhu a rozhodlo sa ho vydať iba v nízkom náklade päťsto kusov. Behom niekoľkých dní bol album vypredaný a vďaka masívnemu dopytu nasledovali ďalšie znovuvydania. Nakoniec predajnosť albumu prekonala pôvodný náklad 150 krát a ešte aj v súčasnosti prichádza pravidelne k novým reedíciam.
Album obsahuje päť skladieb napísaných Dado Topićom a trvá sotva viac ako 30 minút. Topićov silný, mačovský spevácky prejav len potvrdzuje, že nie je zbytočne považovaný za jedného z najkvalitnejších spevákov svojej krajiny v poslednom polstoročí. Samotná hudba na albume ponúka skvelo namiešanú zmes heavy prog rockovej muziky so štipkou zreteľne prítomného balkánskeho hudobného dedičstva, okorenený dávkou bluesu a jazzu. Výkonu hudobníkov niet čo vytknúť, svoje party v skvele aranžovaných skladbách odohrajú dokonale. Prvá strana platne obsahuje tri skladby. Po úvodnej hardrockovej smršti Istina mašina (Pravá mašina) nasleduje pomalý slaďák Pjesma no. 3 (Pieseň č. 3), kde sa v úvode skladby po prvýkrát predstaví flauta a neskôr príde tiež na Božićove bluesové gitarové sólo. Poslednou na strane A je skladba Hegedupa upa, rezký, bluesom okorenený hard rock so spevom bez textu, určite obľúbená skandovaná súčasť živých vystúpení skupiny. Tu sa predstaví aj hosťujúci Darko Lukač hrou na syntetizátor a mellotron. Pesničkovejšie orientovanú prvú stranu vystrieda progresívnejšia strana B, ktorá ponúka dve dlhé kompozície, sedem minútovú skladbu Kralj alkohol (Kráľ alkohol), ktorú sa im podarí začať hrať až na tretí pokus. Platňu uzatvára desať minútová skladba Za koji život treba da se rodim (Na aký život sa mám narodiť). Tu sa už hudobníci odpútali od pesničkovej formy a v inštrumentálnych častiach naplno prejavia svoje hudobné kvality. Pri základnom heavy progresívnom zvuku už aj jazzmani vystrčia rožky, hlavne v druhej skladbe sú už jasne rozoznateľné jazzrockové postupy.
Krátko po vydaní albumu sa základná zostava rozpadla, ale skupina pokračovala s rôznymi zostavami ešte do roku 1974, kedy sa konečne vláde podarilo speváka dovliecť do kasárne. Po ukončení služby Dado krátko pôsobil v Londýne, po návrate obnovuje skupinu Time a vydáva ďalšie dva albumy, Time II. (1975) a Život u čizmama s visokom petom (Život v topánkach na vysokom podpätku, 1976), tieto však už nedokázali zopakovať jedinečnosť debutového albumu a skupina končí na dlhé roky činnosť. Dado Topić nastupuje úspešnú kariéru popového speváka. V novom tisícročí sa skupina odznova dala dokopy, odohrala niekoľko pamiatkových koncertov.
Posledné reedície albumu prišli v roku 2020 na CD a v roku 2021 na LP v spolupráci vydavateľstiev Croatia Records a Jugoton. Ponúkajú voči skorším vydaniam vynovený zvuk a CD digipack skrýva rozsiahly booklet s históriou skupiny a jej členov. Naopak, nové vydanie neobsahuje bonusové skladby, ako to bolo u skorších CD vydaniach, jeden z nich je prístupný aj s bonusmi na Spotify. Je to pekný zberateľský kus, ktorému som neodolal a kúpil som si tento album už tretí krát na CD. Doslova.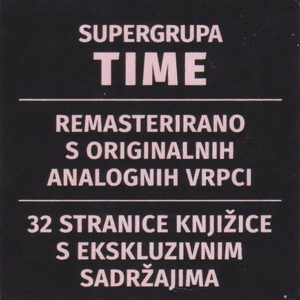 01. Istina mašina
02. Pjesma no. 3
03. Hegedupa upa
04. Kralj alkohol
05. Za koji život treba da se rodim
Dado Topić – spev + akustická gitara a basgitara (3)
Vedran Bozić – gitara, vokále
Brane Lambert Živkovič – piano, elektrické piano, flauta
Tihomir Pop Asanovič – hammond
Mario Mavrin – basgitara
Ratko Divjak – bicie, perkusie
(3) Darko Lukač – moog, mellotron
Time
Time
progrock
Jugoton LPYV S 60978
1972
LP
5
CD