V dnešnej dobe okamžitého spojenia so svetom je čoraz ťažšie si predstaviť, že kedysi neexistovala internetová sieť. V dôsledku toho bol jedným zo spôsobov, ako sa dostať k nejakým informáciám, nákup kníh. V tom čase som navštevoval aj knižnicu a čerpal vedomosti z publikácie The International Encyclopedia Of Hard Rock & Heavy Metal, ktorá vyšla v roku 1983. Napísali ju Tony Jasper a Derek Oliver. Prečo to spomínam? Pretože prednú obálku zdobí fotografia Micka Boxa v jeho prirodzenom prostredí – na pódiu. A po päťdesiatich rokoch od založenia Uriah Heep je stále tu, aj so svojou skupinou, ktorá je plná života.
Je pravda, že v priebehu tohto dlhého obdobia došlo k mnohým zmenám v zostave, ale počas rokov 1986-2007 kapela fungovala v stabilnom zložení, často aj bez podpory niektorej z nahrávacích spoločností. Phil Lanzon (klávesy) a Bernie Shaw (spev) sú v Uriah Heep od roku 1986 (už predtým začali spolupracovať v Grand Prix). Bubeník Lee Kerslake musel v roku 2007 kvôli zdravotným problémom odísť do dôchodku – nahradil ho Russell Gilbrook. Žiaľ, basgitarista Trevor Bolder zomrel v roku 2013, jeho miesto zaujal Dave Rimmer.
Keď v roku 1970 vydali svoj debutový album, v známom americkom časopise Rolling Stone ho Melissa Millsová zhodila pod čiernu zem a svoju recenziu začala slovami: "Ak táto skupina prežije, budem musieť spáchať samovraždu. Od prvého momentu viem, že ju viac nechcem počuť… " A prežila. Kapela Uriah Heep to dokázala a aj prosperovala –  v sedemdesiatych rokoch s dnes už klasickými dielami, aby sa v roku 1982 platňou Abominog vrátila vo výbornej forme…
Living The Dream je 25. štúdiový album v poradí a hoci sa tvorba skupiny v priebehu rokov viac vyleštila, stále je tu ten typický Hammond organ, zatiaľ čo Mick Box drží chrbticu hrdo vzpriamenú a odmieta sa podvoliť veku. Hoci má vyše 70 rokov, mladí gitaristi sa majú od neho ešte čo učiť. Každý fanúšik pri takej Rocks In The Road určite ocení harmónie a bude sa usmievať, pretože je to presne ten istý zvuk, aký kapela produkovala pred viac ako 40 rokmi. Na podporu albumu podnikla svetové turné, ktoré zahŕňalo vyše 60 krajín, a opäť raz zahanbila skupiny, ktoré sú služobne oveľa mladšie.
Uriah Heep stále žijú svoj sen – very 'eavy… …very 'umble – a produkujú skvelú hudbu. Living The Dream je nevyhnutný prírastok pre všetkých fanúšikov. A ak ste náhodou ešte nepočuli žiadny z ich albumov (a myslím, že je to možné), začnite kľudne týmto dielom a potom sa vráťte na začiatok sedemdesiatych rokov a doprajte si hudobnú terapiu…
A teraz všetci spolu: "Mal som len sedemnásť a zamiloval sa do cigánskej kráľovnej…"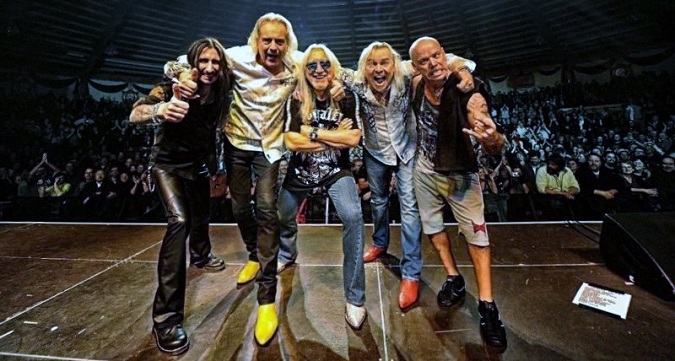 SKLADBY:
01. Grazed By Heaven (Dave Rimmer/Jeff Scott Soto) 4:31
02. Living The Dream (Mick Box/Phil Lanzon) 5:34
03. Take Away My Soul (Mick Box/Phil Lanzon) 6:13
04. Knocking At My Door (Mick Box/Phil Lanzon) 4:58
05. Rocks In The Road (Mick Box/Phil Lanzon) 8:18
06. Waters Flowin' (Mick Box/Phil Lanzon) 4:27
07. It's All Been Said (Mick Box/Phil Lanzon) 6:01
08. Goodbye To Innocence (Bernie Shaw/M. Box/P. Lanzon) 3:33
09. Falling Under Your Spell (Mick Box/Phil Lanzon) 3:24
10. Dreams Of Yesteryear (Mick Box/Phil Lanzon) 5:25
ZOSTAVA:
Mick Box – gitara, vokály
Phil Lanzon – klávesy, vokály
Bernie Shaw – spev
Dave Rimmer – basa, vokály
Russell Gilbrook – bicie, perkusie
Living The Dream
Uriah Heep
Hard Rock
Frontiers Records
2018
CD, LP
10