V roce 1980 Knopflerova družina Dire Straits vypustila do světa další, v pořadí již třetí album s názvem Making Movies. Na něm se již nepodílel doprovodný kytarista David Knopfler, ale vše ostatní zůstávalo zatím při starém. Především Markův hlas a kytara byly stále tím, co posluchače okamžitě upozornilo, aby zbystřil a zaposlouchal se do příběhů a melodií, které jsou na desce předkládány s ohromnou noblesou a neskutečným hráčským umem. A i když se po debutu jedná asi o nejrockovější nahrávku Dire Straits, objevují se zde postupy, které budou o dva roky později plně využity na albu Love Over Gold.
Album otevírá nejdelší nahrávka, již skupina do té doby vůbec vypustila do světa. Jedná se samozřejmě o neskutečně podmanivou a skvěle šlapající skladbu Tunnel of Love. Ta obsahuje všechny známé atributy, bez nichž by se hudební produkce Knopflerovců neobešla, a to zvonivou kytaru a zpěv – nezpěv pana principála. Nádherný úvod. Pokračuje se dál ve velkém stylu něžnou písní Romeo and Juliet. Ne, to nejsou věční milenci z Verony, příběh zde předkládaný je ryze současný, ale kdyby jistý pan Shakespeare žil v Británii 2. poloviny 20. století, tak by možná jeho slavné drama o nenaplněné lásce vypadalo právě takto.
Klávesy podbarvují svižnou Skateaway s nádherným refrénem, v němž naplno zazní piano, zatímco Mark jej zvýrazňuje svým typickým probíráním se strunami, při kterém mám pocit, že ten chlap ten nástroj jen tak hladí, aniž by dopředu věděl, jaká krása se bude linout z reproduktorů. Pořád je to ale rock, jak má být, čehož důkazem je řízná skladba Expresso Love. Možná to není ta nejlepší věc na albu, ale ohromně šlape a má tah na branku. Lehce zklidníme jemnou skladbičkou Hand in Hand, u níž opět zaujme to něžné mazlení se strunami. A to zklidnění je určitě potřeba, protože nás čeká největší nářez na desce.
Tím je skvělý rockový kousek skrývající se pod názvem Solid Rock. Mám dojem, že tady se jde až k té původní prapodstatě rock and rollu, kdy všechno teprve začínalo, Elvis byl král a rock byl ještě mladý, jednoduchý a svěží. Tohle by podle mě mohla být ta správná tečka na závěr. Mark to ale cítil jinak, proto ještě zazní píseň Les Boys, jež se snad zrodila v nějaké zaplivané knajpě poté, co hospodský vyhnal posledního hosta a unavená kapela si střihla na dobrou noc, či spíš dobré ráno ještě jeden kousek.
Váhám, kolik bodů mám vlastně udělit. Nakonec s ohledem na následující majstrštyk udělím čtyři a půl hvězdičky. Přece jenom tu poslední skladbu si mohl Knopfler odpustit.
Skladby:
1. Tunnel Of Love 8:05
2. Romeo And Juliet 5:50
3. Skateaway 6:15
4. Expresso Love 5:00
5. Hand In Hand 4:46
6. Solid Rock3:17
7. Les Boys 4:06
Sestava:
Mark Knopfler – kytara, zpěv
John Illsley – baskytara, zpěv
Pick Withers – bicí, zpěv
Roy Bittan – klávesy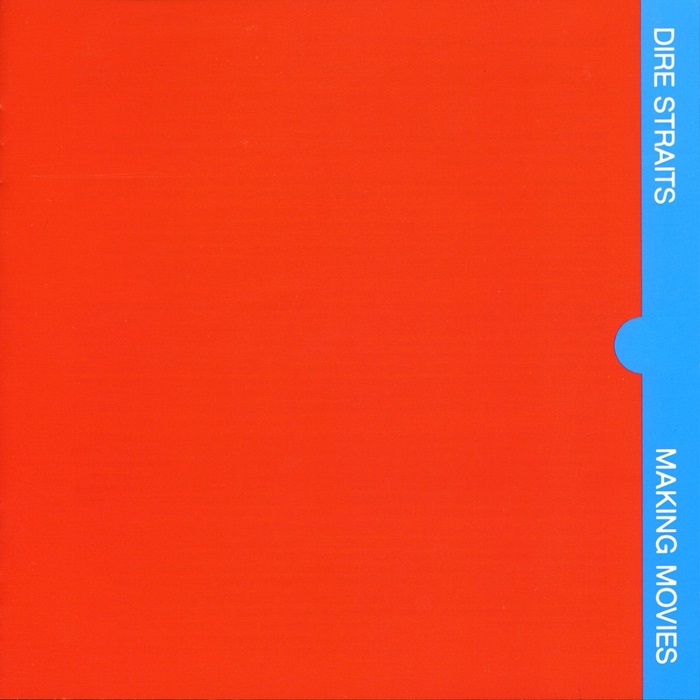 Making Movies
Dire Straits
Rock
Vertigo
1980
LP
7
CD Vertigo – 800 050-2