Pták Rosomák – druhé řadové studiové album pražského Olympiku, je skutečnou klasikou českého bigbítu. Jestliže je z historického hlediska předcházející Želva zásadnější (o tom není sporu), zdá se mně Pták Rosomák propracovanější a navíc s větším smyslem pro experiment.
Vyvážit písňovou formu dobovými úlety v časech, kdy album vznikalo, bylo hodně odvážné i na liberální konec šedesátých let, protože v nahrávacích studiích Supraphonu seděli zkostnatělí režiséři a zvukaři, kteří pro nějaké experimentování neměli pochopení a tak si myslím, že uhádat z dnešního pohledu kdejakou maličkost znamenalo svádět úporné boje s jejich netolerancí. Album se opravdu povedlo a patří do zlatého fondu českého historického bigbítu a každý pořádný fanoušek tohohle žánru by ho měl doma mít, jako názorný příklad toho, že česky zpívaný bigbít měl svoji legitimitu, ale také proto, jak se v našich podmínkách rodily první bigbítové projekty.
Jako kluk na ZDŠ, vlastník gramorádia Opereta, jsem si album Pták Rosomák koupil, společně s Želvou, singly Petra Nováka a George And Beatovens, brněnských Synkop 61, Atlantisu a prvního Flamenga. Skládal na něm "maturitu" z domácího bigbítu, proto můj vztah k němu zůstal stáložárný jako k intimní záležitosti, která ze mě nevyvanula a její písničky se mi připomínají po tolika letech jako nedotknutelná klasika.
KRÁSNÁ NEZNÁMÁ – Úderné zvonivé akordy, klasické vokální linky, bzučivý booster… Ano, to je klasický Olympic se vším všudy. Jandův smysl pro to napsat silnou melodii zde opravdu kraluje. Jenom nechápu, proč musely být do skladby přitočený dechy Karla Krautgartnera. Janda mohl místo dechové sekce vystavět silné sólo, proto musím pochválit Berkův výtečně frázující klavír a postesknout si, že tak skvělá píseň nebyla dovedena do bigbítového ideálu.
IKARUS BLUES – Tohle byl opravdový experiment. Skladba, na kterou se zapomnělo a nikdy se nehrála v rádiích. Orientální opar vytváří na sitár hrající Zdeněk Rytíř. Zazpíval si ji Ladislav Klein. Píseň má výtečný text i podmanivou atmosféru danou flétnou a hrou na cembalo. Dřímá v ní určité napětí. Výrazně vybočuje z klasického olympického repertoáru, vždycky jsem jí podléhal a učil se na ní vnímat stavbu a obsah textu, který nezpíval "jenom o lásce". Odraz doby, kdy nejen v USA, Británii a Holandsku, ale i u nás vstupovaly do hudby tajemné orientační vibrace.
BÁJEČNÉ MÍSTO – Pozvolný rozjezd dumavé skladby se zajímavou flétnou a důslednými chrastinovskými basy. Vokální stavba písně je zajímavá. Nese v sobě mlhavou melancholii a podmanivou nostalgii, která se rozsvítí zvonivými kytarami, ale zase se vrátí zpět do pohodového poklidu. Jandův pokus o scat, společně s kytarovou hrou, vyznívá docela zajímavě. Nad harmoniemi se vznáší opar modrého kouře nad virtuálním hašišovým doupětem, ale velmi zajímavě zní i závěrečné zrychlení a flétnové obrazy.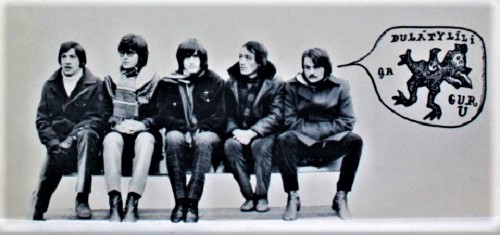 EVERYBODY – Dobrácký Jan Antonín Pacák před mikrofonem dodává porci správné legrace a emocionálního odvazu. Olympic se tady skutečně trhá z řetězu – Chrastinovy basy správně duní, tak jako jandovské pokvákávání elektrické kytary i pacákovské halekání a perfektně klasické bubenické breaky s bezchybně jednoduchým pojetím. Uvolnění emocí se zde děje v prvním plánu na velkou jedničku s hvězdičkou. Na koncertech skladba dokázala publikum zvedat ze židlí.
O PŮLNOCI – Zajímavá rytmická stavba. Bicí a baskytara jedou jako správně namazaný stroj, do kterého Janda implantoval odvázané kytarové sólo s boosterem a Klein seká akordy ve správných přiznávkách. Také Berka ukazuje, že na klavír v rockandrollovém pojetí u nás v té době neměl konkurenci. Půlnoční téma svádí k dalším experimentům, a tak atmosféra v pozadí přivádí do olympického repertoáru dobovou psychedelii.
PTÁK ROSOMÁK – Úderný bigbít od prvních tónů nabízí silnou melodickou skladbu. Pár základních akordů a přehledná melodie, na které se dalo stavět další hudební řádění, ať už v kleinovských kytarových doprovodech, Berkově výtečném klavírním tématu, Jandově zkresleném kytarovém sólu a správně šlapající rytmice. V textu Chrastina vymyslel jedno ze svých "originálních zvířátek" a poskládal dohromady osobitou zpívanou poezii na hranách humoru a absurdity, což se zde děje ve velkém stylu a velmi dobře.
TVÉ NEKLIDNÉ SVĚDOMÍ – Výtečná skladba. Znovu poukazuje na to, jaký byl Janda silný melodik a jak lehce dokázal skládat písně v přehledném sledu akordů a ve srozumitelné melodice, do které se jednoduché aranžmá dokázalo krásně trefit. Zvonivé kytarové sólo v mezihře, Pacákovo kazoo a následná odvázanost konvenovaly všem posluchačům, které Olympic dokázal strhnout k velkému odvazu v českém stylu šedesátých let. Všechno se zde děje v superpřirozeném stylu a cítíme tu vzájemnou kamarádskou a muzikantskou propojenost.
ČEKÁM NA ZÁZRAK – Mírně patetický úvod bzučivého kytarového sóla, kterému ostatní nástroje udělají prostor a Pacák zvolal něco v jadrné maďarštině. Za mikrofonem stojí Ladislav Klein. Moc se mi vždycky líbila ta mezihra s flétnou i s přesnými rytmickými akcenty baskytary a bicích nástrojů. Rozkládané akordy mají svou podmanivost a Janda se snaží vložit do písně "olympické flamenco" na kytaru. Nezní to špatně, ale raději jsem více podléhal flétnové mezihře, která mohla evokovat Jethro Tull. Vícehlasé sbory jsou aranžovány spíše ve stylu Jiří Linha Singers, než podle beatlesovských vzorů.
Z BÍLÉ ČERNOU – Další výtečný příklad jednoduché melodické stavby skladby, kdy se omílají základní akordy a přitom to nikoho neuráží a nepopuzuje. Olympic šlape jako namazaný stroj. Kytarové přiznávky i ohýbané tóny sólové kytary se správně šlapajícími dunivými basy a dusajícími bicími nástroji nám nabízejí další olympickou klasiku.
POHŘEB SVÉ VLASTNÍ DUŠE – Jestliže chceme na albu najít nějakou zcela atypickou skladbu, která výrazně vybočuje ze stylového pojetí skladatelského přístupu, tak jsme ji našli. Vedle Ikarus blues další experiment, kterého se málem zaleknete. Totálně vybočí ze všeho, co jste doposud slyšeli. Ponurý varhanní sound, hutné basy, plnotučné bubenické breaky prokreslují smyčce a Jandův dramaticky zasmušilý hlas přinášejí až depresivní stavy vyhořelého jedince (hledali jsme vždycky nějaké vysvětlení pro "nejenže má díru, ale také černou barvu má" a přemýšleli jsme, jestli se jedná o latentní erotický podtón, nebo depresivní stav). Akordická stavba netypických sestupu mě vždycky vnitřně přitahovala. Nepamatuji si, že by Olympic natočil ještě někdy podobný typ skladby.
KAMENOŽROUT ZELENÝ – Před mikrofonem Pavel Chrastina. Je poznat, že skladbu napsal baskytarista. Je to v podstatě klasická rockandrollová stavba a má zajímavou strukturu. Berka zde vypálí výtečné klavírní party, ale také Janda pořádně sešlapuje pedál wah wah a kouzlí s kytarovými tóny, zatímco Klein poctivě seká akordy. V textu lze vnímat různé zajímavé dobové konotace, které by normalizovanému Olympiku v sedmdesátých letech cenzura zatrhla. Poctivý bigbít hned v první plánu, kdy kapela hraje jako o život a udržuje napětí jako energie výbušné páry pod přitápěným kotlem.
SVATOJÁNSKÝ HAPPENING – Pavel Chrastina zůstává před mikrofonem i v závěrečné skladbě, kde se popustí uzda legráckám a bujarému veselí. Jan Antonín Pacák se zde skvěle odvazuje a dodává písni pořádnou porci humoru, kterého tehdy v Olympiku bylo na rozdávání. Napadlo mě, jak Chrastinův hlas v písni se nápadně přibližuje k barvě hlasu Pavla Sedláčka, jestli v tom byl nějaký záměr(?). Dechovkový závěr skladby byl zcela originálním nápadem. Rozloučit se v nadsázkách a humoru bylo v době natáčení, v prosinci 1968, opravdu nutné. Společnost tehdy byla v depresi z okupace vojsk Varšavské smlouvy, kteří nás přišli v létě toho roku "zachránit" a důvodu k žertování tehdy moc nebylo. Olympic fungoval v tomto ohledu jako veselá alternativa, asi to bylo zcela namístě. Na koncertech si dovolili mluvit v narážkách, kterým lidé v sálech rozuměli.
Nostalgický výlet do minulosti a příjemné pocity zůstávají. Připomínají mně řadu nepublikovatelných událostí a věcí. Pochválit musím i zajímavý design obalu alba od Jeňýka Pacáka (trochu ve stylu beatlesovského Revolveru, ale vůbec to nevadí). Prosadit tento typ obalu, stejně jako u Želvy, muselo být u zkostnatělých úředníků Supraphonu asi oříšek.


První tři alba Olympiku – Želva (1968), Pták Rosomák (1969), 3 – Jedeme jedeme (1971) – jsou relativně velmi zdařilá a odrážejí rozjásanost a krásnou naivitu šedesátých let, ale zároveň i citlivé vibrace okolního světa. Duch těchto alb přestal ve skupině přebývat po řadě personálních změn a nešťastné směrování Olympiku k angažovaným vodám nebo k přihlouplým didaktickým textům a "serióznímu" pop-rocku mě natolik odradilo, že jsem Olympic ze svého hudebního světa vytěsnil. Myslím, že starší páni budou vědět o čem mluvím. Takže, velebení jejich alb sedmdesátých, ale zejména osmdesátých let přenechám někomu jinému. Byla by to pro mě ztráta času. "Nezavinil jsem to já", ale někdo jiný.

Myslím, že členové tehdejšího Olympiku si zachovali velmi těsný vztah k tomuto dílu. O to víc překvapí, že Janda sám se k albu staví podivně vyhýbavým způsobem a říká, že se k němu nevrací, ale neví proč. Co za tím vězí? Nechce se mi na to hledat odpověď. Škoda, že nezareagoval podobným způsobem na projekty Laboratoř, Kanagom, za které by se spíš měl stydět a stavět se k nim velmi vlažně.

Mnou velmi respektovaný a uznávaný varhaník Marián Varga reagoval na dotaz, jak se dívá na tvorbu skupiny Collegium Musicum, odpověděl, že kromě Konvergencie by všechno předělal (přehnaná sebekritičnost), ale Janda ten si za svou produkcí "stojí" v klasicky sebestředném postoji dál. Dobře věděl, že ztratil klasické bigbítové publikum a Olympic byl považován za vládní kapelu, která se podbízela režimu na politických festivalech s angažovanou tvorbou velmi tristním způsobem. Možná ta ztráta bigbíťáků byla vyvážena pubertálními holčičkami a mávači zapalovači – hlavně ale prachy, jenom prachy. Pták Rosomák si ale pět hvězdiček zaslouží.
P.S.: Mojí nejoblíbenější skladbou Olympiku je skladba Anděl. Nic tak adresně neakcentuje nostalgická šedesátá léta jako tahle píseň, podobně jako Slunečný hrob od Blue Effect…
SKLADBY:
01. Krásná neznámá /Petr Janda, Pavel Chrastina/ 2:30
02. Ikarus blues /Ladislav Klein, Zdeněk Rytíř/ 5:00
03. Báječné místo /Petr Janda, Pavel Chrastina/ 4:30
04. Everybody /Petr Janda, Pavel Chrastina/ 3:50
05. O půlnoci /Petr Janda, Pavel Chrastina/ 2:50
06. Pták Rosomák /Petr Janda, Pavel Chrastina/ 2:50
07. Tvé neklidné svědomí /Petr Janda, Pavel Chrastina/ 3:30
08. Čekám na zázrak /Petr Janda, Pavel Chrastina/ 2:55
09. Z bílé černou /Petr Janda, Pavel Chrastina/ 3:45
10. Pohřeb své vlastní duše /Petr Janda, Pavel Chrastina/ 4:05
11. Kamenožrout zelený /Petr Janda, Pavel Chrastina/ 3:45
12. Svatojánský happening /Petr Janda, Pavel Chrastina/ 2:25 
SESTAVA:
Petr Janda – sólová kytara, zpěv (1, 3, 5, 6, 7, 10),
Pavel Chrastina – baskytara, zpěv (11, 12)
Miroslav Berka – piano, organ, cembalo, cymbal, foukací harmonika
Ladislav Klein – doprovodná kytara, zpěv (2, 8, 9), tamburína
Jan Antonín Pacák – bicí, zpěv (4), flauta
+
Karel Krautgartner se svým orchestrem (1)
Zdeněk Rytíř – sitar (2)
Pták Rosomák
Olympic
Psychedelic Rock, Garage Rock
Supraphon
1969
LP
12