Holandskou rockovou skupinu Shocking Blue znám z přelomu šedesátých a sedmdesátých let. Kamarád se tehdy vrátil s rodiči z dovolené v Jugoslávii a přivezl si odtamtud nějaké desky. Mezi nimi byl i singl Venus / Hot Sand. První skladba byla výrazně hitová, druhá v sobě měla určitou porci psychedelie. Kapela mě zaujala a brzy jsem slýchal jejich písně na rockotékách. Skupině vévodil eroticky podmanivý a příjemně zabarvený hlas charismatické zpěvačky romského původu Marisky Veres, který jsem už nezapomněl. S odstupem času jsem pak poznával jejich další produkci, ale ta už šla hodně směrem k pop rocku, zatímco já už objevoval jiný svět – svět progresivnější hudby.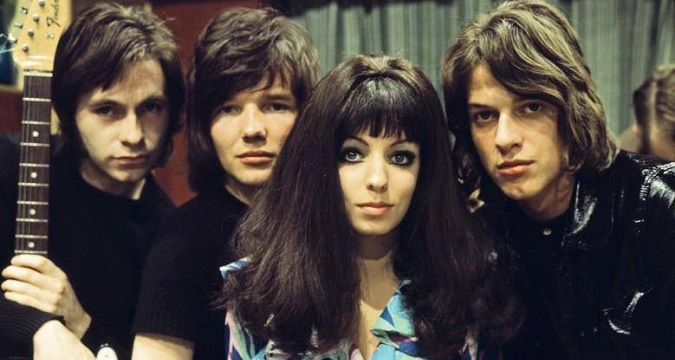 Na Shocking Blue ale dodnes nedám dopustit a myslím, že jejich první alba jsou výtečná. Srovnávat je např. s Golden Earring, Cuby And Blizzards, Focus nebo Livin' Blues by mě nenapadlo, ale tenhle písňový rock hraný s neuvěřitelnou lehkostí a silným melodickým zázemím patří do mého dospívání a přivolává dávné časy i již mnohdy neexistující jména. Album jsem si po hodně dlouhé době zase celé připomněl a moje dojmy? Tady jsou…
BOLL WEEVIL – Razantní nástup důrazného riffu a výtečně seřízená kapela rozbíhá svůj první song. Musím pochválit pořádně nadupané basy Klaasje van der Wala a odpíchnuté bicí Cor van der Beeka. Klasický rock, který nic nepředstírá, naopak zde máme průkazně zakotven starý dobrý rock and roll, který muzikantům kdysi sloužil jako světlo do tmavého tunelu, při prozkoumávání hudebního terénu.
I'LL WRITE YOUR NAME THROUGH THE FIRE – Pomaleji plynoucí skladba. Kytarista Robbie van Leeuwen používá elektrické vibráto, které bylo typické pro konec šedesátých let a jeho tetelivý dozvuk posouval sound kapely k mírné psychedelii. Píseň stojí na výrazném refrénu s podmanivým vokálem Marisky Veres. Nepochybně se jednalo o dobře produkovaný hit. Mimochodem, tuhle skladbu natočila na singl Pantonu dnes zapomenutá karlovarská skupina Metronom pod názvem Chci ohněm psát tvé jméno. Zpívala ji Jitka Hornofová. Kapela byla dobře sehraná, ale zanikla za prvních normalizačních let. Možná ji nějaký rocker z Karlových Varů bude pamatovat.
ACKA RAGA – Trochu víc experimentu přichází ve skladbě, přivolávající opar indického subkontinentu. Je tady sitár, tabla, bonga, hypnotický rytmus a důrazné basové linky. Instrumentální záležitost, která má svou sílu a přesvědčivost, aby do sebe vtáhla vnímavější posluchače. Také tu trochu voní marihuana a možná i LSD. Orientální přívěsky se v Británii od beatlesovského alba Revolver ujaly a řada kapel se jim nebránila. Myslím, že tohle byla hodně zdařilá věc, která se mohla hrát na nekonečných mejdanech až do ranního kuropění.
LOVE MACHINE – Rockově pregnantnější skladba se zrychleným rytmem bicích a výtečnou melodickou baskytarou. Robbie van Leeuwen tady nabídne rozostřené kytarové party ve dvojím provedení. Ty první jsou ornamentické a druhé vytvářejí hadovitou melodickou linku doprovázenou potlačenými klavírními party a dusajícími rytmickými akcenty. A samozřejmě opět Mariska svým bezchybným hlasem s mocným feelingem a emocí. Klasické rockové postupy, které nás vracejí do nejlepších časů rozevlátých šedesátých let.
I'M A WOMAN – Rockový šlapající hit s velmi čitelnou melodickou linkou a propracovaným aranžmá jednotlivé instrumentace, ve které Leeuwen vedle elektrické kytary opět hraje svoje bloudivé tóny na sitár. Rock jako bič. Dokážu si představit, že by Mariska mohla zpívat i soul, kdyby měla patřičný repertoár. Myslím, že její prolínání v popové, rockové, mírně psychedelické a řekněme až soulové poloze vytváří velmi soustředný kruh, který se dokáže otáčet vlastní energií.
VENUS – Pravděpodobně nejslavnější hit na albu, možná i v rámci celé kariéry Shocking Blue a Marisky Veres. Geniálně vymyšlená melodická linka si jedinečným způsobem podává ruku s rytmickými základy. A tak tady perfektně sázené akordy pumpují společně s basy. Leeuwenova kytara v mezihře má málem countryový timbr v klouzavých sjezdech. Je tady také elektrické piano, které výrazně dotváří melodickou linku. Mariska zpívá na plný plyn a když otevře svůj krásný vokál, leze mě mráz po těle. Dokonale vymyšlený riff, na kterém skladba stojí. Tuším, že na Slovensku vytvořila některá tehdejší zpěvačka slovenskou verzi(?). Je to vtíravý hit, ale myslím, že mistrovsky zpodobněný a strhující svou bezprostředností a emocionalitou. Paráda!
CALIFORNIA HERE I COME – Dravější rockový příspěvek s řařavou elektrickou kytarou, která se prořezává opakovaným riffem do melodicky šlapající skladby s několika dobře vypreparovanými rytmickými breaky. Tady je také cítit ten vliv psychedelické scény, ale spíš americké a myslím, že píseň by mohla klidně zpívat i taková Grace Slick a hrát Jefferson Airplane. Ostatně jsme v Kalifornii, jak nám připodobňuje název. Další příklad klasického rocku a znovu musím pochválit basu Klaasje van der Wala a zdaleka ne naposledy.
POOR BOY – Shocking Blue hned od začátku ukazují, že nejsou "pouhými" doprovazeči krásné zpěvačky a nabídnou dobře vypilovanou instrumentální skladbu. Prostor zde výtečně ovládne Leeuwen na elektrické a akustické kytary. To prolínání je opravdu velmi nosné a protirytmické postupy sem zavádějí psychedelickou atmosféru ve velkém stylu. Možná vliv raných Pink Floyd nebo The Pretty Things(?), ale stále s velkou měrou vlastního názoru. 
LONG AND LONESOME ROAD – Ano, tady bych řekl, že Shocking Blue dosáhli vrcholu Parnasu. Spojení rocku a psychedelie v pořádném dynamickém nápřahu. Kapela hraje výrazněji hlasitěji a pomáhají jí k tomu wah wah, varhany a zpožďovaný sound. Hardrockový předobraz s psychedelickým rockem a basy jako pneumatické kladivo. Dravé, syrové a tajemné až šamansky čarodějné. Mariska ryčnému doprovodu stačí v každém případě. Navzájem se nijak nepřekrývají, ba naopak dotvářejí jedinečný obraz hudby, který mě zcela dostává. Fantazie!
LOVE BUZZ – Basové a kytarové party mají téměř minimalisticky opakující se model, do toho doznívá bzukot sitáru. Tohle je pořádně spletená hudební pavučina. Netvrdím, že Leeuwen je sitárový virtuos, ale zdařilo se mu výtečně propojit tenhle exotický nástroj s rockem, teď navíc Cor van der Beek rozběhl divoký rytmus a pořádně šlápl do dynamiky. Nicméně po tomhle řádění se vracíme do původního schématu. Mariska Veres vypadá jako kněžka nějaké sekty, která svým hlasem dokresluje zvláštní tajemnou, ale výbušnou atmosféru. Opět je tady sitár a jeho tetelivý závěr na konci skladby. Zajímavý příspěvek!
THE BUTTERFLY AND I – Sitár na albu zdomácněl a tak ho máme i v závěrečné skladbě. Tady ta hippieovská atmosféra léta lásky roku 1967 je hodně adresná. Prolínání Grateful Dead, Quicksilver Messenger Service, Jefferson Airplane, Moby Grape, Spirit, Love, ale v čemsi i britští Traffic. Vstupuje sem důrazná dechová sekce velkého orchestru s čarodějným dozvukem, což by nikdo nečekal. Pronikavé sólo na trubku, řeřavý zvuk kytary a protahované tóny dechové sekce sem vstupují jako u Blood Sweat And Tears nebo Electric Flag(!). Pokud chtěli Shocking Blue mezi svým zvláštně ovoněným rockovým písničkářstvím překvapit, tak tady sem jim to dokonale podařilo.

Kdo má rád návraty a navíc ve velkém, ale upřímném stylu, tak pro toho album At Home mohu zcela doporučit. Nudit se nebude a navíc ho uhrane hlas charismatické zpěvačky s velkýma černýma očima – opravdový sex-symbol. Muzikantsky poctivé, s řadou překvapivých instrumentálních a rytmických okamžiků. Hudba z doby, kdy kapela mohla mít rockovou identitu a přitom se nemusela stydět za písňovou orientaci pro širší publikum, tedy alespoň takhle tuhle hudbu vnímám já. Řekl bych tak čtyři a půl hvězdičky, ale slabost pro kapelu a hlas krásné Mariska mě pohlcuje, proto unesen těmito aspekty dám pět!
SKLADBY:
01. Boll Weevil (2:40)
02. I'll Write Your Name Through The Fire (2:50)
03. Acka Raga (3:10)
04. Love Machine (3:15)
05. I'm A Woman (3:00)
06. Venus (3:07)
07. California Here I Come (3:15)
08. Poor Boy (4:50)
09. Long And Lonesome Road (2:44)
10. Love Buzz (3:40)
11. The Butterfly And I (3:50)
SESTAVA:
Mariska Veres – vocals
Robbie van Leeuwen – guitar
Klaasje van der Wale – bass
Cor van der Beek – drums
At Home
Shocking Blue
Psychedelic Rock
Metronome / Pink Elephant /Germany/
1969
LP
11