Keby sa ma niekto spýtal, ktorý jediný album z celej československej rockovej produkcie by som si zobral na pustý ostrov, bez váhania by to bolo vrcholné dielo Oldřicha Veselého & spol. Album, ktorý je lepší, ako väčšina toho, čo vydali ELP a lepší, ako mnohé produkty mojich životných obľúbencov YES. Sluneční Hodiny  vznikli v čase, keď ELP mali zenit svojej tvorby už za sebou a YES tápali v personálnych i koncepčných problémoch a začínajúcich právnych sporoch o používanie loga skupiny. Že je to sila a prehnané tvrdenie??? Stojím si za ním!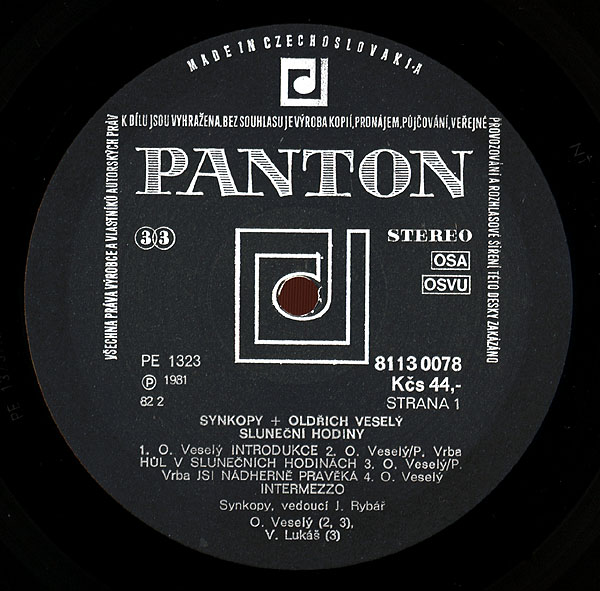 Toto je "moja šálka čaju", na ktorú som bol vždy, od prvého počutia, hrdý. Toto dielo ma, dovtedy trochu snoba, mysliaceho si, že len britské skupiny môžu tvoriť zásadné albumy art rockového sveta, definitívne naštrbilo a prinútilo akceptovať aj talent a invenciu domácej progresívnej scény.
Dosť evidentne tu cítiť inšpiráciu práve dvoch vyššie spomenutých britských kapiel, ale skupine SYNKOPY sa podaril husársky kúsok. Na dominantnom klávesovom podklade, v réžii Oldřicha Veselého, vystavala art rockové dielo, kde sú aj prvky slovanskej (moravskej) spevnosti. Isteže, štandardným handicapom celej dosky je typický syndróm slabšieho technického vybavenia socialistických hudobných štúdií, ale to už dnes nikto nezmení a muzikanti sa s tým (aj na tomto albume) popasovali celkom statočne. Album obsahuje momenty len veľmi dobré, alebo výborné, slabiny na ňom v zásade nepočujem. Slovanský art rock najvyššej úrovne.
Dynamická kompozícia Hůl v slunečních hodinách, decentne sláčikmi obohatená Jsi nádherně pravěká, ďalej Černý racek so silným, takmer, hitovým motívom, Klávesové extempore, voľne prechádzajúce do skladby Vodopád, za to by sa určite nehanbil ani Keith Emerson alebo Rick Wakeman. Toulka je oblá je dôstojným finále tohto art rockového koncentrátu.

Možno toto moje "vyznanie" vyznieva euforicky, ale tak to cítim ja, je to jeden z absolútnych vrcholov československej rockovej tvorby, v žánri art & prog nepochybne – vrchol najvyšší.

Poznámka na záver: Ku cti CD verzie albumu (Bonton, 1999) slúži, že na ňom nie sú "doplácané" žiadne bonusy, ktoré by (ako napr. v prípade reedícií albumov Blue Effect) zbytočne narúšali prirodzenú, pôvodnú koncepciu tohto DIELA…
SKLADBY:
1. Introdukce 2:54
2. Hůl v slunečních hodinách 6:04
3. Jsi nádherně pravěká 8:21
4. Intermezzo 2:14
5. Černý racek 7:41
6. Klávesové extempore 4:03
7. Vodopád 3:39
8. Toulka je oblá 7:28
Hudba – Oldřich Veselý
Texty – Pavel Vrba
NOTES:
Nahrané v štúdiu OPUS, Pezinok, 1981.
Aranžmány – Synkopy
Cover – Jaroslav Staněk
Photo – Josef Kratochvíl
Spolupráca na realizácii – Vladimír Mertlík
Hudebná réžia – Martin Burlas 
ZOSTAVA:
Oldřich Veselý – Micromoog, ARP Omni, Clavinet, Fender piano,organ, piano, vocals
Vratislav Lukáš – acoustic guitar, Micromoog, Clavinet, cello, vocals
Pavel Pokorný – Micromoog, ARP Omni, organ, Fender piano, violin, vocals
Emil Kopřiva – electric guitar, vocals
Petr Směja – electric guitar
Jiří Rybář – drums, percussion, moog synthesizer, vocals, leader 
Sluneční hodiny
Synkopy & Oldřich Veselý
Art Rock, Prog Rock
Panton
1981
LP
8