Zmapovať históriu skupiny pôsobiacej v 70-tych rokoch v hádam najviac od okolitého sveta izolovaného, komunistami ovládaného Rumunska vôbec nie je jednoduché, ešte aj v súčasnosti sú informácie málo dostupné, to málo je skúpe na detaily a náramne si protirečia.
Napriek rockovej hudbe nepriaznivým podmienkam v krajine sa na začiatok siedmej dekády rocková scéna dokázala presadiť a dokázala dať hudobnému svetu niekoľko zaujímavých skupín a interpretov. Jednou z nich bola skupina Progresiv TM založená v Temešvári, hlavnom meste historického regiónu Banát. Tých naozaj málo faktov a detailov o skupine, ktoré som našiel online, bolo neskutočne protirečiacich si a nepresných, tak som sa tu teda aspoň vynasnažil tieto kúsky mozaiky usporiadať do akéhosi logického časosledu a vytvoriť aký taký profil skupiny.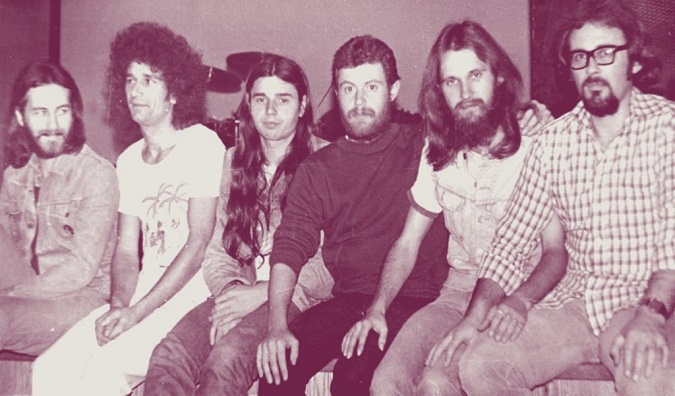 Skupina vznikla v októbri roku 1972, pôvodne menom Classic XX, avšak po necelom roku, v apríli 1973, vraj inšpirovaná maďarskou skupinou Locomotiv GT, si mení meno na Progresiv TM. Čítal som však aj názor, že skratkou mena Progresiv Timișoara len dali najavo, že hrajú progresívnu hudbu miestneho pôvodu. Zakladajúca zostava bola nasledujúca: Harry Coradini spev, Ladislau Herdina gitara a vokál, Zoltán "Zoli" Kovács na basgitare, Helmuth "Hely" Moszbrucker bicie a Ștefan Péntek na klávesoch. Po úspešnom debute v divadle rodného mesta sa v roku 1974 Progresiv TM vydávajú na turné po krajine a na pódiách hrajú vlastný hudobný program nazvaný Acest pămînt (Táto zem). U štátom riadeného monopolného vydavateľstva Electrecord im vychádza singel s vlastnými pesničkami a rok na to tiež dvoma pesničkami prispejú na LP s názvom Formații de muzică pop – 1., prvá časť série venovaná mladým skupinám rumunskej populárnej hudby. Tieto nahrávky boli ešte viacmenej populárne pesničky poplatné svojej dobe, hrané v rádiách so zámerom osloviť čo najväčšie množstvo poslucháčov. Výrazný posun smerom k nekomerčnej rockovej hudbe prišiel nástupom flautistu Gheorghe Torza, následne zmenami v zostave, keď Kovácsa na basgitare vystriedal Ilie Ștepan, známa osobnosť rumunskej rockovej scény stojaca pri zrode heavy metalu v krajine. Pénteka vystriedal klávesák a perkusionista Mihai Farcaș. Nová zostava v roku 1975 nahrala a vydala album veľavravným názvom Dreptul de a visa (Právo snívať), ktorý sa zaradil medzi legendárne nahrávky socialistického bloku a po politických zmenách v 89-tom si vydobyla uznanie i progrockerov v zahraničí. Krátko po nahratí platne sa zostava rozpadá. Coradini a Herdina cestujú do Bukurešti, kde obnovujú aktivitu skupiny a spolu s členmi skupiny Roșu și negru (Červený a čierny), Liviu Tudan basgitara, klavír, spev, Florin Ochescu, sólová gitara a Dumitru Bădilă bicie, ktorý bol neskôr vystriedaný  Ion Cristian "Călare"-om, vytvoria supergroup, ktorého spolupráca vyvrcholila zhudobnením epickej básne Ion Heliade Rădulescuho, Zburătorul (Leták), texty ktorého však boli odmietnuté cenzúrou, museli byť prepísané, našťastie hudba však zostáva nedotknutá. V roku 1977 Progresiv TM vydávajú svoj druhý album, koncepčné dielo Puterea muzicii (Sila hudby). Skupina sa následne znovu rozpadá, Coradini odchádza do zahraničia a Herdina sa vracia do Temešváru a začiatkom 80-tych rokov miestnymi muzikantmi zakladá do tretice skupinu Progresiv TM, hudba tejto novej zostavy však už s progresívnym rockom nič spoločného nemá, hrajú hudbu, ktorá im zabezpečí v Ceaușescuovom Rumunsku obživu na pódiách.
Dreptul de a visa, prvý album skupiny, nesie charakteristické črty klasického progresívneho hardrocku prvej polovice sedemdesiatych rokov. Pre všetkých 7 skladieb albumu sú výstižné náročné hudobné úpravy, dlhé inštrumentálne pasáže, ktorým kraľujú sóla jednotlivých nástrojov a spievaných častí so zdatným Coradiniho speváckym výkonom v rumunštine. Možno povedať, že celkovému vyzneniu albumu vládne Herdinova hra na gitaru, ktorá znie nekompromisne tvrdo ako žula a jeho hra je ovplyvnená gitarovými riffmi Tonyho Iommiho, predstaví sa aj niekoľkými skvelými gitarovými sólami. Veľký podiel na výslednom znení nesie tiež Torzova hra na flautu, pomocou ktorej sa zaTULLáme do progresívnych až artrockových sfér. Výrazná a vždy prítomná je v skladbách aj Ștepanova basgitara, predsa len v jeho osobe skupina mala v zostave pána muzikanta, už v tej dobe považovaného za majstra svojho nástroja. Hra bicmena Moszbruckera pôsobí sebavedomo a spoľahlivo, odbubnuje celý svoj set bezchybne, miestami ho podporuje Farcaș svojimi perkusiami. Coradini si hravo poradí s rolou sólového hardrockového speváka. Jeho rumunština neznie neprirodzene, možno aj vďaka podobnosti k taliančine, na ktorú si milovníci progresívneho rocku už určite zvykli.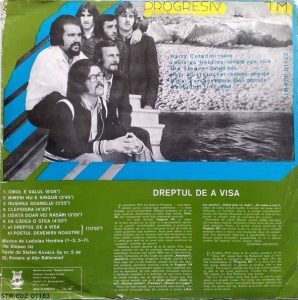 Prvá skladba Omul e valul (Muž je vlna) nám akoby rovno chcela hudobne prezentovať hore uvedenú charakteristiku albumu, po začiatku ako od Black Sabbath nasleduje dlhá inštrumentálna pasáž dávajúca priestor sólu na flaute a gitare a ku koncu návrat k nekompromisnému hardrocku. Nimeni nu e singur (Nikto nie je sám) je naopak dobrým príkladom ich melodickej a pesničkovej tváre. Tretia skladba, Rușinea soarelui (Hanba slnka), ponúka peknú flautovú tému a ďalšia, Clepsidra (Presýpacie hodiny), je návrat k hardrocku, v strede skladby zaznie krátke basgitarové sólo, po ktorom nasleduje spolupráca flauty a perkusií znejúce až psychedelicky folkrockovo. V piesni Odată doar vei răsări (Raz sa postavíš) sa spevák prezentuje krátkym monológom a ku koncu zaznie zaujímavý dialóg medzi basgitarou a flautou vystriedaný gitarovým sólom. Va cădea o stea (Padla hviezda) nesklame, je to hardrock ako remeň s ďalším výborným sólom na flautu. Album končí 11 minútovou kompozíciou, ktorá je rozdelená do dvoch častí, Dreptul de a visa / Poetul devenirii noastre (Právo snívať / Básnik nášho života). Ide o pravý rockový diamant, tvrdý progrock miestami s náznakmi džezrocku. Album Dreptul de a visa je naozaj vydarené dielo a od začiatku do konca je cítiť, že muzikanti sa snažili využiť všetky možnosti dané ich situáciou v prostredí a dobe, ktoré skutočne nežičili domácej rockovej scéne.
Albumu sa ešte nedostalo oficiálneho cd vydania. Naopak, pirátskeho sa dožil hneď niekoľkokrát. Moje je z roku 2007 od Amerického Global Records a pýši sa zavádzajúcim podnázvom 24 bit Digitally Remastered. Booklet nič neponúka, iba zostavu skupiny, názvy skladieb a jednu z mála zachovaných fotiek členov Progresiv TM.
Omul e valul 6:08
Nimeni nu e singur 3:47
Rușinea soarelui 3:27
Clepsidra 4:32
Odată doar vei răsări 3:28
Va cădea o stea 4:22
Dreptul de a visa / Poetul devenirii noastre 10:50
Harry Coradini – spev, vokál
Ladislau Herdina – gitara, vokál
Ilie Stepan – basgitara
Gheorghe Torz – flauta
Mihály Farkas – perkusie, klávesi
Hely Moszbrucker – bicie
Dreptul de a visa
Progresiv TM
progresívny rock
Electrecord - STM-EDE 01183
1975
LP
7
CD Global Records GLR001