Nemecká skupina Faithful Breath, založená roku 1967, má zaujímavú históriu a vďaka hard & heavy albumom, ktoré zaznamenala v 80. rokoch minulého storočia, ju možno nájsť vo všelijakých tvrdších encyklopédiách. Začiatky však boli úplne iné a prvé 2 štúdiovky ponúkajú progresívnu porciu rocku. Debut Fading Beauty (1974) sa z časti nahrával aj v kolínskej katedrále. Ja však upriamim pozornosť na dvojku.

Po personálnych výmenách, ktoré sa udiali po vydaní prvej LP, kapela v priebehu rokov 1977-1978 pripravila jej nasledovníka, dielo Back On My Hill, ktoré bolo pripravené na vydanie už v januári 1978. Dokonca ho predstavila aj na rozhlasovej stanici WDR2, avšak problémy s vydavateľskou firmou Alladin zapríčinili, že jeho oficiálne vydanie sa neustále odsúvalo. Nakoniec album vyšiel až v roku 1980 zásluhou Sky Records.
Ako som spomenul v úvode, bavíme sa o progresívnej nahrávke, spievanej v anglickom jazyku. Odštartuje ju titulná balada, ktorá ma totálne pobláznila už pri prvom kontakte a úplne som jej podľahol. Vyzdvihnem skvelý výkon speváka Jürgena Renfordta, jeho vokál je ozdobou LP. V Keep Me Away sa poriadne pritvrdí, akoby sa kapela pripravovala na budúce hard rockové časy. V trojke sa koncepcia platne vráti k zasnenej atmosfére z úvodu. Samotný názov skladby, This Is My Love Song, môže vyvolávať dojem, že pôjde o obyčajný gýč. Dovolím si tvrdiť, že tomu tak nie je. Pre zaujímavosť, pieseň mala u hudobných fanúšikov veľmi pozitívny ohlas. Na rádiu WDR, kde dlhé roky prebiehala týždenná hitparáda pod názvom Schlagerrallye, ju svojím hlasovaním posunuli štyrikrát na 1. miesto a v celkovom bodovaní za rok 1980 obsadila 7. priečku, čo je v konkurencii, akú predstavovali napr. ELO, Styx, Pink Floyd, Queen, Rainbow a ďalší, určite pekný úspech.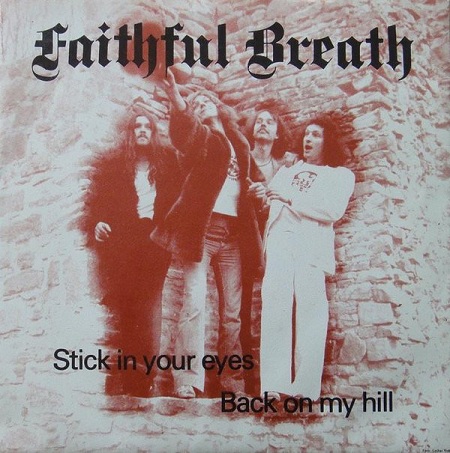 Stick In Your Eyes pokračuje v načatej atmosfére. Táto pieseň vyšla už v roku 1977 na A strane singla, béčko ponúklo Back On My Hill. Vlastne, okrem záverečného 17-minútového eposu Judgement Day, sa aj ostatné skladby objavili na malých platniach. A Súdny deň? Ako sa na takú dlhú stopu patrí, prinesie všetko možné – zmeny tempa, pokojné a rýchlejšie pasáže, kľudnejší i vypätý vokál, jednotlivé nástroje sa vybláznia do sýtosti, na svoje si prídu milovníci mellotronu i symfonického rocku. To však platí pre celú LP.
Za Back On My Hill vzdávam Faithful Breath poklonu – veľmi pekné dielko! Myslím, že by mohlo osloviť priaznivcov takých spolkov, akými sú napr. Barclay James Harvest, The Moody Blues, Fantasy, Spring… Po jeho zverejnení však prišlo k obrovským zmenám. Hneď traja hudobníci sa rozhodli pre odchod; klasicky vzdelaný klávesista Manfred von Buttlar, bubeník Jürgen Weritz a spevák Jürgen Renfordt. Basák Horst Stabenow a gitarista Heinrich Mikus, obaja zakladajúci členovia skupiny, pribrali nového bicmena a svoj hudobný kompas nasmerovali na hard rock a heavy metal, čím  vlastne započali 2. etapu histórie Faithful Breath.

SKLADBY:
1. Back On My Hill (5:38)
2. Keep Me Away (3:54)
3. This Is My Love Song (2:54)
4. Stick In Your Eyes (4:41)
5. Judgement Day (16:54)
ZOSTAVA:
Jürgen Renfordt – vocals, backing vocals
Heinrich Mikus – guitar, backing vocals
Manfred von Buttlar – keyboards
Horst Stabenow – bass
Jürgen Weritz – drums
Back On My Hill
Faithful Breath
Prog Rock, Symphonic Rock
Sky Records
1980
LP
5