Mottom poľskej novoprogresívnej skupiny Osada Vida je krátky príbeh:
"Na území súčasného Beninu (štát na západnom pobreží Afriky) je malá dedina. Jej obyvatelia žijú ďaleko od civilizácie, ale v dokonalej harmónii. Svojich novorodencov dávajú k pytónom, ktorí na ne dohliadajú a ochraňujú ich pred nebezpečenstvami buša. Táto dedina sa volá OSADA VIDA."

Pri zrode skupiny v r. 1997 stáli dve osobnosti – Adam Podzimski (bicie, perkusie) a Lukasz Lisiak (basgitara, programovanie, spev). Obaja mali rovnaké hudobné chúťky. Presvedčili tretieho priateľa, Blazeja Kubicu, aby sa k nim pridal. Nemali vopred pripravenú koncepciu a štýl hudby, akú chcú hrať. Ich krédom bolo potešenie z hrania a radosť z počúvania. Avšak neboli spokojní so soundom, chýbal im plnší zvuk. Preto skupinu doplnili o ďalších troch členov: klávesáka Rafala Paluszeka, speváčku Magdu Hajda a sólo gitaristu Luca Juraszeka. Každý muzikant je odlišná osobnosť, našli však spoločnú reč a dali niečo zo seba, čo sa stalo charakteristické pre hudbu Osada Vida.
Spočiatku každé dva roky vydali nový štúdiový album, počnúc debutom Moment Krytyczny (Critical Moment, 2000), nasledovalo CDS W Drodze na Ksiezyc (Heading For The Moon, 2002) a potom album Osada Vida (2004).
Pozitívne hodnotenia, koncerty a predaj CD ich inšpirovali a dali im novú energiu. Napriek tomu, Magda Hajda a Luca Juraszek opustili skupinu, aby sa venovali iným žánrom hudby. Krátko po ich odchode prišiel do skupiny mladý, talentovaný gitarista Bartek Bereska. Tak vznikla silná štvorka.
S novými nápadmi zložili a nahrali album Three Seats Behind A Triangle, ktorý vyšiel v apríli r. 2007. K úspechu im výrazne dopomohol aj podpis zmluvy so spoločnosťou Metal Mind Productions, ktorá je najvýznamnejšou firmou pre rockovú a metalovú hudbu v Poľsku.
V r. 2008 vyšla remastrovaná verzia albumu s 2 bonusmi v Európe a USA. To bol ďalší míľnik v úspešnej kariére. S "Three Seats..." odohrali mnoho koncertov. Najdlôležitejšie boli s Fishom a s Riverside.
V lete r. 2008 vyšiel nový štúdiový album The Body Parts Party. Koncepčné dielo obsahuje 8 skladieb, pomenovaných podľa anatomických častí tela. Popisuje ľudské pocity: negatívne a pozitívne. Tiež sú to myšlienky a obrazy o všednosti žitia, každodennej existencii. Podobne ako predošlý album, hudba je zmesou progresívneho rocku, metalu, jazzu, ale i ambientnej hudby a alternatívneho rocku.
Ďalším dielom je album Uninvited Dreams, ktorý vydali v novembri 2009.
Na rok 2010 si skupina naplánovala koncertné turné.
S podporou nahrávacej spoločnosti Metal Mind Productions, dňa 10.11.2011 skupina koncertovala v divadle Wyspianski v Katoviciach. Výsledkom bolo DVD Where The Devils Live, ktoré vyšlo v júli 2012.
V r. 2012 štvorčlennú zostavu Osada Vida posilnil spevák Marek Majewski, ktorého spoznali v skupine Acute Mind.
V roku 2013 spoločne nahrali a vydali album Particles. Majewski napísal väčšiu časť textov, pod skladby sa podpísali ako kolektívne dielo skupiny. Album odzrkadľuje prirodzený vývoj skupiny, no už grafika obalu napovedá, že pôjde o ľahšie, jednoduchšie skladby. Ide o deväť silných, samostatných kúskov. Vynikajúce muzikanstvo je samozrejmé, ale ľahšie stráviteľná podstata skladieb by mohla prilákať a osloviť širšiu fanúšikovskú základňu.
Na jeseň r. 2013 došlo k ďalšej personálnej zmene. Gitaristu Barteka Beresku vystriedali mladým a talentovaným hudobníkom Janom Mitorajom. V lete 2014 odišiel bubeník Adam Podzimski a jeho miesto zaujal Marek Romanowski.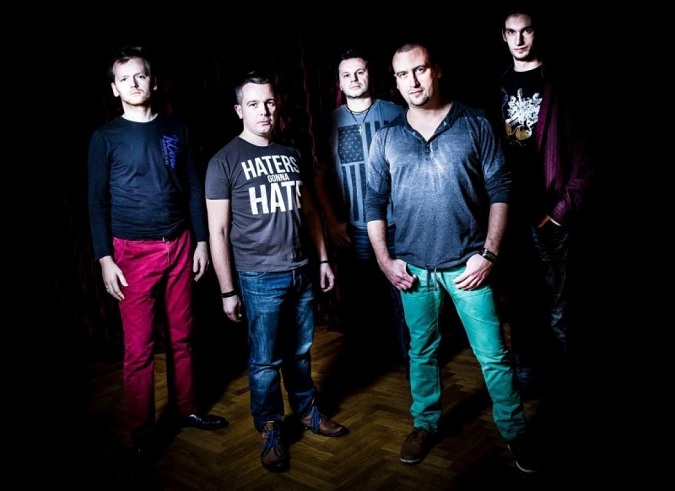 Táto pätica v r. 2014 vydala zatiaľ posledný, siedmy štúdiový album The After-Effect. Tentokrát zapojili aj sláčikové kvarteto (Agnieszka Sawicka, Jakub Kowalski, Anna Krzyzak, a Wojciech Skóra).
Osada Vida, "model 2014" je teleso, ktoré je schopné pokryť celý rad žánrových polôh. Pre labužníkov je pôžitkom vychutnať si zmes akustických a elektrických inštrumentácií v kontexte progresívneho rocku, častí šmrncnutých jazzom, rovnako ako aj začlenenie detailov v štýle progresívneho metalu. Proste, Osada Vida dorástla do skúsenej skupiny so zručnými muzikantmi a s kvalitnou  produkciou odovzdáva fanúšikom rozvinutú škálu progresívneho rocku.
DISKOGRAFIA:
2000 – Moment Krytyczny
2004 – Osada Vida
2007 – Three Seats Behind A Triangle
2008 – The Body Parts Party
2009 – Uninvited Dreams
2012 – Where The Devils Live (DVD)
2013 – Particles
2014 – The After-Effect
SÚČASNÁ ZOSTAVA:
Marek Majewski – spev
Jan Mitoraj – gitary
Rafał Paluszek – klávesy
Łukasz Lisiak – basová gitara
Marek Romanowski – bicie
Oficiálna web stránka Osada Vida.