Pat Metheny patrí medzi najlepších džezových gitaristov. Je originálny, sústavne tvorí dynamickú hudbu bez žánrového ohraničenia. Zložil viac ako 200 skladieb, počas 30-tich rokov odohral priemerne 200 koncertov ročne, buď sólo alebo so skupinou Pat Metheny Group. Súčasne patrí medzi džezových muzikantov, ktorí predávajú svoje albumy v najvyšších počtoch.

PAT (Patrick Bruce) METHENY sa narodil v rodine hudobníkov 12. augusta 1954 v Kansas City, USA. Začal hrať na trúbku ako 8-ročný a o 4 roky prešiel na gitaru. 15-ročný pravidelne spolupracoval s najlepšími džezovými muzikantmi v Kansas City.
Vo veku teenagera študoval súčasne na University of Miami (spolužiak bol Jack Pastorius) a Berklee. Prvú nahrávku urobil v r. 1974 (spolu s Pastoriom, Paulom Bleyom a Bruce Ditmousom). Na škole v Berklee si ho všimol hosťujúci profesor Gary Burton (jeden z amerických priekopníkov jazz rocku) a tak v rokoch 1974 až 1977 Pat účinkoval v jeho skupine Gary Burton Quartet (aj Quintet). Nahrali niekoľko albumov pre nemecké džezové vydavateľstvo ECM.
V r. 1975 Pat nahral prvý album pod vlastným menom, Bright Size Life, vyšiel v r. 1976.  Podieľali sa na ňom basgitarista Jaco Pastorius (vtedy mal vrcholné interpretačné obdobie) a bubeník Bob Moses.
Od roku 1977 začal spolupracovať s invenčným Lyle Maysom (klávesy) a vzniknuté priateľstvo pretrvalo dodnes. Nahrali album Watercolors.
Ďalší rok Metheny sformoval prvú skupinu Pat Metheny Group (ďalej PMG) v zložení: Lyle Mays – klávesy, Mark Egan – elektrická basgitara, Danny Gottlieb – bicie a P. Metheny – gitary.
Počas krátkeho času sa Metheny so skupinou stali pre ECM najpredávanejším umelcom a súčasne sa Pat stal jedným z najpopulárnejších džezových a džezrockových umelcov.
Spoločnosť ECM dala Methenymu umeleckú voľnosť (podobne ako Johnovi Abercrombiemu). Odpovedal produkciou priekopníckych džezových albumov, iných ako s PMG (s PMG rozvíjal zvláštnu formu džezrocku).
Skupina The PMG predviedla excelentný beh na dlhé trate, ktorý odštartovali albumom Pat Metheny Group (1978), nasledoval American Garage (1979, hlavný hit v rebríčkoch Billboard).
Zvláštny zvuk PMG bol tvorený Methenyho gitarou Gibson ES-175, Maysovym syntetizérom Oberheim a organom Yamaha. Spolu s Jaco Pastoriom a Micaelom Breckerom zažiarili ako koncertná sprievodná skupina Joni Mitchell na turné Shadows and Lights (september 1979, album vyšiel r. 1980).
V r. 1980 nahral ocenený album 80/81 s D. Redmanom, M. Breckerom, Ch. Hadenom a B. Higginom. S Hadenom a Higginom v r. 1983 vytvorili trio.
A potom prišiel cenami ovenčený album, ktorý má bliššie k progresívnemu rocku ako džezu, As Falls Witcha So Falls Witcha Falls (1981 ECM).
PMG nahrali r. 1981 album Oframp a v r. 1983 koncertný dvojalbum Travels s argentínskym multiinštrumentalistom Pedrom Aznarom a novým bubeníkom Paulom Werticom (áno, ten Wertico, ktorý v r. 2001-2005 hral v poľskej superskupine SBB).
V rokoch 1982 až 1985 došlo k niekoľkým personálnym zmenám. Prišli Steve Rodby – elektrická a akustická basa a Nana Vasconcelos – zvláštne brazílske latino-pekusie.

Nasledovali albumy First Circle (1984) a soundtrack The Falcon and the Snowman (1985) v spolupráci s Davidom Bowiem.
Pat prestúpil z ECM ku značke Geffen, čím získal slušné finančné zabezpečenie a voľnosť v umeleckej realizácii. V r. 1986 nahral spoločne s O. Colemanom album Song X.
Roky PMG pod značkou Geffen sú dláždené albumami, ktoré získali obrovskú popularitu. Vo väčšine prípadov sa tu vzácne skĺbili melódie, koketujúce s popom, world music vo fúzii s rockom. Proste, skladateľské a interpretačné majstrovstvo najvyššej kvality: Still Life (Talking) (1987, remaster 2006), Letter from Home (1989, remaster 2006), The Road to You (1993, remaster 2006), We Live Here (1995), Quartet (1996), Imaginary Day (1997).
Účinkoval v ďalších projektoch: ako sideman so Sonny Rollinsom, v r. 1990 turné s Herbie Hancockom, nahral album v triu s Dave Hollandom a Roy Haynesom. Ochota Methenyho experimentovať sa prejavila v r. 1994, keď šokoval v 40 minútovej freedžezovej nahrávke Zero Tolerance for Silence, nasledoval experimentálny dvojalbum s freedžezovým gitaristom Derekom Bayleym a potom ako hlavný hudobník v nahrávke skladateľa minimalizmu, Steva Reicha – Electric Counterpoint.
Pred záverom milénia si Pat strihol úžasný live duet s kolegom, džezovým gitaristom, zvečnený na albume s prostým názvom Jim Hall & Pat Metheny (1999). V kontraste s komorným koncertom vychádza v tom istom roku soundtrack  Map Of The World, úžasný balzam na dušu.
V 21. storočí Pat pokračoval s plným kreatívnym nasadením v zásobovaní svojich priaznivcov ďalšími skvelými dielami. V roku 2002 album Speaking of Now a v spolupráci s poľskou džezovou speváčkou Annou Mariou Jopek nahral nádherný album Upojenie.
V r. 2003 prišiel zase s niečím úplne odlišným, čisto akustickým albumom One Quiet Night, ktorý zaplnil vlastnými aj cover skladbami. Album The Way Up (2005) so 4 skladbami patrí k vrcholu progresívnej hudby posledného desaťročia.
Úspešné roky Pata s neobyčajnou tvorivosťou pokračujú dvomi nahrávkami s džezovým klaviristom Bradom Mehldauom: komorným albumom Metheny & Mehldau (2006) a o rok neskôr Quartet. V roku 2008 vychádza Day Trip, album Methenyho v triu s Christianom McBrideom (kontrabas) a Antonym Sanchezom (bicie).
Rok 2010 priniesol fanúšikom, zvyknutým v diele Methenyho na všeličo, ďalšie prekvapenie v podobe koncertov a štúdiového albumu Orchestrion. V štúdiu i na javisku Pat Metheny hral na viacerých akustických nástrojoch, špeciálne navrhnutých, skonštruovaných a pospájaných pre neho Ericom Singerom. Toto unikátne "mega hudobné monštrum" nazval prosto Orchestrion.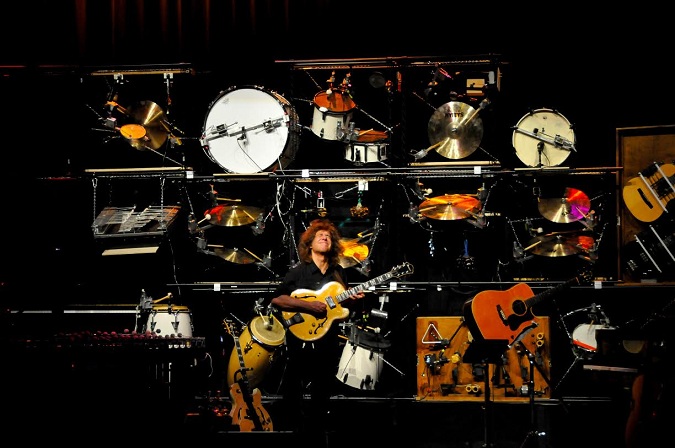 Sľúbená nahrávka z koncertného turné "one-man + symphonic machine" r. 2010-2011 vyšla v auguste 2012 s názvom The Orchestrion Project (CD a DVD). Nafilmovali to v novembri 2010 v kostole St Elias Church v Greenpointe, Brooklyn. Stredobodom je skladba Orchestrion Suite, dielo z albumu Orchestrion, ktoré bolo zložené špeciálne pre kombináciu Methenyho gitary a "mechanický stroj". Zvyšok tracklistu sú skladby z debutu r. 1976 a ďalšie zo 70., 80. a 90. rokov.
V júni 2011 Metheny vydal druhý akustický album pre sólo gitaru, What's It All About. Na rozdiel od celého jeho katalógu, všetky skladby sú neobyčajne krásne spracované cover verzie pop piesní, ktoré Pat počúval ešte predtým ako začal hrať na gitaru (od autorov ako napr. Simon & Garfunkel, Lennon & McCartney, Burt Bacharach, Henry Mancini).
Presne o rok, v júni 2012 dal dokopy novú skupinu – Unity Band. Hrali v nej Chris Potter (saxofony, klarinet), Antonio Sanchez (bicie) a Ben Williams (akustická basa).  Štúdiový album má názov Pat Metheny Unity Band (2012).
Na jar r. 2013 Pat urobil opäť niečo nezvyčajné. Zapojil sa do dlhého radu projektu, na ktorom sa pred ním (aj po ňom) podieľali zvučné mená hudobnej scény. Ide o dielo Johna Zorna, Tap: John Zorn's Book of Angels, Vol. 20.
Od 90. rokov John Zorn zložil 500 skladieb, inspirovaných tradičnou židovskou hudbou. Známe sú ako dva diely Masada Book.
Album je výsledkom spolupráce dvoch umelcov, ktorých považuje ich generácia za najinovatívnejších hudobníkov: Anotnio Sanchez (bicie) a Pat Metheny (hrá všetky ostatné nástroje).
Potom Metheny pribral do skupiny Giulia Carmassiho (klavír, lesný roh, vokál), premenovali sa na Unity Group a pokračovali v koncertoch. Stihli aj štúdio, výsledkom čoho bol ďalší album v tejto posilnenej zostave. Vo februári 2014 vyšiel s názvom KIN(←→).
V januári roku 2015 bol Metheny súčasťou pocty Eberhardovi Weberovi (basa), ktorý je dlhodobo chorý a od r. 2007 nevystupuje. V spolupráci s esami džezu a džezrocku (Gary Burton – vibrafón, Jan Garbarek – saxofon), spolu so SWR Big Bandom  zahrali skladby napísané a inšpirované E. Weberom. V septembri t. r. na značke ECM vyšiel album Hommage a Eberhard Weber.
V r. 2015 vyšiel ešte live album Unity Sessions (video DVD/Blu-ray). Vizuálne komorný koncert prezentuje nahrávky z albumov Unity Band, Unity Group KIN(←→) a niekoľko starších skladieb.
Rok 2016 priniesol (zatiaľ) dva albumy. Spolu s trubkárom Cuong Vu, ktorý bol dlhoročný člen Patovej skupiny, nahrali album Cuong Vu Trio Meets Pat Metheny. Vu hral s mnohými umelcami, napr. s Laurie Anderson, aj s Davidom Bowiem, a s PMG získal cenu Grammy za dva albumy. Jeho 8 sólových albumov sa umiestnilo v hodnotení kritikov vždy v "top 10" v daných rokoch vydania.
Dňa 6.5.2016 vyšlo 2CD The Unity Sessions. Nahrávky sú prevzaté z rovnomennej video verzie.
Pat Metheny je univerzálny hráč. Počas mnohých rokov hral s umelcami rôzneho zamerania, napr. Steve Reich, Ornette Coleman, Herbie Hancock, Jim Hall, Milton Nascimento a David Bowie. Je v skladateľskom tandeme s Lyle Maysom viac ako 30 rokov, uznávajú ich rovnako kritici ako poslucháči. Súhrn Methenyho diela obsahuje sólo skladby pre gitaru, malé skupiny, elektrické a akustické nástroje, veľké orchestre, baletné kusy, žánrovo od moderného džezu po rock a klasiku.
Metheny vo veku 18 rokov bol najmladší učiteľ na University of Miami a 19-ročný aj najmladší učiteľ na Berklee College of Music. Po celom svete organizoval workshopy. Metheny je skutočným priekopníkom v elektronickej hudbe, bol medzi prvými džezovými hudobníkmi, ktorý použil syntetizér ako seriózny hudobný nástroj. Tiež skonštruoval niekoľko tipov gitár, napr. "soprano acoustic guitar", 42-strunová gitara Pikasso, jazová gitara Ibanez PM-100.
Metheny obdržal mnoho ocenení, ako "Best Jazz Guitarist", tri zlaté platne – Still Life (Talking), Letter from Home, Secret Story – vyhral šestnásť cien Grammy v rôznych kategóriách. Skupina Pat Metheny Group získala sedem po sebe idúcich cien Grammy za sedem po sebe idúcich albumov!
Metheny strávil väčšinu života na turné, od roku 1974 priemerne 120 až 240 koncertov ročne.
Aj teraz zostáva jednou z najjasnejších hviezd.
Oficiálna web stránka Pat Metheny.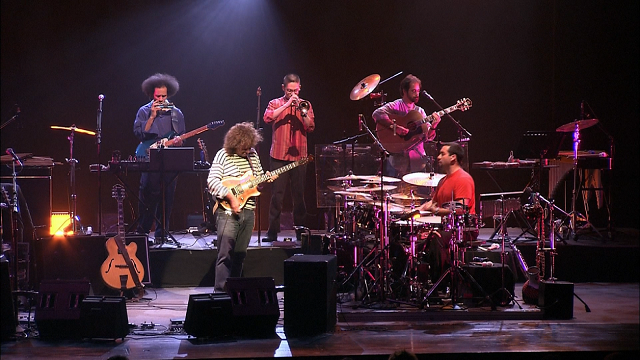 DISKOGRAFIA:
Štúdiové a live albumy. Sólo Pat Metheny, PMG a rôzne iné projekty.
1976 – Bright Size Life
1977 – Watercolors
1978 – Pat Metheny Group
1979 – New Chautauqua
1980 – American Garrage
1981 – As Falls Wichita, So Falls Wichita Falls
1981 – 80/81
1981 – Offramp
1983 – Rejoicing
1983 – Travels
1984 – First Circle
1985 – The Falcon And The Snowman
1986 – Song X
1987 – Still Life (Talking)
1989 – Letter From Home
1990 – Question And Answer
1992 – Secret Story
1993 – The Road To You
1994 – Zero Tolerance For Silence
1995 – We Live Here
1996 – Quartet
1997 – Beyond The Missouri Sky (Short Stories) (Pat Metheny & Charlie Haden)
1997 – Imaginary Day
1998 – Like Minds
1999 – Jim Hall & Pat Metheny
1999 – A Map Of The World
2000 – Pat Metheny Trio 99 – 00
2000 – Pat Metheny Trio Live
2002 – Upojenie (with Anna Maria Jopek)
2002 – Speaking Of Now
2003 – One Quiet Night
2005 – The Way Up
2006 – Metheny Mehldau
2007 – Metheny Mehldau Quartet
2008 – Day Trip
2008 – Tokyo Day Trip (EP)
2009 – Quartet Live
2010 – Orchestrion
2011 – What's It All About
2012 – Unity Band
2013 – The Orchestrion Project
2013 – Tap: John Zorn's Book Of Angels, Vol.20
2014 – KIN(←→)
2015 – Unity Sessions (video)
2016 – Unity Sessions (audio 2CD)