Steve Miller Band je kapela více tváří a poloh. Bohužel, více lidí ji zná prostřednictvím jejich ryze komerční tvorby osmdesátých let (Abracadabra bylo k dostání i u nás na vinylu) a o jejich začátcích se toho ví docela málo. Jinými slovy, kdo objevil tuhle kapelu koncem šedesátých let, jen těžko se mohl srovnat s tím, co kapela nabídla v osmé dekádě. Aniž bych chtěl skupinu nějak výrazněji srovnávat, je zde téměř podobná situace jako např. u Queen. (Kdo poslouchal jejich hardrocková alba, ten se asi těžko vyrovnal s tím, kam kapela dospěla rovněž v osmdesátých letech).
Steve Miller Band jsem objevil přes několik singlů a známý Beat-Club a jejich hudební pojetí koncem šedesátých let se mi líbilo. Proto jsem ve snaze mít jejich "zástupce" albového odkazu ve své sbírce sáhl hned po jejich debutu…
CHILDREN OF THE FUTURE – Malá nukleární vichřice, konec světa a civilizace… Tak bych nazval příšernou kakofonii změtí tónů a deformovaných zvuků v úvodu s dlouhým dozvukem, nad kterým zaskřehotají rackové. S dlouhým astrálním tónem přichází akustická kytara a tenký vokální projev ve sférické výšce. Dále přicházejí bicí, velebné hammondky a vokální party nabývají na rozsahu.
PUSHED ME TO IT – Tohle jsou šedesátá léta psychedelie v americkém balení. Písničkářsky znějící song se rozestře na všechny světové strany a akustické kytary nabývají na hutnosti. Smysl pro dramatické vyznění a práce s dynamikou je zajímavě propracovaná. Zdá se, že Steve Miller a jeho kumpanie mají jasnou představu o své koncepci, což zdaleka nebývá na prvních albech pravidlem.
YOU'VE GOT THE POWER – Opakující se motiv skladbě dominuje a na ni se nabaluje další téma melodického ražení rozvíjející harmonickou strukturu. Překvapivě krátké, ale způsob aranžování umožňuje volně přecházet z tématu do tématu a ústrojně propojovat skladby za sebou jako v koncepčním pojetí suitové kompozice.
IN MY FIRST MIND – Trochu mám pocit, jako bych poslouchal některou pasáž z Pink Floyd na albech Meddle nebo Obscured By Clouds. Je tu ovšem přítomen mellotron, který posouvá psychedelické vize do majestátního soundu Moody Blues a raných King Crimson. Tady se ale cíleně "neopisovalo". V dané době King Crimson ještě nevydali jejich první album a Pink Floyd se nacházeli daleko před zmíněnými alby. Náladotvorné, kontemplativní hudební obrazce navozují atmosféru nekonečna a snění, vzdalujíc posluchače od vietnamského traumatu Ameriky dané doby. Oproti takovým Hawkwind, kteří v Británii startovali také až po Steve Miller Band, zde není tak zřejmá ona rocková nekompromisnost, třebaže se kapela také tlačí do kosmického astrálu. Velebná okázalost pohádkového vyznění a snové krásy. Prolínání mellotronu, hammondek a nijak komplikované rytmiky trvá opravdu celou věčnost. Nečekané stupňování harmonie v odeznívání dokončuje tajemný hukot a křik racků.
THE BEAUTY OF TIME IS THAT IT'S SNOWING – Pinkfloydovské vize se přesto neodvratně vracejí do mysli, což potvrzuje i hukot, destruktivní zvuky i neidentifikovatelné hlasy s tajemným výkřikem. Pak sem totálně nečekaně vstoupí rhythmandbluesová figura. Hudba je ovšem upozaděna, "narušuje" ji onen tajemný hukot. Se zvukem se tady zvláštně pracuje. Svištění vichřice s horrorovým nádechem a šumění moře s racky je pro stereozáznam příjemná hříčka. Nyní se zdálky přibližuje vokální vícehlas chrámového sboru. Je neuvěřitelné, co se všechno stačí dít v hudebním formátu. Vzpomenu i na Electric Prunes. Na svou dobu hodně odvážný příspěvek na debut kapely. Velká odvaha, ale přesto strhující záměr!
BABY'S CALLIN' ME HOME – Akustické kytary a zvuk cembala s příjemně znějícími zpěvy. Za mikrofonem je druhý kytarista Boz Scaggs, který má od Steve Millera odlišný styl podání. Atmosféra pronikající psychedelie do harmonií otevřených hlasů a muzikantských obrazů, kam nakoukne i renesance, nádech blues. Voní to tady hippieovskou filosofií, také marihuanou a LSD. Hlasy jsou čisté a nezastřené, vyjadřují bytostné pocity bez přehnaných emočních erupcí. Výtečné na poslech a tak typické pro šedesátá léta na západním pobřeží. Kooperace akustických kytar a cembala je jedinečná.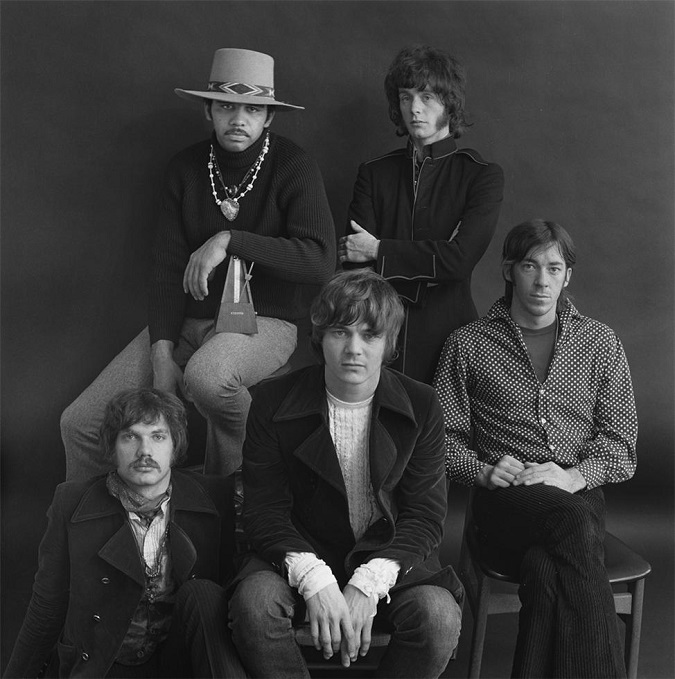 STEPPIN' STONE – Konečně přichází i rockový podíl ve spojení s blues. Klasický model má srozumitelné vyznění a pulsující rytmika Tima Davise se hrne vpřed s neomylnou jistotou. To už je zde frontman kapely a nasadí sem první výraznější kytarový part. Jeho sólo je pořádně zaostřené a s kvílejícím dozvukem suverénně naplňuje prostor. Steve Miller ovládá svou kytaru opravdu suverénně a celá kapela mu velmi dobře rozumí. V daných poměrech bychom mohli hovořit o hitu (případně singlu) na albu. Zpěv patří opět Bozu Scaggsovi.
ROLL WITH IT – Rocková údernost se tu už zahnízdila. Důrazný rytmus bicích a pulsující basy Lonnie Turnera jdou na ruku kreativnímu soundu hammondek Jima Petermana. Nevyčnívají, ale významně dokreslují atmosféru skladby, kde je i prostor pro vokální stavbu. Opět je zde Miller s elektrickou kytarou. Je zřejmé, že se kapela nehodlá zbavit písničkářského modelu, což dokreslují jasné melodické linky. I přes proaranžování instrumentací se zde nikdo neuchyluje k nějakým avantgardním experimentům v rytmech, harmoniích nebo nějakým krkolomným exhibicím.
JUNIOR SAW IT HAPPEN – Dupání lidských kroků a otevírání dveří(!?) a pak už se rozvíjí rychlá melodie s velkým nasazením všech přítomných hudebníků. Melodická linka opět čitelná, prolínání zpěvu a vokálů sem vloží pořádně zrychlené rhythm and blues s řadou nečekaných akcentů. Parádní kousek hraný s velkým entuziasmem a vzájemnou lidskou pohodou.
FANNY MAE – Úvodní zmatená slova střídá klavír. Konečně zde máme model blues v černošském stylu. Tady je ten vliv Muddyho Waterse zcela nezakrývaný. Hlas zpěváka má ovšem na míle daleko k drsnému hrdelnímu projevu. Prolínání foukací harmoniky s hammondkami a pořádně rozšlapanou rytmikou zde udržuje napětí od začátku do konce. Změna rytmického členění, ale skladbu opět vrátí do původního tématu. Příjemné pojednání blues.
KEY TO THE HIGHWAY – Big Bill Broonzy byl další velký bluesový démon, který inspiroval a dodnes inspiruje. To potvrzuje i tahle coververze. Tady se mi bluesová forma jeví jako úplně nejpřesvědčivější na albu. Správně líná atmosféra, naříkavá foukací harmonika a lehký příboj hammondek se zpozadí tlačí do popředí. Výtečně rozlamované tóny elektrické kytary. Leze mi mráz po těle. Přesto jsem překvapen, jakou proměnou album prochází, srovnám-li první skladby s tím, co přináší závěr. Je to jiné blues, než jaký hráli Bluesbreakers, Cream, Fleetwood Mac a později Savoy Brown nebo Big Brother And The Holding Company. Melancholická, uspávající atmosféra, která evokuje pocit samoty, odloučenosti a bezprizornosti.
Kdo má rád psychedelickou hudbu a blues, tak se na albu najde. Není to syrové dílo s nekompromisním soundem. Nehledejte zde ani Doors, Vanilla Fudge nebo Iron Butterfly, ale odvážnou psychedelickou koncepci s bluesovým přídavkem a všechno drží výtečně pohromadě. Jak už jsem zdůraznil, melodické linky jsou jasné a přehledné. Nečekají vás tady nějaké instrumentální úlety, ale atmosféra alba a přídavné prostředky jsou na svou dobu hodně odvážné. Za tu odvahu a navíc na to, že je to debutové album, jim s klidným svědomím plný počet hvězdiček udělím a Children Of The Future doporučím vaší pozornosti…
SKLADBY:
01. Children Of The Future  2:58
02. Pushed Me To It  0:36
03. You've Got The Power  0:55
04. In My First Mind  7:31
05. The Beauty Of Time  5:23
06. Baby's Callin' Me Home  3:24
07. Steppin Stone  3:02
08. Roll With It  2:29
09. Junior Saw It Happen  2:29
10. Fanny Mae  3:11
11. Key To The Highway  6:18
SESTAVA:
Steve Miller – vocals, guitar, harmonica
Boz Scaggs – guitar, background vocals; lead vocals (06., 07.)
Lonnie Turner – bass, background vocals
Jim Peterman – mellotron, Hammond organ, background vocals
Tim Davis – drums, background vocals, lead vocals (09., 10.)
+
Ben Sidran – harpsichord (06.)
Children Of The Future
Steve Miller Band
Psychedelic Rock
Capitol Records
1968
LP
11