Jak to tak vypadá, Magnum už zůstanou mým největším objevem na A.O.R./art-rockovém/pompézním hudebním kolbišti. I když jejich nejnovější produkci neposlouchám pro pocit déja-vu a nudy, několik po-comebackových desek z období kolem přelomu letopočtu 2010 stále řadím mezi to nejlepší v jejich tvorbě. Tvrdé jádro top produkce Magnum a definice stylu se však ukrývá někde úplně jinde. Jsou to desky – římská II, Chase The Dragon, The Eleventh Hour! a jistě také mezi fans tolik oblíbená, částečně komerčnější On A Storyteller's Night. Ke svému údivu jsem velice bryskně přišel na chuť i daleko popověji orientované dvojici Vigilante, či Wings Of Heaven, o mladších deskách nemluvě.
Horentně jsem je začal skupovat z různých míst, někdy jsem vybíral remastery, někdy originály a časem jsem do sbírky pochlapil také malinko nedotažený debut Kingdom Of Madness. Ono nedotažený, jak se to vezme. Dle některých reakcí fans to tak být může, mě ovšem počáteční produkce Magnum chutí natolik, že i debut hodnotím jako dílko velmi velmi zdařílé.
Kapela jej měla připravený dva roky, než s ním šla na trh. Z desky, podobně jako z několika dalších nahrávek, doslova čiší upřímnost, pozitivní náboj, entusiasmus a aranžérské finesy vyznívají, jako by je dala dohromady o dost zkušenější parta muzikantů sehraných řadu let a ne soubor nováčků.
Pod veškerou hudební složkou je podepsán Tony Clarkin, který se svým parťákem za mikrofonem Bobem Catleyem právě vytvořil dlouholetou nerozlučnou dvojku. Desku odstartuje rockově řinčící In The Beginning, která za asistence španělek a mohutných pompézních klávesových stěn je tím nejsprávnějším openerem alba. Hned výborný úvodní dojem malinko zkazí jediná vlezlejší záležitost Baby Rock Me, která po vzoru Queen, Uriah Heep a celé řady tehdy se do hitparád tlačících souborů, útočí na prvotní pudové žebříčkové úspěchy. Naštěstí třetí spaceová baladička Universe vše nasměruje do těch správných kolejí, po kterých může vlak značky Magnum znovu uhánět pompézní prérií o sto šest.
Druhá velká chvíle (po úvodním songu) patří titulní Kingdom Of Madness – postavené na artové platformě s důrazem na barevné odstínění jednotlivých nástrojů, kompoziční originalitu, energii, a oduševnělý Bobův projev. All That Is Real je pomalejší a klade důraz na vnitřní emoce, The Bringer pro změnu nadupaná hard-rocková bouře plná tempových obměn. Na začátku Invasion se zhmotňují Queen v celé své nahotě, ale pak skladba nabere neuvěřitelné obrátky a prostě jede! Předposlední Lords Of Chaos silně podbarvují Baileyho smyslné klávesové rejstříky, tepající baskytara a celek dobarvující Clarkinova šestistrunka. Milovník Magnum chrochtá blahem, což mu jistě vydrží i přes poslední vznešenou  All Come Together.
Časté střídání temp, ostrá Tonyho kytara, spousta hřejivých vyhrávek a melodií na klávesy i působivý Bobyho zpěv, podporují kouzlo a zvyšují pestrost, už tak dost "barevné" hudby Magnum. Výborný debut.
SKLADBY:
1. In The Beginning (7:52)
2. Baby Rock Me (4:05)
3. Universe (3:45)
4. Kingdom Of Madness (4:25)
5. All That Is Real (3:50)
6. The Bringer (3:58)
7. Invasion (3:22)
8. Lords Of Chaos (3:21)
9. All Come Together (4:52)
SESTAVA:
Bob Catley – lead guitar, lead & backing vocals
Tony Clarkin – guitars, backing vocals, composer
Richard Bailey – keyboards, flute, backing vocals
Colin Lowe – bass, vocals
Kex Gorin – drums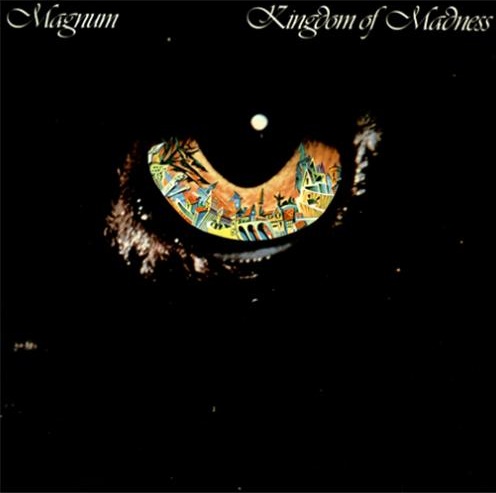 Kingdom Of Madness
Magnum
AOR, Hard Rock, Prog Rock
Jet Records
1978
LP
9