Van Halen sa premenil na Mamuta
Edward Lodewijk "Eddie" Van Halen bol gitaristom Van Halen, jednej z najúspešnejších metalových skupín a právom patria do siene slávy. Svoju hudobnú cestu už zakončili, ale ako sa hovorí, "Le Roi est mort, vive le Roi! / Zomrel kráľ, nech žije kráľ!", meno Van Halen pokračuje. Dnes bude reč o synovi Eddieho Van Halena, Wolfgangovi.
Eddie van Halen sa narodil 26. januára 1955 v Amsterdame (zomrel 6. októbra 2020 v Santa Monice, Kalifornia). V roku 1962 sa jeho rodina presťahovala do americkej Pasadeny. Tam chodil s bratom Alexom do hudobnej školy na klavír. Eddie začal hrať na bicie, Alex na gitaru, ale nástroje si po čase vymenili. Eddie dlhé hodiny cvičil. Jeho vzormi bol Eric Clapton, Brian May a Alan Holdsworth a Ronnie Montrose.
Skupina Mammoth vznikla v roku 1972. Členmi boli bratia Halenovci, Eddie a Alex, Mark Stone (basa). Táto trojka nemala aparatúru a požičiavala si ju od Davida Lee Rotha. Eddie aj spieval, ale nakoniec sa rozhodol do kapely zobrať ako speváka Davida, aby nemuseli platiť za požičiavanie aparatúry, a spev ho aj tak veľmi nebavil. V roku 1974 si zmenili meno na Van Halen, navrhol to Roth. O štyri roky neskoršie nahrali a vydali svoj prvý album. Skupina vydala celkovo 12 albumov, predalo sa viac ako 80 miliónov kópií a je jednou z najúspešnejších amerických rockových skupín. Ak si máme pripomenúť Eddieho van Halena, určite to musí byť jeho skladba Eruption z prvého albumu.
Skupina Van Halen prestala existovať v roku 2020, mesiac po smrti Eddieho Van Halena. Ukončenie činnosti ohlásil jeho syn Wolfgang.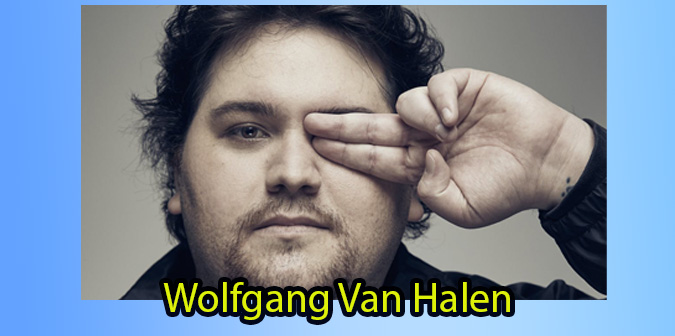 Wolfgang William Van Halen sa narodil 16. marca 1991 v Santa Monice. Už od prvých rokov ovplyvnil svojho otca, pretože Eddieho signované gitary niesli názov Wolfgang. Chlapec od 9 rokov hral na bicie svojho strýka Alexa a neskôr sa naučil hrať na basgitaru a gitaru. Od roku 2004 hral so svojím otcom na turné Van Halen. V roku 2006 nahradil basgitaristu Michaela Anthonyho a od tej doby hral s Van Halen oficiálne. S Van Halen vydal album A Different Kind of Truth (2012). V roku 2012 založil skupinu Tremonti (2012-2016) a nahral s ňou dva albumy – Cauterize (2015), Dust (2016). Po smrti otca Van Halen ukončili kariéru a Wolfgang sa rozhodol vydať svoju debutovú LP, ktorú nahral celkom sám. Na poctu otcovi pomenoval svoju skupinu Mammoth, aby zdôraznil odkiaľ pochádza a kto ho naučil hrať na hudobné nástroje. Ešte keď otec žil, tak mu povedal, že jeho skupina ponesie meno prvej halenovskej skupiny a otec s tým nadšene súhlasil. Debutový album sa rodil dlhé roky. Prvé skladby začal písať už v roku 2013 a dokončil ho v roku 2018. Jeho vydanie je o tri roky oneskorené. Kvôli tomu, že Wolfgang chcel byť so svojím otcom a nechcel ísť po vydaní na turné.
Mammoth WVH – Mammoth WVH (2021)
1. Mr. Ed
Úvodná úderná skladba albumu. Aj keď názov evokuje Wolfgangovho otca Eddieho, on sám hovorí, že skladba nie je o ňom. Iba ju hral pod týmto označením a názov jej ponechal. Pán Ed je pekná otváracia rocková skladba. Kapela v podaní "one man band" na všetky nástroje funguje dostatočne razantne a úderný rytmus s celkom dobrým refrénom sa mi páči. Spev, ktorý sa časom určite zlepší, alebo bude nahradený naozajstným frontmanom, nie je nič svetoborné. Beriem to ako začiatok Wolfgangovej naozajstnej kariéry, hoci už má plno iných začiatkov za sebou. Je to priamočary rock, nič tam nehľadám a ťažko by som našiel niečo prevratné.
2. Horribly Right
Druhá pieseň sa mi páči viac ako prvá. Začína znovu gitara riffom skladby, Wolfgang pridá bicie a basu. Spev je tentokrát dravejší a podporovaný dynamickým zvukom bicích. Nahrávalo sa v otcovom štúdiu 5150, kde sú ešte analógové mašinky a stroje, a tak celkom zabúdam na digitálne hovadiny. Super. Trochu strácam basovú gitaru, je prekrytá vrstvenými sólovými a doprovodnými gitarami, ktoré hrajú rôzne hudobné linky. V skladbe sú aj vokály a ak chlapec naozaj všetko nahrával sám, skladám klobúk. Zvuk je výnimočne dobrý, celospektrálny, jednoducho vanhalenovské štúdio vie urobiť rockovú nahrávku "par exelence". Počúvam na analógovej zvukovej ceste, gramofón, elektrónkový zosilňovač a zvuk sa šíri impozantne. Nenachádzam žiadnu chybu, jedna z najlepších nových zvukových nahrávok, ktoré som počul za dva posledné mesiace (počul som asi 10-15 nových).
3. Epiphany
V predošlej som nemal basovú gitaru, tu je od prvej noty a udáva rytmus, drive a melódiu. Vidím, že to bude album ľúbivých metalových piesní s výraznými melódiami a všetko podľa starej osvedčenej formy. Úvodný inštrumentálny pár taktový gitarový začiatok, potom prvá sloha a refrén. Skladby veľmi nemenia hudobný motív, vyvíjajú sa iba v inštrumentálnej a textovej úrovni . Bicie v tejto skladbe sú stále na jedno kopyto a v podstate sa opakuje ten istý sound v celej skladbe. V každom prípade jedničkou je hra na gitary, tu je cítiť, že mal dobrý vzor a veľa sa naučil. Dohrala strana A.

4. Don't Back Down
Toto je odpichnutá dravá vec. Znovu začína úvodná gitara s hajtkou. Neviem prečo je činela zahltená a nakoniec sa zvukovo stratí v gitare. Určite by som volil iný princíp a nechal by som bicie dominantnejšie. Trvá to iba chvíľu a potom sa skladba rozbalí do rýchlej vypaľovačky. Asi tu netreba hľadať nejaký špeciálny výraz na celkový dojem z piesne, mne sa páči aj nepáči. Doteraz mám z počutých skladieb pocit, že som stopercentne rád, že som skúsil vypočuť si novú halenovskú krv. Nie sú to Van Halen ani náhodou. Syn nechce byť revivalom svojho otca. Je cítiť, že vychádza z hudby, ktorú dávno poznám, ale sú tu aj postupy, ktoré sú nové a dravé.

5. Resolve
Zatiaľ výborne dramaturgicky urobený album. Po skladbe, ktorá mi nedala dýchať, prichádza uvoľnenie v podobe pomalšej skladby. Teraz sa dostáva k slovu aj akustická gitara a veľmi sa mi páči bublajúca basa s bicími. Všeobecne mám najradšej skladby, kde môžem eliminovať nástroje a vychutnať si jednotlivých hudobníkov a ospievať, alebo pohaniť ich výkon. V tomto prípade to je zložité, hudobník bol iba jeden. Nečudo, že mu v tejto piatej skladbe albumu dám päťku (najlepšia známka). Spev sa mi zdá dynamicky zploštený a možno naozaj nemuseli použiť tak veľkú kompresiu pri mixe. Bolo by to dravejšie a úprimnejšie. Nepoznám detaily nahrávania spevu, je to iba môj názor (postreh).
6. You'll Be The One
Znovu prvý riff na gitare, potom už počuté bicie a začína celá skladba. Začínam mať pocit, že plávam v tej istej kaluži vody. Viem, že to až do konca skladby nebude už iné a hrozím sa predstavy počúvať ešte osem skladieb albumu. V duchu vyslovujem prianie, aby sa niečo zmenilo a nebol som otrokom jedného riffu a jedinej melódie natiahnutej na dlhé minúty. Pieseň nie je zlá, je to počúvateľné a mnohých to môže osloviť. Je tam nápad, refrén je dobrý. Dobre zahrané a zvukovo pestré. Chýba však iskrivosť a povedal by som "živá voda".
7. Mammoth
Teraz prichádza "živá voda" v podobe titulnej piesne. Tu by som povedal, že vzorom boli starí Van Halen a Eddieho syn to v gitarovom zvuku dokazuje. Pekná skladba, naozaj sa mu podarila. Výborne zvládol hru viacerých gitár v harmónii, zatiaľ najlepšia vec. Znovu som si zopakoval po doznení všetkých skladieb albumu a môžem zodpovedne prehlásiť, že titulná skladba sa mi páči. Nemám výhrady, podarila sa a dobre to Eddieho syn vymyslel.
8. Circles
Druhá strana albumu je pestrejšia a zvukovo sa líši od monotónnosti prvých piesní. Skladba je spestrená akustickou gitarou a v pokojnejšom tempe sa ladne vlní v ušiach. Aj poloha v speve je menej násilná a v skladbe, ktorá nie je na hlasivky náročná, je dobrý feeling. Melancholicko-romantické elektrické gitary vo veľkom priestore vytvárajú plastickú zvukovú hĺbku. Dobre sa to počúva a v tomto prípade platí, že celkový dojem prevyšuje melodickú hodnotu skladby. Dohrala strana B.
9. The Big Picture
Prvé sekundy odhalia analógový záznam na magnetofónový pás. Zvýšený šum nenechá nikoho na pochybách a zvukový hrmotný zvuk elektrickej gitary dá do pohybu zatiaľ najtvrdšiu skladbu. Kto chce preladiť na túto tvrdšiu nôtu má recht. Je na správnej ceste. Pieseň je dravá a spurne navodzuje melodickú linku do refrénu, kde sólový spev je podporovaný vokálmi.
10. Think It Over
Prial by som si, aby skladba už konečne začala jedným dychom, to znamená všetci spolu a naraz hutným zvukom a nie už desaťkrát opakovaným rozvláčnym úvodom s pridávanými nástrojmi, tichšou speváckou pasážou a nástupom do refrénu. Myslím si, že pod toto moje prianie je podpísaná 5 ročná nahrávka albumu. Asi si nikto už nepamätal všetky skladby a znovu a znovu sa nahrávalo v tom istom vzorci. Najprv sólová gitara hrajúca riffy, potom bicie, potom basa a potom všetko ostatné. Až vznikol šablónový zvuk pesničiek. Asi nemôže tak neskúsený hudobník robiť všetko sám, nemá dostatok nadhľadu a hudobnej zručnosti. To sú moje negatíva, ale znovu sa bavme o desiatej piesni albumu. Napriek mojim výhradám, je to pekná skladba. Spev je dobrý a v tejto skladbe sedí ako r*ť na šerbeľ. Takže nakoniec poviem, že sa mi skladba páči.

11. You're to Blame
Osvedčený model. Gitary vymyslené v novom zvuku. Viac éterická skladba a pekné zmeny zvuku a drivu. Tentokrát sa bicie ukazujú v lepšom svetle a je tu náznak dravosti a priamočiarosti. Dočkal som s aj povyšívaného kvílivého sóla na gitaru prerušeného spevom a potom brejkom bicích do spevného refrénu.
12. Feel
Úvodný rytmus bicích s frázujúcou gitarou je plný očakávania. To sa hneď napĺňa novým rytmom, ktorý ešte nezaznel. Zdá sa mi, že sme opustili fádne vlny predošlých skladieb a ideme do rušnejšieho hudobného obdobia. Táto skladba sa stopro nahrávala niekedy v neskorom období výroby albumu. Zvuk je iný, prvýkrát bicie v normálnejšom zvuku, ktorý je jasný a iskrivý s množstvom prechodov. Všetko je iné a vôbec to nie je sound z prvej polovice. Dohrala strana C.
13. Stone
Spev vo vokálnom opakovacom echu. Mystická zahmlená skladba v dymovom opare. Zrazu sa hudba pritvrdí a pomalé tempo pokračuje vpred. Prvá skúška pre iný zvuk a iné vyznenie piesne. Doteraz každá pieseň z tretej strany bola iná ako tá predtým počutá. Táto sa vymyká zo všetkých najviac.
14. Distance
Posledná skladba mi na začiatku pripadá ako nevydarené demo. Všetko zle, zvuk bicích utopený a rozpuk do všetkých strán. Potom príde iná časť a to už vyzerá ako normálna skladba. Znovu dlhé väzbenie gitary, akoby z predošlej skladby. Plné vokály sa snažia urobiť zo skladby mohutnú záležitosť. Som iného názoru a myslím, že to u mňa nezabralo. Skladba vyšla ako singel, zrejme bol Wolfgang presvedčený o jej kvalite. Musím si to viackrát vypočuť a potom možno zmením názor.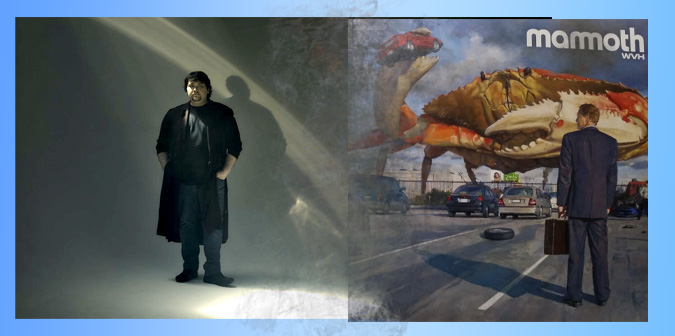 Nie veľmi často sa stretnem s debutovou platňou mladého(?) 30 ročného muzikanta. O plánovanom vydaní som vedel už dávnejšie a po prečítaní rôznych recenzií som zvažoval kúpu. Ako je vidieť, Mammoth WVH (mamuta) som kúpil a zaradil do svojej zbierky. Napriek všetkým výhradám, ktoré som popísal, je to album, ktorý sa počúvať dá. Jeden človek nahral všetky nástroje a piesne sám zložil. Treba si položiť otázku, kto to ešte v poslednej dobe urobil a či o tom čine vieme. Ja viem iba o Wolfgangovi. Jeho otec, Eddie Van Halen, poznal všetky skladby z albumu. Hodnotím – 3 hviezdičky z 5.
NOTES:
Wolfgang Van Halen nahral všetky nástroje a zložil všetky skladby.
Jeff Moll – zvukár
Michael "Elvis" Baskette – zvuk a mix
Brad Blackfood – mastering
Nahrané v 5150 Studios, Studio Barbarosa, 415 Studios a MRG Recording Studios.
Mammoth WVH
Mammoth WVH
Rock
EX1 Records
2021
CD, 2xLP
14
EX1 Records – E1M20009-1 /2021/ limited 2 LP vinyl turquoise