The Moody Blues jsou má srdcovka, od které jsem postupně vyzobal vše mezi léty 1967-1972. Sedmero kvalitou velmi vyrovnaných nahrávek poslouchám z gusta rád a každičké přehrání si dokážu pořádně užít. Nákup dalších nahrávek po Seventh Sojourn jsem v plánu neměl, ale obal desky Long Distance Voyager mě při každém pohledu na něj dokonale fascinoval. Ta přitažlivost začala být stupňující se, až jsem jednou neodolal a CD si pořídil do sbírky.
První ochutnávka ještě nebyla to pravé ořechové. Deska potřebuje chvíli uzrát a hlavně nesrovnávat s majstrštyky typu To Our Childrens Childrens Children, nebo A Question Of Balance. Přeci jen se doba výrazně posunula a kapela zajisté toužila znít aktuálně. Netuším jak to je s The Moody Blues dál, ale v tomto případě mohu odpřísáhnout, že se o žádné komerční podléhání trendu a okolí nejedná. Sice část oné zasněné a tolik typické aury The Moody Blues ustoupilo, ale písňový model, pozitivní přístup a silné emoční vybrace jsou zde patrné i nadále. Zpěvy jsou civilnější, oproštěné od okázalého melancholického patosu (míněno v dobrém). Avšak aranžérská můza líbá kluky i v roce 1981.
Tématika alba se věnuje vesmírné misi lodi Voyager, jež se účastnila průletů okolo planet naší sluneční soustavy v letech 1980-81.
Po kraťučkém tajemném úvodu, začíná rázná úvodní odpichovka Voice. Ta mi s prvními poslechy nepřipadal nijak zvlášť ohromující. Po čase jsem se však s písní jaksi sžil a stotožnil. Jde o nepříliš složitou, melodicky nakažlivou píseň, postavenou na akustických kytarách, jemném doprovodu kláves a občasných vyhrávkách sólující kytary. Se zpěvem se doslova mazlí Justin Hayward. Do druhé Talking Out Of Turn vložil svůj znatelnější příspěvek i klávesák Patrick Moraz. Nečekejte však nic ve stylu Yes-ovského Relayer. Jedná se o vesmírně snovou záležitost, se spoustou překrásných nástrojových odstínů. O třetí Gemini Dream mohu s klidným srdcem říci, že se jedná o největší a naštěstí jediný průser na desce. Disco rytmus je umělohmotnou parodií na tehdejší dobu a z písně vyčnívá jako nějaký ohavný kus bakelitu povalujícího se v panenské přírodě. Obart o 180° přináší balada v klasickém stylu In My World. Jednoduchá, efektní a posléze i vkusně naléhavá. Při  Meanwhile jsem si, ani nevím proč, vzpomenul na druhé album Asia (asi trocha toho popového cukrování), a výraznější prog věcí je šestá 22,000 Days (tady mi zase znělo rok staré Drama). Voňavou romantickou krajinu s cvrlikáním flétny a klasických kytar navozuje Nervous. Ta funguje jako spojnice starého a novějšího stylu kapely úžasně. Do finále jdeme s mohutnější Painted Smile, intrem Reflective Smile a nejtvrdší netypickou Veteran Cosmic Rocker.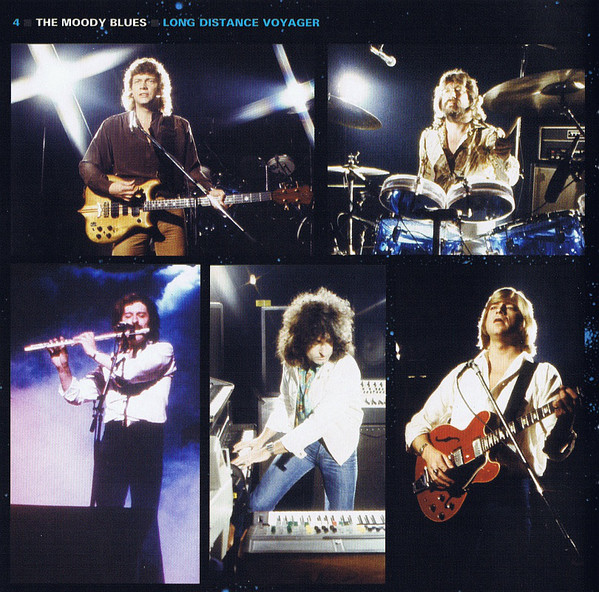 Deska slavila úspěchy jak v rodné Británii, tak za oceánem, v USA i Kanadě, kde vychytala několikanásobnou platinu. The Moody Blues se tak vlastně ladně a hlavně úspěšně přehoupli do osmdesátých let. Bez ztráty vlastní soudnosti a výraznějšího zaprodání se. A to se cení.
SKLADBY:
01. The Voice (5:18)
02. Talking Out Of Turn (7:18)
03. Gemini Dream (4:07)
04. In My World (7:17)
05. Meanwhile (4:08)
06. 22,000 Days (5:27)
07. Nervous (5:45)
08. Painted Smile (3:18)
09. Reflective Smile (0:37)
10. Veteran Cosmic Rockers (3:14)
SESTAVA:
Justin Hayward – guitars, lead vocals (1, 3, 4, 5)
Patrick Moraz – keyboards
Ray Thomas – flutes, harmonicas, lead vocals (6, 8, 10)
John Lodge – bass, lead vocals (2, 3, 7)
Graeme Edge – drums
+
B. J. Cole – pedal steel guitar (4)
The New World Philharmonic Orchestra – strings
Pip Williams – string arrangements, producer
Dave Symonds – spoken voice (9)
Long Distance Voyager
The Moody Blues
Art Rock, Pop Rock, Symphonic Rock
Threshold
1981
LP
10