V průběhu roku 1968 nastala situace, která znamenala konec důležité anglické skupiny The Yardbirds. Tu postupně opustili všichni členové až na kytaristu Jimmyho Page, který musel nějak řešit nasmlouvané skandinávské turné. Obrátil se na baskytaristu a hráče na klávesové nástroje Johna Paula Jonese, který na jeho nabídku kývnul. K těmto dvěma zkušeným studiovým hudebníkům se přidali do té doby nepříliš známí členové skupiny Band Of Joy, zpěvák Robert Plant a bubeník John Bonham. Tato čtveřice krátce působila pod názvem The New Yardbirds, aby velmi brzy zvolila údernější označení – Led Zeppelin. Zbytek už je rocková historie.
Čtveřice velice brzy zjistila, že si rozumí jak hudebně, tak i lidsky. Jakmile získali šikovného manažera Petera Granta, zamířili do studia, aby své hudební představy uchovali natrvalo. V lednu roku 1969 spatřilo světlo světa album s hořící vzducholodí Hindenburg na obalu.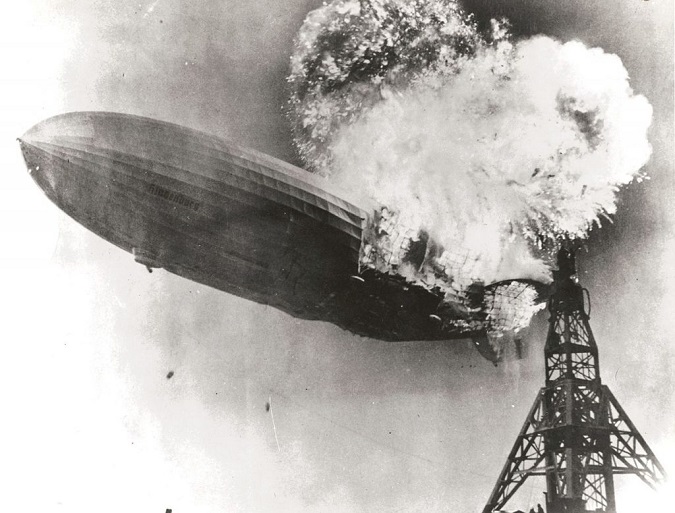 Základem jejich hudby se stává samozřejmě blues, ovšem hrané tak hlasitě a agresívně, až se ta původní bluesová podstata mnohdy vytrácí a je nahrazována hardrockovou ostrostí a břitkostí. Kompozice na albu mají mohutný, mnohdy až orchestrální zvuk.
Hned první skladba, Good Times Bad Times, je neskutečná, ohromně vzrušující jízda. Lepší začátek si posluchač nemůže přát. Následující píseň Babe I'm Gonna Leave You prověří pěvecké kvality Roberta Planta. Nádherná balada se střídavými erupcemi bicích a kytary.
Blues Willie Dixona You Shook Me hrál ve své době kdekdo a píseň se stala skvělou příležitostí k tomu, aby se jednotliví členové skupiny předvedli a ukázali, kde jsou jejich hudební kořeny. Pak přijde skladba, kterou Page hrával již s Yardbirds, totiž Dazed and Confused. Jeho hra smyčcem na kytaru vytváří magickou náladu, která je vzápětí rozbita Bonhamovou baterií bicích. Plant vede s kytarou rovnocenný dialog, jenž chvílemi přerůstá v hudební orgasmus. Chvílemi mám pocit, že to celé drží pohromadě jen díky Jonesově baskytaře.
Poté je načase, aby si posluchač odpočinul při kousku Your Time Is Gonna Come, který zvolna přejde v křehkou instrumentální věcičku Black Mountain Side, ve které se předvede na akustickou kytaru Jimmy Page doprovázený na tabla. Jakoby si zbytek kapely potřeboval odpočinout před další peckou Communication Breakdown. Ta se hrne nezadržitelně vpřed jako dobře promazaný stroj. Ukázka, jak má vypadat a hlavně znít hard rock. A opět se loví v dílně Willie Dixona, tentokrát to je blues I Can't Quit You Baby, ve kterém Page vystřihne jedno ze svých mnoha nezapomenutelných sól. Závěrečná kompozice How Many More Times opět ukazuje dokonalou souhru všech čtyř hudebníků a podobně jako Dazed and Confused se vymyká žánrovému zařazení.
Myslím, že v historii rockové hudby je málo takových debutů, které měly určující vliv na daný žánr. První album Led Zeppelin k nim můžeme bez obav přiřadit.  Vzducholoď úspěšně vzlétla.
Skladby:
01. Good Times Bad Times (2:46)
02. Babe I'm Gonna Leave You [Page/Plant/Bredon] (6:41)
03. You Shook Me [Dixon/Lenoir] (6:28)
04. Dazed and Confused [Page/Holmes] (6:26)
05. Your Time Is Gonna Come [Page/Jones/Plant] (4:14)
06. Black Mountain Side [Page] (2:05)
07. Communication Breakdown (2:27)
08. I Can't Quit You Baby [Dixon] (4:42)
09. How Many More Times (8:28)
Sestava:
Robert Plant – lead vocals, harmonica
Jimmy Page – electric guitar, acoustic guitar, pedal steel guitar, backing vocals
John Paul Jones – bass, organ, backing vocals
John Bonham – drums, tympani, backing vocals
Viram Jasani – tabla (6)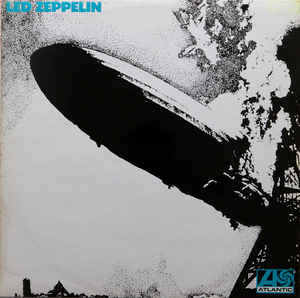 Led Zeppelin
Led Zeppelin
Blues rock, hard rock
Atlantic
1969
CD
9