CD Ma.Ra.Cash Records – MRC 003  /2005/
První oficiálně vydanou koncertní nahrávkou Banco del Mutuo Soccorso je album Capolinea, z roku 1980. Od té doby se sice na trhu objevilo i několik amatérských live záznamů pořízených ještě v průběhu sedmdesátých let, ovšem vesměs jsou to snímky v mizerné kvalitě, s chudou výbavou a nevalným zvukem. Světlou výjimkou je album Seguendo le tracce, obsahující vystoupení z italského Salerna, zaznamenané 23.04.1975. Do světa ho poslal label Ma.Ra.Cash Records v roce 2005 (MRC-003) a podle katalogového čísla soudě šlo o teprve třetí titul v historii firmy. Je v klasické plastové krabičce a s transparentním trayem, ovšem obsahuje i pěkný, dvanáctistránkový booklet s celou řadou raritních fotografií.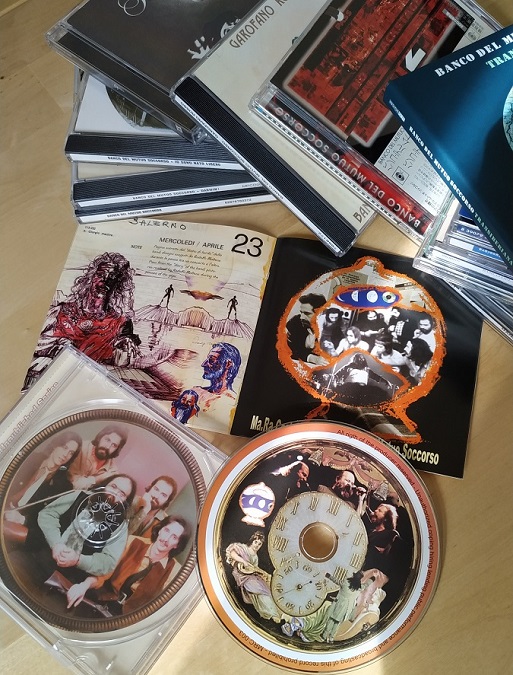 Podle dostupnejch zdrojů jde o vůbec nejlepší a nejkvalitněji zaznamenané vystoupení B.M.S. z doby, kdy byli na vrcholu kariéry a já tomu věřím. Jeho zvuk je prakticky dokonalej a tak nic nebrání tomu, vychutnat si instrumentální mistrovství a vzájemnou souhru členů kapely. Ostatně, na ProgArchives má tohle album aktuální známku 4,12 a to hovoří, myslím, za vše. Však je to také vůbec nejlépe hodnocená lajfka Banco na PA…
Začátek nemůže být lepší. Skladba R.I.P. patří k největším šlágrům kapely a tak nesměla chybět na žádném vystoupení, navíc v tak trochu nevděčné roli "votvíráku". Je to jedna z mých nejoblíbenějších skladeb B.M.S., v tomhle případě s textem v angličtině a v pozměněné verzi tak, jak ji znám z exportního LP Banco z roku 1975. Z té samé desky pochází aj následující, eruptivní šleha  L'albero del pane a jestli se nepletu, je to jedna z mála možností slyšet ji v téhle podobě. Skupina tuhle věc zase tak moc nehrála a na žádném jiném live albu ji nenajdete.
První dva tracky se od verzí ze studiových alb příliš neliší, ovšem jiné už je to s peckou Danza dei grandi rettili. Původní, z LP Darwin! pocházející jazzová instrumentálka měla necelé čtyři minuty, ale tady ji kapela natáhla rovnou na dvanáct a jsou to virtuózní bakchanálie. Především bratři Nocenziovi se vyřádí v kaskádách klávesových sól, ale ostatní nezůstávají o nic pozadu. Kytarista Rodolfo Maltese se předvede jako jazzovej trumpeťák a krátké extempore si střihne aj bubeník Calderoni. Plynule navazující klávesové intermezzo Passaggio je vzpomínkou na debut a po něm přichází folkrocková halekačka Non mi rompete. Další slavná píseň a evergreen, bez kterého se nesměla obejít žádná koncertní show.
Vůbec nejnáročnější položkou programu je v pořadí šestá Dopo…niente è più lo stesso, pocházející z desky Io sono nato libero. Členitá kompozice, u které se člověk sotva trefí do rytmu (a na nějakej tanec může rovnou zapomenout) a Art rock s velkým A. Koncert pokračuje výtečnou, chytlavou instrumentálkou Traccia II a vrcholí 26 minut dlouhou exhibicí Metamorfosi. Její, z debutového alba pocházející předloha je o víc jak polovinu kratší, takže si asi dovede představit, jak se tu kapela vyřádila. Na druhou stranu – všeho moc škodí a tak se u těch dlouhých sól (na piano, bicí nástroje a hvízdající syntezátor) malinko ztrácím. Se zvláštním důrazem na slovo "malinko"…
Nevím, jestli jde o nahrávku určenou pro potřebu skupiny, nebo bootleg, ale hraje to fakt dobře. Na italské poměry a rok 1975 určitě. Podle mého názoru se tu dodatečně nic neupravovalo a kapela šlape, jako dobře namazanej stroj. Ohlasy publika jsou potlačené a něco málo je slyšet jen v pauzách mezi písničkami. Jedinou výtku bych tak měl jen k trochu přehulenému a zkreslenému vokálu Francesca Di Giacoma, ale kdo se v tvorbě skupiny orientuje ví, že toho zpěvu tady zas tak moc není. Za čtyři.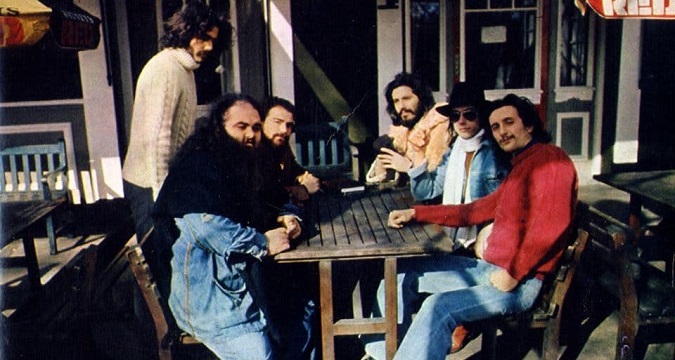 SKLADBY:
1. R.I.P. (English Version) (8:58)
2. L'albero del pane (5:01)
3. La danza dei grandi rettili (11:31)
4. Passaggio (0:50)
5. Non mi rompete (6:03)
6. Dopo… niente é più lo stesso (12:36)
7. Traccia II (3:27)
8. Metamorfosi (26:15)
Total Time: 74:47
SESTAVA:
Francesco Di Giacomo – vocals
Gianni Nocenzi – piano, electric piano and clarinet
Vittorio Nocenzi – keyboards and synth
Rodolfo Maltese – guitars and trumpet
Roberto D'Angelo – bass guitar
Pierluigi Calderoni – drums and percussions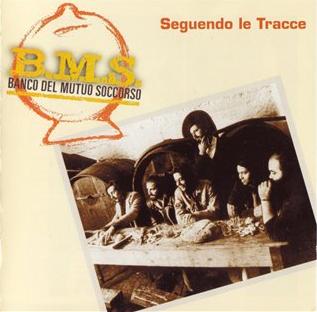 Seguendo Le Tracce
Banco Del Mutuo Soccorso
Prog Rock
Ma.Ra.Cash Records
2005
CD
8
CD Ma.Ra.Cash Records – MRC 003 /2005/