THE BEATLES! Fenomén a absolutní kult, jehož nedotknutelná aura způsobovala během koncertů kapely srdeční kolapsy mladých dívek a nepochopitelné otazníky v očích jejich rodičů. V tak velkém rozsahu se už žádná z dalších příchozích gigantických kapel (a že jich ještě pár přibylo) nepodílela na utváření názoru a života mladé generace.
Hudba této formace mě provázela takřka od dětských krůčků a napevno se stala nedílnou součástí mého života. Vnímám je jako ten prvotní a nejsilnější startér a zároveň i vrchol, který na této planetě zažehnul celosvětovou hudební revoluci. A abych se přiznal, sic s úsměvem na rtech, přesto nedokážu zcela pochopit názory těch, kteří je nějakým způsobem zatracují, očerňují a nemají rádi vůbec. Mnoho takových je i v řadách s progresivní muzikou srostlých jedinců, tam mne podobné postoje udivují o to více. Osobně vnímám The Beatles jako ten největší a nejsilnější progres, jaký tu kdy existoval.
Rozumím názoru těch, kteří nespatřují nic objevného a světu přinášejícího v lalala popěvcích prvního období brouků, ale to druhé, halucinogenní, staví dle mého všechny rádoby progresivní tělesa na druhou kolej. Desky albem Revolver počínaje a Let It Be konče, jsou jeden ohromný pokrokový strom tyčící se až do nebe, se stovkami rozvětvených sofistikovaně prokomponovaných písňových struktůr. V pouhých třech minutách většiny z nich, je více fištrónu a umělecké krásy, než mnohých jiných sáhodlouhých kompozicích, plošně pokrývajících polovinu alba.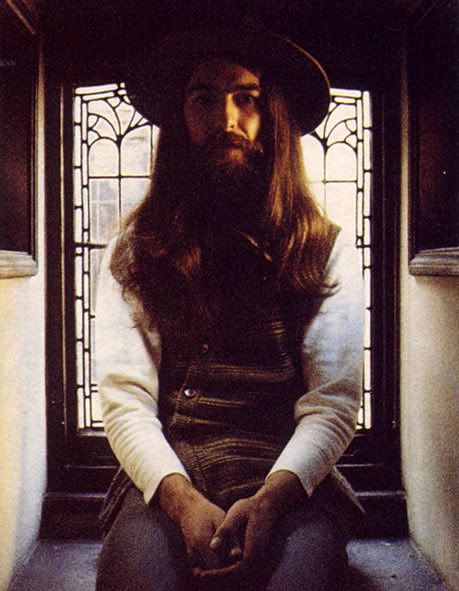 Když tahle ikona udělala za svou činností tlustou čáru, čtyři osobnosti jejího společného života se vydali každý svou cestou. Jednou z nich byl i věčně upozaďovaný kytarista, skladatel a zpěvák George Harrison, který po sobě zanechal na své soukromé umělecké dráze jednu z nejpozoruhodnějších písňových kolekcí – All Things Must Pass. Vydejme se společně v jejích stopách.
Už první I'd Have You Anytime je jednou z vůbec nejkrásnějších skladeb z pera G. Harrisona. Celé to kouzlo je ukryto v její skromné a něžné náladě a atmosféře. Duchovnem nasáklá My Sweet Lord se stala vlajkovou lodí celé této nahrávky. I přes její částečnou ohranost z ní prýští pořád něco mysticky tajemného, co nemůže nechat vnímavého posluchače chladným. Celé první cd, nebo chcete li dvě strany jednoho elpíčka, jsou skladatelsky velmi silné a vyrované. Osobně mám rád teskné harmonie v Isn't It A Pity (Version One), melancholické kusy If Not For You a Behind That Locked Door – typické Harrisonovky té doby.
Další disk otevírá všem zaníceným prog-rockerům dobře známá skladba Beware Of Darkness, kterou v upravené formě umístili na úvod svého druhého alba americké ikony žánru Spock's Beard. Dokonce po ní desku pojmenovali a dokázali ve své verzi podtrhnout její náladu a esprit. Kouzelná věc. Apple Scruffs otevíra ráznější melodie na foukací harmoniku, čímž naznačuje, že další kolekce písní se posune na malinko jinou kolej a nebude se držet tolika melancholické noty. I když třetí Ballad Of Sir Frankie Crisp (Let It Roll) je zrovna taková. Něžna, cudná, protchnuta decentní melodikou a zafoukaná lehoulinkým sněhovým popraškem. Další z Harrisonových majstrštyků. Awaiting On You All je taková nenápadná rozverná taškařice po vzoru jeho bývalých chlebodárců a titulní All Things Must Pass kočírují v její emotivní rovině klouzající kytarové tóny a zdařilá dechová složka. Trochu experiment na muzikálový způsob je sedmá Art Of Dying a sugestivní zpěvnou tečkou pak Hear Me Lord, s typickým Georgeovým brilantním písňovým cítěním.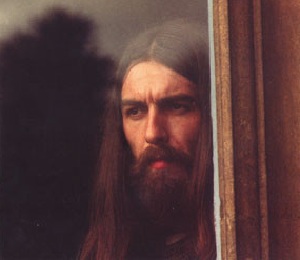 Nahrávka  All Things Must Pass se stala kasovním trhákem i vítězstvím Harrisonových snah na osamostatnělém poli autorsko-hráčském. Nejpozději zde dokázal vystoupit ze stínu Lennon/McCartney a dokázat světu i sobě, že se s těmito skladatelskými esy může směle poměřovat.
SKLADBY:
1. I'd Have You Anytime (2:59); 2. My Sweet Lord (4:41); 3. Wah-Wah (5:39); 4.  Isn't It A Pity (Version One) (7:10); 5. What Is Life (4:20); 6. If Not For You (3:33); 7. Behind That Locked Door (3:08); 8. Let It Down (4:58); 9. Run Of The Mill (2:53); 10. Beware Of Darkness (3:49); 11. Apple Scruffs (3:08); 12. Ballad Of Sir Frankie Crisp (Let It Roll) (3:54); 13. Awaiting On You All (2:50); 14. All Things Must Pass (3:46); 15. I Dig Love (4:59); 16. Art Of Dying (3:40); 17. Isn't A Pity (Version Two) (4:47); 18. Hear Me Lord (5:47); 19. Out Of The Blue (11:17); 20. It's Johnny's Birthday (0:50); 21. Plug Me In (3:23); 22. I Remember Jeep (8:08); 23. Thanks For The Pepperoni (5:33).
SESTAVA:
Drums & Percussion – Ringo Starr, Jim Gordon, Alan White
Bass Guitar – Klaus Voorman, Carl Radle
Keyboards – Gary Wright, Bobby Whitlock, Billy Preston, Gary Brooker
Pedal Steel Guitar – Pete Drake
Guitar – George Harrison, Eric Clapton, Dave Mason
Tenor Saxophone – Bobby Keys
Trumpet – Jim Price
Rhythm Guitars & Percussion – Badfinger
Tea, Sympathy, and Tambourine – Mal Evans
And introducing the George O'Hara-Smith Singers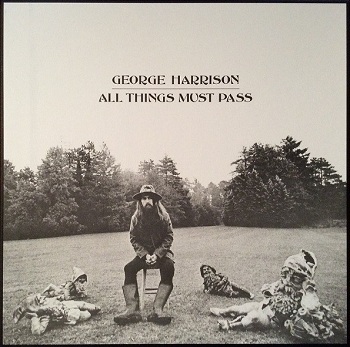 All Things Must Pass
George Harrison
Rock
Apple Records
1970
3xLP
23