CD Musea – FGBG 4314.AR /2000/
Diskografie americké art rockové skupiny Happy The Man je trochu nepřehledná, historie zašmodrchaná a pro větší přehlednost bych ji rozdělil na dvě etapy. Ta první – z mého pohledu podstatnější – zahrnuje tvorbu ze sedmdesátých let minulého století a ta druhá od reunionu v roce 2000 do současnosti. Ostatně, historii skupiny ve svých textech podrobně rozebral kolega Mayak…
Kapela se rozešla v roce 1979 a do té doby stihla natočit a vydat dvě oficiální studiová alba. Crafty Hands je druhým v pořadí a vyšlo 21.09.1978. Od debutu ho dělí sotva rok a porovnáme-li sestavu zjistíme, že zůstala téměř stejná, jen bubeníka Mikea Becka nahradil Ron Riddle. Ani hudebně nedochází k nějakým závratným změnám a obě placky se od sebe moc neliší. Pořád se jedná o víceméně instrumentální, vzdušný a přitom propracovaný a do detailu vypiplaný art rock.
Debut nabídl dvě "písničky", Crafty Hands jednu, sedm minut dlouhou Wind Up Doll Day Wind. Zbytek materiálu je komplet instrumentální a hlavní rozdíl mezi oběma kotouči slyším v jejich celkovém vyznění. Podstatně ubylo jazzových prvků i takových těch rytmických zvratů ála Gentle Giant. Album je tak o dost posluchačsky vděčnější a přístupnější svého předchůdce a prakticky jedinými skladbami s poněkud komplikovanější rytmickou stavbou jsou čtvrtá Steaming Pipes a sedmá I Forgot To Push It. Naopak první dvě, Service with A Smile a Morning Sun, nebo poslední The Moon, I Sing (Nossuri) jsou až nečekaně melodické, uvolněné a přímo vybízející ke snění a relaxaci.
Nic naplat, ale ani příklon k melodičtějšímu pojetí nepřinesl nějakej výraznější komerční úspěch. Ono se není čemu divit, "urozenému" rocku zvonil umíráček a o album nebyl absolutně žádnej zájem. Kapela sice začala pracovat na novém materiálu, ale do roka se (dnes už víme, že nikoliv definitivně) rozpadla.
Absence zpěvu mi nevadí, ale je fakt, že to není úplně obvyklé a pro někoho by to mohl být oříšek. V porovnání s debutem přístupnější a melodičtější obsah alba mi ovšem vyhovuje a ručičku vah překlápí na stranu Crafty Hands. Debut jsem ohodnotil slabší čtyřkou, tady je to za čtyři a půl. Vynikající přírůstek do každé (art rockové) sbírky.
SKLADBY:
1. Service With A Smile ( Ron Riddle, Hawkes) – 2:44
2. Morning Sun ( Kit Watkins) – 4:05
3. Ibby It Is ( Frank Wyatt) – 7:50
4. Steaming Pipes ( Stanley Whitaker) – 5:30
5. Wind Up Doll Day Wind ( K.  Watkins, S. Whitaker, F. Wyatt) – 7:06
6. Open Book ( F.  Wyatt) – 4:53
7. I Forgot To Push It ( K. Watkins) – 3:08
8. The Moon, I Sing (Nossuri) ( K. Watkins) – 6:16
SESTAVA:
Stanley Whitaker – Six And Twelve String Guitars, Vocals
Frank Wyatt – Pianos, Harpsichord, Saxes, Flute, Words
Kit Watkins – Pianos, Harpsichord, Moog, Fake Strings, Clavinet, 33, Recorder
Rick Kennell – Bass
Ron Riddle – Drums, Percussion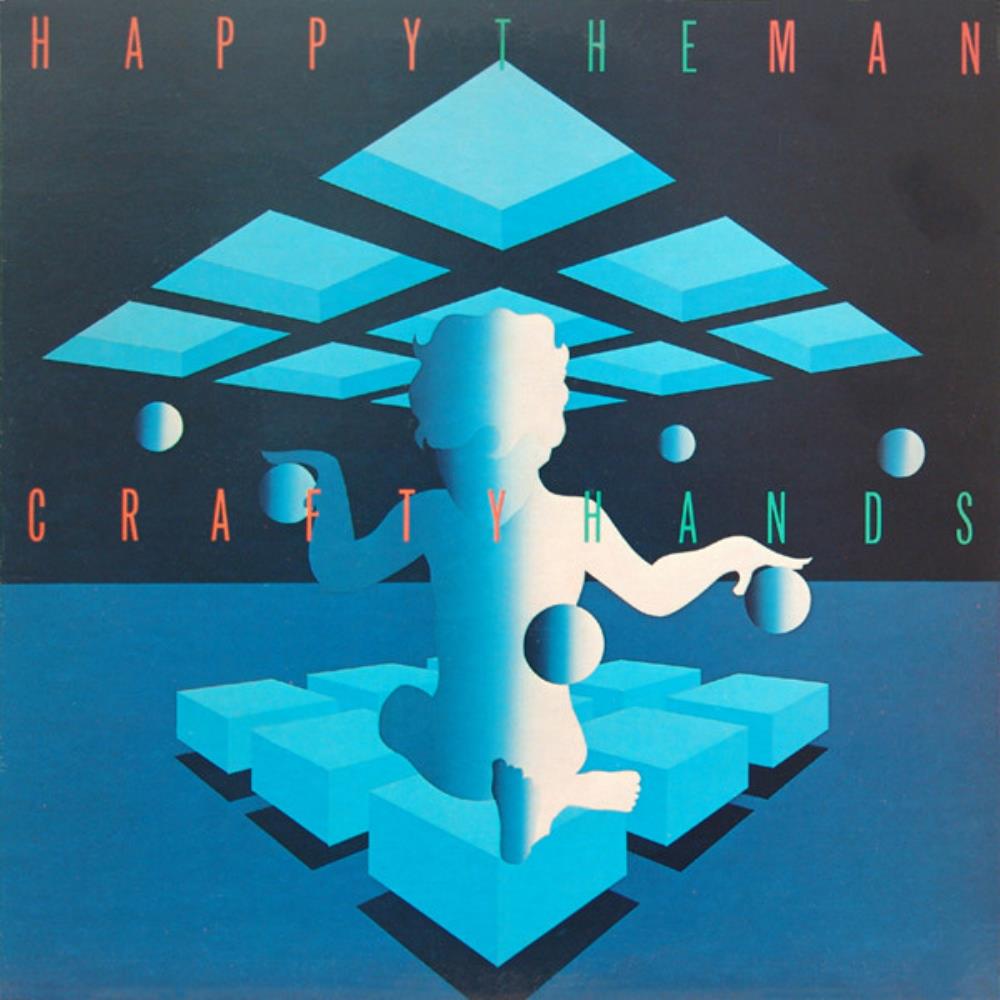 Crafty Hands
Happy The Man
Prog Rock
Arista
1978
LP
8
CD Musea - FGBG 4314.AR /2000/