Symfonickou suitu Šeherezáda, ruského skladatele vážné hudby Nikolaje Andrejeviče Rimskij-Korsakova, považují za jedno z nejlepších a instrumentálně nejbarevnějších hudebních děl, které mám už dlouhá léta ve velké oblibě. Klasicko rocková nahrávka významného britského hudebního tělesa sedmdesátých let Renaissance, se jí ve své sdělnosti jen těžko vyrovnává, ale posuzovat dvě tak rozdílné hudební složky není předmětem této recenze. Album Scheherazade And Other Stories rovněž obsahuje překrásnou muziku na pomezí rock/klasika a posluchače, využívající především vážnou hudbu jako svou doménu, dokáže taktéž náležitě oslovit.
Významným atributem kapely je úchvatný vokál Annie Haslam, díky němuž dokonale vynikne atmosféra nahrávky (nahrávek) této kapely. Nepřeberné množství motivů převzatých, nebo spíše podobných těm vážno hudebním, nalézá živnou půdu u obou částí hudebního publika. Tato platforma je využita hned v úvodních klavírních bězích skladby Trip To The Fair. Skřehotavý chechot a vzdálené nadpozemské nářky, vytváří krásně mystickou pachuť, do které se ve druhé třetině přidává anděl Annie a skladba pomalu přechází do rockové oblasti.
The Vultures Fly High je dynamicky ostřejší, rockově uhánějící kráska a Ocean Gypsy naopak výrazně zpomalí a nechává Anniin vokál dýchat a doširoka roztáhnout křídla. Klasické vzdělání klavírního kouzelníka Johna Touta se nejvíce projeví ve skladbě titulní. Střídání klasické symfonické stavby, rocku, mužského a ženského vokálu a chrámových sborů ve velice pestrém aranžmá, se urputně snaží o zapsání do hudebních análů, hned vedle Korsakovova díla.
Úchvatné představení.
SKLADBY:
1. Trip To The Fair (10:48)
2. The Vultures Fly High (3:07)
3. Ocean Gypsy (7:05)
4. Song Of Scheherazade: (24:52)
– a) Fanfare (2:37)
– b) The Betrayal (4:55)
– c) The Sultan (2:46)
– d) Love Theme (2:29)
– e) The Young Prince And Princess As Told By Scheherazade (4:04)
– f) Festival Preparations (1:07)
– g) Fugue For The Sultan (2:12)
– h) The Festival (2:12)
– i) Finale (2:30)
SESTAVA:
Annie Haslam – lead & backing vocals
Michael Dunford – acoustic guitar, backing vocals
John Tout – keyboards, backing vocals
Jon Camp – bass, bass pedals, lead (4c) & backing vocals
Terence Sullivan – drums, percussion, backing vocals
+
Tony Cox – orchestral arrangements
London Symphony Orchestra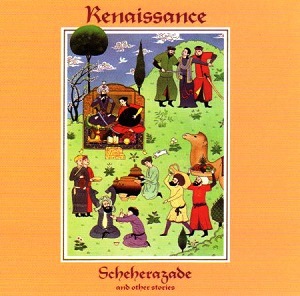 Scheherazade And Other Stories
Renaissance
Art Rock, Prog Rock, Symphonic Rock
BTM Records
1975
LP, CD
4