Keď som v máji 2019 hľadal externých spolupracovníkov pre stránku ROCKOVICA.com, oslovil som viacerých zahraničných recenzentov. Opäť sa raz potvrdili moje skúsenosti z minulosti – od absolútnej ignorácie, cez pýtanie peňazí za každý článok, až po sľuby, ktoré sa nikdy neuskutočnia. 
Bola tu jediná výnimka – Kev Rowland. Vôbec som netušil, s kým mám tú česť. Jeho reakcia mi pristála v pošte v auguste 2019 s ospravedlnením za meškanie a stručným vyjadrením:  "Ahoj Pito, ak sú moje články pre Vašu stránku užitočné, nemám s ich zverejnením žiadny problém… Ak máte záujem, budem Vám každý týždeň zasielať kompletný zoznam mojich najnovších príspevkov…"
Zároveň mi Kev zaslal jednu svoju knihu v elektronickej podobe – The Progressive Underground Volume 1. K tej sa ešte dostanem…
Kto je vlastne Kev Rowland?
"Od roku 1990 do roku 2006 som vo Veľkej Británii viedol fanzin Feedback, písal som o kapelách, ktoré sa nikdy nevenovali mainstreamu, z ktorých mnohé boli v progresívnom undergrounde. Vytvoril som si úzke vzťahy najmä s mnohými britskými skupinami ako Freewill, Credo, Galahad… Preskúmal som doslova tisíce kaziet a CD skupín z celého sveta. Počas tohto obdobia som tiež prispieval do francúzskemu progzinu Acid Dragon, do známeho Rock 'n' Reel, ako aj pre webovú stránku Ghostland. V roku 2006 som sa presťahoval na Nový Zéland a vydávanie Feedback_u pozastavil. (Ten sa potom premenoval na Amplified, odkiaľ som na svoju žiadosť odišiel.) Produkoval som vyše 80 vydaní s viac ako 11 tisíc tlačenými stranami.
Na Novom Zélande som prestal písať a recenzovať, ale postupne som sa vrátil na scénu a začal prispievať na mnohé stránky i do časopisov. Vložil som sa do toho s rovnakým zápalom, ako pred 20 rokmi. V roku 2014 som to však zastavil a začal pracovať na knihe, ktorá obsahuje všetky moje progresívne recenzie pre Feedback. Dokončil som ju na konci roku 2016…
Píšem o rôznych hudobných štýloch, od akustiky a jazzu cez všetky typy rocku (progresívny, melodický, hard), až po najextrémnejší metal a avantgardu. Všetky moje recenzie sa objavujú v tlačenej verzii britského fanzinu Amplified (stále aktívny aj po 30 rokoch), tiež ich odosielam do týždenného elektronického časopisu Gonzo, poľského www.mlwz.pl (kde Artur uverejňuje každý deň niekoľko mojich recenzií v sekcii anglického jazyka), ďalej sú to stránky PowerofProg.com, HouseofProg.com, Progressor.net a ďalšie. Taktiež prispievam na www.Background.com, do francúzskeho progzinu Acid Dragon. Ak je skupina uvedená v príslušnom zozname, recenzia sa objaví aj na ProgArchives, všetky metalové na Metalmusicarchives a jazzové na Jazzmusicarchives. Uf!
Snažím sa objaviť a propagovať "nové" kapely, ktoré si to zaslúžia. V roku 2019 ma oslovil zástupca stránky Rockovica.com a ja som súhlasil s publikovaním mojich článkov v slovenskom jazyku."
– THE PROGRESSIVE UNDERGROUND VOLUME 1  –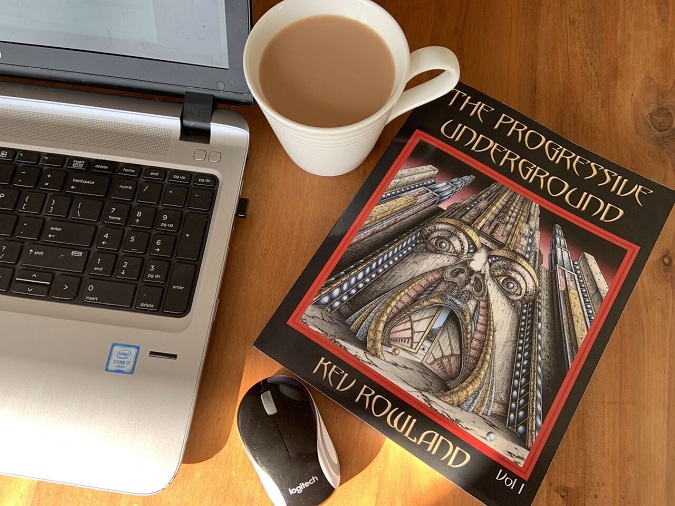 Kev Rowland v prvej časti svojej knihy predstavuje recenzie pre časopis Feedback, teraz premenovaný na Amplified, ktorý dlhý čas aj viedol. Ak chceme pochopiť, o čo Kevovi išlo, musíme si uvedomiť, že jeho písanie o hudbe začalo v rokoch, kedy o internete a nejakom super rýchlom  šírení článkov nemohlo byť ani reči. O progresívnu hudbu sa veľké tlačené média takmer vôbec nezaujímali, tým pádom ju vytlačili do undergroundu. Našťastie, bolo tu zopár "bláznov", ktorí sa s tým nezmierili a šírili progresívny rock medzi fanúšikov hudby. Bol medzi nimi aj autor tejto knihy, pokrývajúci široký hudobný záber, ktorý sa vypracoval na jedného z najznámejších a najpopulárnejších recenzentov. Až tak nám zrejme dôjde, čo tento človek pre hudbu, jej poslucháčov a hlavne samotných hudobníkov urobil, čo pre nich znamenal a stále znamená.
Ako naznačuje samotný názov, ide o prvý zväzok, ďalšie dva budú nasledovať ešte tento rok. Jednotka ponúka recenzie z rokov 1991-2006 a ide o interpretov pod písmenani A-H. Pre mňa množstvo neznámych, ale aj známych umelcov. 300 strán o hudbe, zväčša kratších, ale výstižných recenzií. Štartuje ich švédska progresívna grupa A.C.T so svojím debutovým albumom Today's Report a zakončuje jazzový umelec Gary Husband s The Things I See (Interpretations Of The Music Of Allan Holdsworth).

Pre detailistov, Volume 1 ponúka tieto heslá:
A.C.T., Abarax, Abbfinoosty, Abel Ganz, Abiogenesi, Acid Mother Gong, Adachi Kyodai, Addison Project, AD Infinitum, Advent, Aelian, Aesculus Hipp, After, After Crying, After The Fall, After@All, Afterglow, Agarta, Ageness, Agent Cooper, Ajalon, Jan Akkerman, Alaska, Albion, Al-Bird, Alias Eye, Alien On My Mind, Alientar, Alkemy, Daevid Allen, Daevid Allen & Russell Hibbs, Amarok, The Amber Light, Ambervoid, Amorphis, Anabis, Anathema, Andeavour, Robert Andrews, Anekdoten, Animator, Annalist, Anyone's Daughter, Arachnes, Aragon, Archetype, Ardency, Areknames, Arena, Ark, Arkus, Artension, ARZ, Asgard, Ashada, Asia, Astralasia, Ataraxia, Aton's , A Triggering Myth, Atria, Attica, At War With Self, Ausia, Axiom, Kevin Ayres, Ayreon, Marvin Ayres, Marvin Ayres + Peter Gomes, Azazello, Max Bacon, Vladimir Badirov, Frank Balestracci, Band of Rain, Peter Banks, Barclay James Harvest Featuring Les Holroyd, Barrock, Colin Bass, Adrian Belew, Believe, Robert Berry, Beyond The Labyrnith, Big Big Train, Black Bonzo, Black Bonzo, Blackfield, Black Jester, The Black Noodle Project, Tim Blake, Blow Up Hollywood, Blurt, Blyndsyde, Tomas Bodin, Jean Pascal Boffo, Bolt, The Bond, Andrew Booker, Christian Boule, Tim Bowness, Brassé, Brighteye Brison, Broadcast, Brother Ape, Budderfly, Tim Burness, Maryen Cairns, Cairo, California Guitar Trio, Laurent Calomne, Robert Calvert, Carpathia Project, The Carpet Knights, Carptree, Cashmere, Casino, Cast, Castarnac, Casual Affair, Marc Catley & Geoff Mann, Catweazle, Centrozoon, Cerebus Effect, Chain, Dennis Chambers, Jeff Berlin, David Fiuczynski, T. Lavitz, Chandelier, Chaos Code, Cherno, Chroma Kay, Circus, Cirkus, Citizen Cain, Citriniti, Cleopatra's Needle, Cliffhanger, Climate of Earth, Cloudscape, The Coenobite, Collage, Colorstar, Colosseum, Colt, Coltsfoot, Concerto Moon, Conqueror, Conspiracy, Court, The Covenant, Craft, Credo, Cross, David Cross, Cross 'n' Crazy, Cryptic Vision, Crystal Maze, Crystal Phoenix, Vedres Csaba, Curious Works, Curved Air, Cyan, Istvan Cziglan, D Sound, Daimonji, Damien Steele, Martin Darvill and Friends, Darwin's Radio, Darxtar, Alan Davey, Simon Davies, Dawnlights, Day Shift, Dead Soul Tribe, Death Organ, Degree Absolute, Deimos, Delta Cyphei Project, Deluc, Der Spyra, Deyss, DFA, DGM, Dialog, Different Trains, Difficil Equilibrio, Digital Ruin, Dilemma, Discipline, Djamra, Julius Dobos, Rudi Dobson, Tim Donahoe, Troy Donockley & Dave Bainbridge, Geoffrey Downes, Drahk Von Trip, Drama, Dreadnaught, Dream Aria, Dream Machine, The Dreaming, Drifting Sun, Sergey Dudin, Dulcimer, Dynamic Lights, Dyonisos, Earthling Society, Earthstone, East Wind Pot, Eat Static, Eccentric Orbit, Echolyn, Eden Burning, Edera, Edhels, Egdon Heath, Eldritch, Electric Outlet, Elegant Simplicity, Emerald, Emerson, Lake & Palmer, Keith Emerson & The Nice, E Motive, Empty Tremor, Alan Emslie, Enchant, The Enid, Roger Eno, Ensemble Nimbus, Epidermis, Epilogue, Roberto Erdesz, Er Malak, Michael Ernst, Eskaton, Evenfall, Event, Evergrey, Everon, Evolution, Exhibit A, Existence, Eyestrings, Ezra, F.H.C., Faith, Fancyfluid, Fantasmagoria, Fantasyy Factoryy, Farmakon, The Fellowship, Mike Figgis, Final Conflict, Finisterre, Finnegan's Wake, Finneus Gauge, First Band From Outer Space, Fish, Fitzpatrick, David Fiuczynski, Flamborough Head, Flat 122, Flight 09, The Flower Kings, Fluxury, Focus, Fonya, For Absent Friends, Forest Stream, Forgotten Suns, Jack Foster III, Frágil, Framauro, Frameshift, Framework, Free Love, Freewill, Sally French, Frog, Frogflavor, Frogg Café, Peter Frohmader, Frost*, Fruitcake, Fugato Orchestra, The Future Kings Of England , The Fyreworks, The Gak Omek, Galahad, Galahad Acoustic Quintet, Galleon, Gandalf, Garden Wall , Julian Garner, Jerry Gaskill, TheGathering, Gecko's Tear, Peter Gee, Gentle Giant, George Velvet, Gerard, Jim Gilmour, Ghosts Of Dawn, Gordon Giltrap, Glass, Glass Hammer, Gong, Good Authority, Tadachi Goto, Grace, Grand Stand, Grass, Gratto, Greenslade, Grendel, Grey Lady Down, The Guardian's Office, Yngve Guddal And Roger Matte, The Guitar Orchestra, Trey Gunn, Steve Hackett, Hamadryad, Happy The Man, Gordon Haskell, Annie Haslam, Hatfield And The North, Hauteville, Hawkwind, Haze, Head Pop Up, Hecenia, Henry Fool, Heon, Steve Hillage, Steve Hillman, Tracy Hitchings, Roger Hodgson, Holy Lamb, House Of Spirits, House/Goodway, Steve Howe, Höyry-Kone , Gary Husband.
V predslove sa čitateľom prihovára Stu Nicholson (Galahad), na zadnej strane obálky sú komentáre Grega Spawtona (Big Big Train) a Clive Nolana (Arena, Pendragon). Autorom samotnej obálky je Martin Springett.
Ak sa to dá takto pomenovať, Kev píše štýlom, ktorému porozumejú aj rockoví nadšenci spod Tatier i hory Říp, pričom nemusia mať červený diplom z anglického jazyka. Toto je pre mňa najväčšia devíza, samozrejme, mimo samotných albumov, ktoré predstavil. Za mňa jednoznačne – palec hore!
Kev, thank you very much!!!!!
P. S.: Škoda, že časovo sa dá stihnúť preložiť naozaj iba málo z toho, čo mi tento plodný autor ponúkol a ponúka na zverejnenie. Napriek tomu sa budem snažiť, aby sa jeho meno pravidelne objavovalo medzi novými príspevkami na stránke ROCKOVICA.com.
P. P. S.: Oslovil som mladých študentov, aj bilingválnych gymnázií, či by mi nepomohli s prekladaním, ale ak na jeden krátky článok čakáte mesiac, tak…
– THE PROGRESSIVE UNDERGROUND VOLUME 1 –
Available now through Amazon! Links below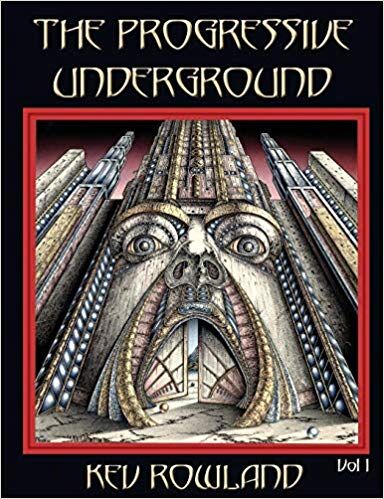 The Progressive Underground Volume 1
Kev Rowland
Prog Rock
Gonzo Media Group
2018
Kniha, 300 strán
Elektronická kniha