CD Black Widow Records ‎– BWRCD 139-2 /2011/
Britskou školou ovlivněnej hard rock s náročnými, filosofickými texty v italštině a undergroundovým zvukem. Nahrávka, pořízená za jediný den v říjnu (údajně v pátek, třináctého) roku 1972 a oficiálně vydaná až o téměř čtyřicet let později. Skupina Spettri měla zajímavej osud a alba s příběhem já rád…
Skupina Gli Spettri (Přízraky) pochází z Florencie a vznikla v roce 1964. Původní sestavu tvořili bratři Ugo a Raffaele Ponticiellovi (kytara, zpěv), Giuliano Giunti (basa) a Ubaldo Palanti (buben), ovšem již o necelý rok později poslední dva jmenované nahradili Roberto Binchi a Mauro Sarti (později zakládající člen kapely Campo di Marte).
Gli Spettri začínali jako beatová skupina a natočili i několik singlů, ale bodovali především svou živou a na tehdejší poměry hlučnou prezentací. Ve Florencii byli jedněmi z prvních, kteří začali používat kytarové zesilovače o výkonu 100 Wattů, což bylo něco do té doby neslýchaného. Mezi mladými fanoušky to vzbudilo rozruch a zájem o skupinu začal postupně sílit…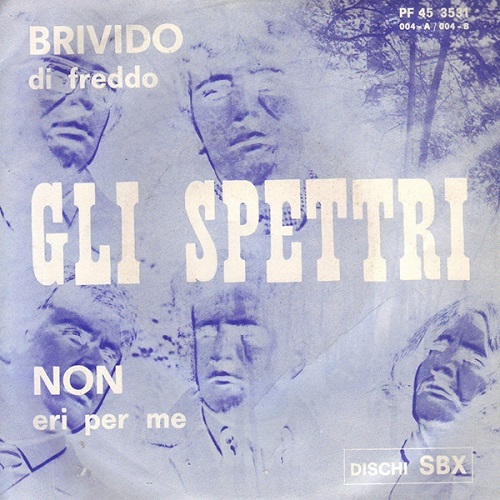 Následující roky přinesli několik podstatných změn: v roce 1968 odešel bubeník Sarti, kterého nahradil bývalý člen rhythm and bluseových Players Giorgio Di Ruvo. Potom do kapely nastoupil hráč na klávesové nástroje Alessio Rogai, ale dlouho nevydržel a na jeho místo přišel Stefano Melani (ze skupiny I Monaci) a to nebylo všechno, střídání stráží proběhlo i na postu baskytaristy. V roce 1970 se v kapele mihnul Giuseppe Nenci, kterého vyměnil nejmladší z bratrů Ponticiellových, Vincenzo. A ze Spettri se stal rázem takřka rodinnej podnik.
Začátkem sedmdesátých let už to měl beat pořádně nahnuté a rovněž Spettri (kteří ze svého jména vypustili člen Gli) čelili nové, ze zámoří a britských ostrovů importované výzvě. Svoje dovednosti pilovali na coververzích Spirit, Deep Purple, nebo Black Sabbath, ale bylo jim jasné, že bez původního materiálu to můžou zabalit. Zavřeli se tedy do zkušebny a začali pracovat na vlastních skladbách, ovlivněni hudbou nejen výše uvedených skupin, ale i jejich souputníků Colosseum, King Crimson, ELP, nebo Pink Floyd. Koncept, který začali zpracovávat byl poněkud temnej a smrděl duchařinou a okultismem. Ugo Ponticiello napsal text o muži, který se snaží prostřednictvím spiritualistické seance najít smysl života, ale místo toho se propadne do děsivé noční můry, ve které ho pronásledují ta nejstrašlivější zla moderní společnosti.
Kompletní program měla skupina hotovej v roce 1971 a vzápětí s ním začala čile koncertovat. Vystoupila na celé řadě různých hudebních festivalů, kde si zahrála po boku Jumbo, Quella Vecchia Locanda a Nuova Idea, či mnohem proslulejších New Trolls, Le Orme, nebo Banco del Mutuo Soccorso. To všechno bylo fajn, ale hudební vývoj kráčel nezadržitelně vpřed a Přízrakům začínal docházet dech. Kapsy prázdné, smlouva v nedohlednu a tak padlo rozhodnutí jít tomu štěstí trochu naproti. Spettri odjeli do Milána, kde naživo a během jediného dne nahráli materiál na koncepční debutové album. Psal se 13. říjen, 1972…
…ale ani přes veškerou snahu jim to nakonec nebylo nic platné. Najít vydavatele bylo stále složitější a když v druhé polovině sedmdesátých let přestával být o podobnou muziku zájem, přišel nevyhnutelnej konec. Spettri to rozpustili a na jejich jedinou nahrávku sedal prach. Až teprve v roce 2011 ji režisér Paolo Strino a rozhlasový publicista a hudební expert Daniele Nuti nabídli nezávislému hudebnímu vydavatelství Black Widow Records, kde ji pečlivě ošetřili a vydali ve třech formátech – na LP, CD a jako limitku na stříbrném vinylu. Album sklidilo pochvalné ohlasy z celého světa, zaznamenalo překvapivá prodejní čísla a Spettri se tak dostalo pozornosti téměř čtyřicet let poté, co jej přivedli na svět. Comeback i navazující miniturné dopadli nad očekávání a skupina se rozhodla pokračovat v činnosti. Za podpory Black Widow vstoupila do studia, aby dokončila to, na čem začala pracovat již před dávnými lety. Koncepční příběh 2973 La nemica dei ricordi je přímým pokračovatelem debutového alba a vyšel 30. dubna 2015.
(zdroj HamelinProg)
Ovšem teď už k samotné prvotince a úvodem musím zmínit stylovou, texty písní dokonale vystihující obálku, která je reprodukcí obrazu "La vita dopo la morte" (Ferìda, 1976). Komplet album obsahuje pět stop v souhrnné délce 39:30 min, ale ta první je jen krátkým monologem, vysvětlujícím jeho obsah. Zbylé čtyři bych popsal jako dřevní hard rock v pomalém a ještě pomalejším tempu, se silácky riffující kytarou a přizvukujícími hammondkami. Inspirace hudbou z britských ostrovů je zřejmá, nicméně přirovnání k nějaké konkrétní kapele se mi hledá dost těžko. Možná k Black Sabbath (s varhanami) a to jen díky záhrobní atmosféře a loudavému tempu…
Začátek Parte prima: Stare solo je jak od nějaké beatové kapely z konce šedesátejch let, ovšem už po čtyřiceti vteřinách to rozčísne nosnej riff zboosterovaného Gibsona, ke kterému se připojí poněkud klopotným a těžkopádným dojmem působící bicí. Zvuk je špatnej, chvilkami vypadává a především bicí nástroje jsou hodně potlačené, ale s přibývajícími minutami se to začíná lepšit. A nebo si já začínám zvykat. Zhruba v polovině skladby dochází k malému (a vítanému) zrychlení, ale po kytarovém sóle se to znovu vrátí do původní, těžkotonážní podoby.
Stopáž následující Parte seconda: Medium dosahuje téměř deseti minut a začíná se odvíjet v podobně váhavém tempu, jako předchozí Parte prima. Kytara i klávesy hrají unisono a v momentech, kdy trochu zmlknou se přidá frontman Ugo Ponticiello. Líbí se mi, jak jeho hlas z původně čistých poloh pomaloučku hrubne a stává se stále agresivnějším. Přesně v polovině skladby se ozve úplně novej riff, po kterém se kapánek zrychlí a v dlouhé instrumentální pasáži si z chutí zasólují jak za klapkami sedící Melani, tak Raffaele Ponticiello na kytaru.
Úvodní sekvence rádoby ambiciózní a tedy i pořádně rozmáchlé Parte terza: Essere je vyhrazena akustické kytaře. Teprve po dvou minutách jí začínají přizvukovat varhany, které postupně přebírají otěže a budují předmostí pro vpád elektrické kytary. No, vpád. Jak se to vezme. Ono je to spíš jen takové přicmrndávání a docela se to táhne. Narozdíl od předcházejících dvou písní mi tady chybí nějakej výraznější záchytnej bod, nebo – jinými slovy – riff a až nekřesťansky dlouhá stopáž písně je v tomhle případě spíš na škodu. V řadách Spettri nefiguroval žádnej virtuóz, jejich instrumentální dovednosti byly spíš průměrné a tak to na mě působí poněkud amatérsky a bezradně.
Nejraději mám poslední Parte quarta: Incubo, ve které se Přízraky vracejí k tomu co jim jde nejlíp. Tedy k zemitému, i když poněkud jednoduchému hard rocku, s funerálními varhanami a v plíživě plazivém tempu. Vleče se to a loudá, jak pohřební průvod a kvílení nástrojů připomíná nářek pozůstalých nad dřevěnou rakví. Jenomže nic netrvá věčně a v čase 7:30 dochází k výraznému obratu. Jako první si vezme slovo Raffaele Ponticiello a vypálí kytarové sólo ostré, jak Smrťákova kosa. Plesnivou třešničkou na žluklém, smutečním dortu je pak až nečekaně chytlavej klávesovej motiv, po kterém celé album nenávratně končí…
V současné době už bychom asi nenašli moc naprosto zapomenutejch nahrávek z první poloviny sedmdesátých let, které by stály za investici (a zveřejnění) a z archeologického hlediska jde o výjimečnej počin, jehož historická hodnota je nevyčíslitelná. Na druhou stranu, obsahově to není zas takové terno a je třeba si přiznat, že ty nejvýznamnější nahrávky italského prog/hard rocku vznikaly jinde. A jindy.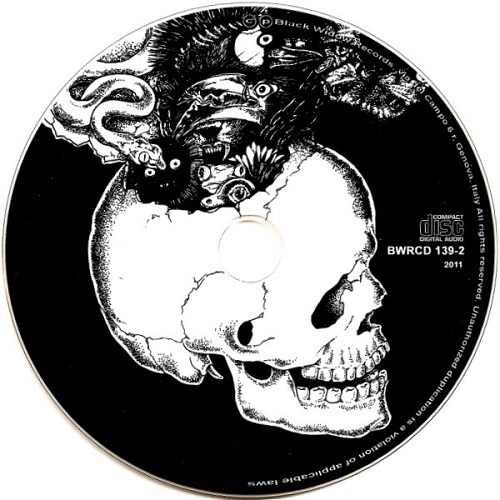 Kotouček s potiskem lebky na černém pozadí je v klasickém jewel boxu, s transparentním držákem CD. Výpravnej, šestnáctistránkovej booklet obsahuje biografii kapely v italštině a angličtině, texty písniček a několik raritních fotografií. Zvuk je sice špatnej, ale dokonale autentickej a odpovídá jak době vzniku, tak amatérským podmínkám. Slabší trojka.
SKLADBY:
1. Introduzione  (0:55)
2. Parte prima: Stare solo  (5:32)
3. Parte seconda: Medium  (9:55)
4. Parte terza: Essere  (12:03)
5. Parte quarta: Incubo  (11:00)
NOTES:
Suite recorded in Milan, Friday, October 13, 1972.
The cover: "The life after death" oil on canvas by Ferìda (1976).
SESTAVA:
Ugo Ponticiello – voce
Raffaele Ponticiello – chitarra elettrica e acustica
Vincenzo Ponticiello – basso
Stefano Melani – organo Hammond
Giorgio Di Ruvo – batteria
Spettri
Spettri
Hard Rock, Prog Rock
Black Widow Records
2011
CD, LP
5
CD Black Widow Records ‎– BWRCD 139-2 /2011/