V devadesátých letech nastoupil na scénu internet. Jak souvisí s progrockem, ptáte se. Celkem jednoduše, stal se katalyzátorem zájmu o zapomenuté interprety všech žánrů, díky němu se podařilo objasnit mnohé muzikantské osudy již v éře před dnešním všeobjímajícím streamingem. Aktivní neo-progové soubory pak získaly díky webu informační platformu nezávislou na komkoliv zvenčí.
Osobně jsem díky vyhledávači Alta Vista a katalogu Yahoo! objevoval od šestadevadesátého každoročně desítky a desítky nových neo-prog skupin, z nichž se většina objevila v nabídce CD klubu MCD. O některé z tehdejších objevů se dnes podělím.
CLEPSYDRA
Dnes, po dlouhých letech znovu aktivní švýcarská skupina, kráčela od počátku devadesátek ve stopách Fishových MARILLION. Jasnými rozpoznávacími markanty byly v raném období: výrazná tremola hlasivek Aluisia Magginiho a strun tehdejšího kytaristy Lela Hofmanna.
CLEPSYDRA debutovala v roce 1991 albem Hologram, na umělecký vrchol vystoupila následujícím titulem More Grains Of Sand, díky němuž sice získala smlouvu s Inside Out, současně ale ztratila pel svébytnosti a výjimečnosti, viz následující průměrná LP Fears (1997) a Alone (2001).
Před šesti lety vyšel souhrnný reprezentativní 4 CD box 3654 Days s remasterovanými a o bonusy doplněnými verzemi všech čtyř studiovek. CLEPSYDRA patří mezi nejzajímavější klony FISH-MARILLION.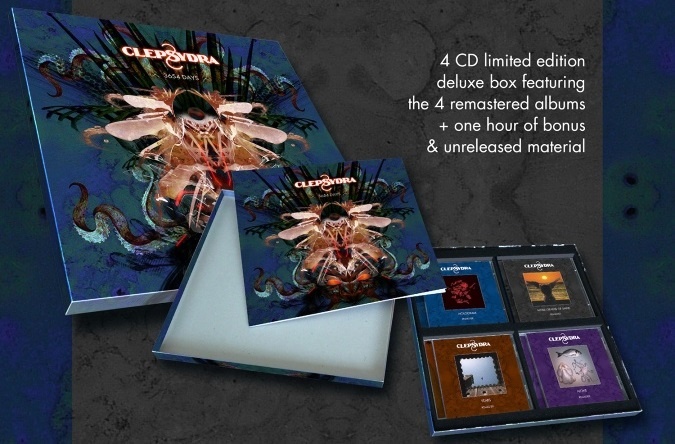 CHANDELIER
Pozdní německou odpovědí na MARILLION byli v 90. letech CHANDELIER. Sestava zůstala po celou dobu existence neměnná: Martin Eden (zpěv), Udo Lang (kytary), Stephan Scholz (baskytara), Tobias Budnowski (klávesy) a Tom Jarzina (bicí). Kapelu po prvním albu Pure (1990) rovněž ulovil lepkavý label Inside Out. Kdybych měl doporučit jediné album, bylo by to Facing Gravity (1992). Trojka Timecode (1997) se oproti němu jevila příliš rozvláčná, až mdlá. Žádné další LP/CD nenásledovalo, osudy muzikantů se mi nepodařilo vypátrat. Koho netahá za uši Edenův německý akcent, může si CHANDELIER užít stejně jako IQ, PENDRAGON, JADIS, i další marillionovské omalovánky.
FOR ABSENT FRIENDS
Pozapomenutí, byť dodnes aktivní Holanďané, soustředění kolem (mělce fishovského) zpěváka Alexe Toonena, se pojmenovali podle perlivé Collinsovy skladbičky z Nursery Cryme (GENESIS). Bohužel, FOR ABSENT FRIENDS původní odkaz artrockových sedmdesátek až příliš napřímili a zpřístupnili mainstreamovému posluchači. Něco jako …And Then There Were Three… versus Foxtrot. Neo-prog jenž sice neruší, ale ani nevzrušuje. Svíčková bez masa, samá omáčka, i když chutná.
Kapela vydala v rozmezí 1990-2001 šest studiových alb. Vyzkoušejte druhé Both Worlds (1991), případně třetí Running In Circles (1994). Většina skladeb je na youtube. Sedmé album 1 z roku 2006, nalezneme i v nabídce online knihoven Spotify/Tidal. Hodně informací je na facebookové stránce "For absent friends (Band)".
EGDON HEATH
Další nizozemská "Ryba" ze sádky SI Music. EGDON HEATH, působící v letech 1987-2001, navázali svým klávesově symfonizujícím neoprogem na dobovou anglickou nolanovskou školu. Příchodem zpěváka Jense van der Stempela v roce 1991 skupina získala technicky bezchybný, čistý, hladký hlas, se spoustou náladotvorných odstínů. Kompozičně to nebyla ze strany kapely nikdy žádná divočina ani ekvilibristika, určitou neprogresivní přímočarost skladeb zakrývaly mnohovrstvé, z počátku i nápadité klávesy.
Ze čtyř studiovek se dá jednoznačně doporučit dvojka The Killing Silence (1991), právě kvůli Jensenovu vokálu a aranžérské barvitosti. Poslední LP Nebula (1996), je naopak příkladem neoprogového zmaru, počínaje lopaťáckým projevem Mauritse Kalsbeeka, a konče dusivými duchnami syntíků a všeho možného balastu.
ARAGON
Do třetice SI Music, ovšem tentokráte z druhého konce světa, Austrálie, byť měli ARAGON ve svých řadách Skota (Les Dougan, zpěv), Itala (Tony Italia, bicí), Němce (Tom Behrsing, klávesy) a Řeka (John Poloyannis, kytara), tedy samé Evropany.
V prvním období své existence, do roku 1998, vydala skupina pět alb. Mezi nimi se vzpíná Rockin Horse And Other Short Stories From The Past z roku 1993. Les Dougan má v pianissimech chvějivý hlas třídy Fish/Gabriel, ve vypjatých pasážích ovšem chvílemi krákorá jako starej Komanč z Vinnetoua. Rozhodně ale nenudí, a to je podstatné. To samé v bleděmodrém platí také o instrumentaci, síla ARAGON je v decentnějších pasážích, tam se mládenci úspěšně předháněli v nápaditosti. Ve full forte je přeci jenom limitují jejich hráčské dovednosti.
Překvapivý reunion z roku 2004 (Dougan, Poloyannis, Behrsing) ukázal albem The Angels Tear zcela nový potenciál souboru.
INES
Ines Fuchsová kolem sebe s pomocí manžela Thomase shromáždila mezinárodní tým muzikantů. Z ASGARD (viz dále) kupříkladu k INES přišli: zpěvák Francesco Grosso a kytarista Massimo Michieletto. Klávesám kralovala sama dlouhovlasá víla, u mikrofonu se v rámci projektu vystřídali mimo jiné: Harald Bareth z ANYONE'S DAUGHTER, Baggi Buchmann (později u německých AIRBORNE a v dalším Thomasově projektu, FUCHS), Boris Huzak, Christoph Pelgen (jenž hostoval u ADARO a ELUVEITIE).
INES nahráli v letech 1994 – 2002 čtyři alba široce rozkročeného, lehkonohého, symfonického, zpěvavého progrocku – tudíž se dočkáme jednoduchých písniček, folkrockových balad, instrumentálních miniatur i artrockově vystavěných opusů. K poznání vyzdvihnu především debutové LP Hunting The Fox. Porozpadové osudy INES/Ines víceméně zapadly prachem, internetové stránky skupiny zanikly spolu s opuštěnou doménou. Jedinou aktivní stopou je již zmíněný Hansův sólový projekt FUCHS s epickým albem Leaving Home (2012), kde v jedné skladbě zapreluduje i Ines. Hans se mimoto dlouhodobě věnuje tvorbě výukových muzikálů pro školy.
NOW
Belgický zpěvák a kytarista Vincent Fis založil NOW v roce 1988. Ambiciózní skupina po svém adaptovala styl a sound YES z éry Trevora Rabina, plus přidala vokální ekvilibristiku à la STYX, s dominujícími, vysoko položenými hlavovými tóny.
Za opus magnum NOW lze považovat druhé album Spheres z roku 1991, stačí si poslechnout a vychutnat půlhodinový, pětidílný art/classical rockový monument Children Of A Dying World / Converging Universus a máte jasno – jeden z nejlepších zapomenutých neoprogových kusů deváté dekády. Po třetím LP Deep (1993) NOW končí. Klávesák Hervé Borbé, jenž tak suverénně zvládal "imitovat" Ricka Wakemana, se poté připojil k dodnes fungujícím MACHIAVEL.
ULYSSES
Skupina z německého Wiesbadenu natolik zaujala Cliva Nolana, že jim spolu s Karlem Groomem nejenom produkoval první a současně jediné album Neronia (1993), ale dokonce zapůjčil na dvě skladby svou múzu, Tracy Hitchings. ULYSSES krátkodobě působili v sestavě: zpěvák Gerard Hynes, kytarista Mirko Rudník, klávesista Thomas Dhiel, baskytarista Ender Kilic a bubeník Robert Zoom.
Právní problémy kolem názvu vedly ke změně názvu na NERONIA, v jejíž současné sestavě není ani jeden člen ULYSSES. Neronia patří k nejchutnějším jednohubkám marillionovské receptury.
TALE CUE
Jediná deska italské skupiny TALE CUE Voices Beyond My Curtain (1990) snese přímé srovnání s jakoukoliv art-prog klasikou. Zpěvačka Laura Basla je ženskou obdobou patetického Geoffa Manna, dá se dokonce říci, že i celková nálada alba se přimyká k Fact & Fiction TWELFTH NIGHT.
Skupina z Milána fungovala pouhých pár let. Laura se později objevuje coby doprovodná zpěvačka na LP Momo (2007) Alessandra Farinella. Kytaristu Silvio Masanotti lze najít v sestavách téměř dvaceti skupin.
ERIS PLUVIA
Janované Alessandro Serri a Edmondo Romano spolu muzicírovali od roku 1984, o něco později pak založili HEROS LIOGOS, přímé předchůdce ERIS PLUVIA. Svou hudbou doprovodili několik divadelních a scénických představení ("Nascere sinopia", "Quasi trasfigurare", "Eris Pluvia"). Styl a sound postupně přetvářeli od prvotní psychedelie k dalším experimentálním formám, aby nakonec zakotvili u odkazu klasického artrocku sedmdesátých let.
V roce 1990 nahrála skupina demo Pushing Together, o rok později vychází skvělý debut Ring of Earthly Light. Recenze psaly o pastorálním až symfonickém soundu, a přirovnávaly ERIS PLUVIA k CAMEL i Oldfieldovi. Zvukově košatý artrock s flétničkami i saxofonem, chytlavé melodie sypané z rukávu jak konfety, přirozená hravost a zpěvnost – to vše reprezentuje erbovní album italské 90's neoprog scény.
V prosinci 1992 opustila soubor zásadní persona, Alessandro Serri. ERIS PLUVIA pokračovali v nové sestavě se zpěvákem Alessandrem Contim a kytaristou Maurem Montzobbiem. Na konci roku 1993 však odchází i Edmondo Romano, a zakládá se svým parťákem Serrim ANCIENT VEIL. S novým kytaristou Davidem Marrarim a skladbou Icarus se ERIS PLUVIA v roce 1994 ještě úspěšně účastní hudební soutěže Rino Gaetano Awards, pak končí.
Reunionová sestava – bez otců zakladatelů – vydává v roce 2010 povedené album Third Eye Light.
ASGARD
Prvopočátky ASGARD se odehrály na severu Itálie v roce 1984, když kytarista Massimo (Max) Michieletto, bubeník Marco Michieletto, basista Glauco Giacchello a klávesák Alberto Ambrosi založili FIRE DUSK. Již pod názvem ASGARD, a s Francescem Grossem u mikrofonu, vydali mládenci v roce 1991 debutové elpé Götterdämmerung, které poměrně zřetelně směřovalo k odkazu Fish/MARILLION, samozřejmě ruku v ruce s nezaměnitelnou italskou rozšafností, a v případě ASGARD i velebnou potemnělostí některých pasáží, v nichž mi Grosso svými spodními rejstříky připomíná Erica Claytona ze SAVIOUR MACHINE.
Celkový projev ASGARD vytváří pocit rockové mše, není proto divu, že skupina měla ve své době u části fanoušků až kultovní status. Kapela se časem víceméně přesunula do Německa, sestavy se časem propojily i s místními muzikanty. Všech pět kvalitou vyrovnaných studiovek (1991 – 2000) stojí za poslech, jakkoliv je každá trochu jiná.
Počítadlo neúprosně ukazuje, že budu muset pro dnešek končit. Dívám se na smutnou hromadu cédéček z devadesátých let, vyskládaných na stole, na něž se prostě a jednoduše nedostalo.
O francouzských PULSAR psal ve Sparku kolega Honza Doležal, na Poláky COLLAGE a QUIDAM již také došlo, co ale kanadští VISIBLE WIND a ABBFINOOSTY, Amíci DISCIPLINE, ILÚVATAR, Germáni LAST TURRION, ZIFF, XERXES ze země Helvetského kříže, Nizozemci SYRINX, WINGS OF STEEL, NOVEMBER, švédská odpověď na GENESIS – MASQUE, a "squadra" Italů: BARROCK, CALLIOPE, IT, ABIOGENESI, AUFKLÄRUNG, a další a další? Nejspíš někdy v budoucnu, protože příště už musíme vstoupit do nového neoprogového tisíciletí…