K desce A Salty Dog se vyjádřím pouze krátce. Určitě jde o jedno z nejúžasnějších alb Procol Harum a konce šedesátých let též. Pokud hledáte nevšední hudební zážitek s muzikou barevnou jako sklíčka mozaiky, muziku příjemnou a lehkou jako ranní vánek, muziku, která se lehce neoposlouchá a která snadno nezevšední, jste na té nejlepší stopě. Je velice snadné se do mořského proudu tohoto alba ponořit a vykoupat se v něm. Hlavu z něj nebudete chtít vynořit a jeho příjemný šum vám bude v uších rezonovat ještě dlouho.
Titulní skladba je skvostem tvorby Procol Harum. Příjemňoučká romanťárna to umí skvostně rozehrát na city a svým emotivním nábojem si vás okamžitě podmaní. Já znal dříve velice povedený cover od Transatlantic, který kupodivu nazpíval Mike Portnoy, ovšem originál je originál. Neméně povedená je i po blues a country pokukujicí dvojka The Milk Of Human Kindness, kterou se proplétá překrásná a decentní kytarová linka. Balady a Procol Harum – kapitola sama o sobě. Too Much Between Us dokáže vykouzlit úsměv i pláč, má prchavou atmosféru a její kouzlo se v určitých situacích mnohonásobně zesiluje. The Devil Came From Kansas a Juicy John Pink patří mezi dřevní bluesovky, které tlačí kupředu jejich syrové prvky.
Samozřejmě, že i další písně jsou výborné a jelikož jsem na začátku zmiňoval, že to tentokrát zkrátím (což se mi úplně nepovedlo), žádné další pitvání už nebude. I když takové All This And More nebo pohádková Pilgrims Progress by si rozbor zasloužily. Ale nač vlastně – Procol Harum nám prostřednictvím A Salty Dog zanechali jedinečný artefakt doby a vzájemné skladatelské kreativity. Šedesátý devátý = dobrý to ročník, na kvalitní muziku určitě.
SKLADBY:
01. A Salty Dog (Brooker/Reid) – 4:39
02. The Milk Of Human Kindness (Brooker/Reid) – 3:44
03. Too Much Between Us (Brooker/Trower/Reid) – 3:40
04. The Devil Came From Kansas (Brooker/Reid) – 4:33
05. Boredom (Brooker/Fisher/Reid) – 4:37
06. Juicy John Pink (Trower/Reid) – 2:04
07. Wreck Of The Hesperus (Fisher/Reid) – 3:44
08. All This And More (Brooker/Reid) – 3:47
09. Crucifiction Lane (Trower/Reid) – 4:56
10. Pilgrims Progress (Fisher/Reid) – 4:33
SESTAVA:
Gary Brooker – lead vocals, piano, guitar [3 stringed], celesta, bells, harmonica, woodwind, orchestral arrangements (01., 08.), recorder
Robin Trower – lead & acoustic guitars, tambourine, vocals
Matthew Fisher – organ, piano, vocals, marimba, rhythm & acoustic guitars, orchestral arrangements (07.), producer
Dave Knights – bass
Barrie James Wilson – drums, congas, tabla
Keith Reid – lyrics
+
Kellogs (John Juian Kalinowski) – whistle [bosun's whistle]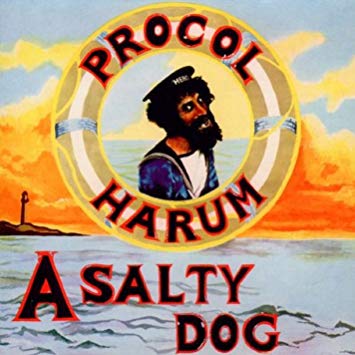 A Salty Dog
Procol Harum
Psychedelic Rock, Prog Rock
Regal Zonophone
1969
LP
10