Už bol najvyšší čas, aby po šiestich štúdiových doskách prišla kapela s Live nahrávkou. Stalo sa a v máji 1977, počas amerického turné, bolo zaznamenaných niekoľko skladieb, ktoré sa napokon dostali na album.  
Keď som si prvý raz vypočul tento živák, bol som doslova zostrelený energiou, ktorá z neho sála. Úplne ma to dostalo a uvedomil som si, o čom je Foghat – skvelá koncertná skupina a krása jej hudby sa prejaví práve pri živom hraní. Prečítal som si veľa reakcií a mnohí pamätníci sa zhodujú v tom, že muzikanti sú tu v životnej forme, ale beriem to s rezervou. Zábavnejšie bolo čítanie, ako jeden pred druhým ponúkajú "zaručené" informácie, kde boli jednotlivé skladby zaznamenané a kto sa toho zúčastnil. Už som iba čakal, ktorý vyrukuje s tým, že ho na LP aj počuť. Ale nedá mi, aby som nespomenul jedného fanúšika:
"Pamätám si na to, ako by to bolo dnes. Prví vtedy vystúpili Procol Harum a na Foghat sa už čakalo neprimerane dlho. Ľudia začínali prejavovať nespokojnosť, ale keď na pódium vyšiel usporiadateľ a ospravedlnil sa za meškanie, pretože sa pripravuje záznam koncertu, aréna doslova explodovala!"
"Ladies and gentlemen, please welcome Foghat!"
Úvod obstará Fool For The City, chytľavá rockovica z mojej obľúbenej štúdiovky rovnakého mena. Kapela maká na plný plyn, hudobníci si to užívajú a diváci sú vo vare. Gitarista Rod Price si v každej skladbe strihne sólo – raz dlhšie, inokedy kratšie, niekedy mu sekunduje aj Dave Peverett (I Just Want To Make Love To You),
ale hlavne maká za mikrofónom a zvláda to skvelo. Pri dĺžke necelých 39 minút nezostal priestor pre bubeníka Rogera Earla. Nevadí, nahrávka má spád a graduje rozpumpovanou a energiou nabitou Honey Hush, po ktorej prichádza epická kráska Slow Ride. Priznám sa, iný záver si ani neviem predstaviť – paráda!
"Thank you, we're Foghat, we love you. Thank you!"

Mne účinkujúci nemusia dávať najavo, koľko pochvál za ekvilibristiku získali v hudobnom krúžku, vystatovať sa, aké súťaže v bezchybnom hraní vyhrali na konzervatóriu a presviedčať ma, že bostonskú Berklee College of Music ukončili s červeným diplomom. Tu ide o niečo iné. Toto je láska k boogie hard rocku a Foghat jej majú na rozdávanie.
Skladby:
1. Fool For The City (Dave Peverett) 5:22
2. Home In My Hand (Dave Peverett/Rod Price) 4:56
3. I Just Want To Make Love To You (M. Dixon/W. Dixon) 8:36
4. Road Fever (Dave Peverett/Rod Price) 5:29
5. Honey Hush (Lou W. Turner) 5:38
6. Slow Ride (Dave Peverett) 8:22
Zostava:
Lonesome Dave Peverett – lead vocals, guitar
Rod Price – lead guitar, vocals
Craig MacGregor – bass, vocals
Roger Earl – drums
+
Dan Craig, Dave Lang, Nick Jameson – percussion
Ďalšie informácie o albume na Discogs.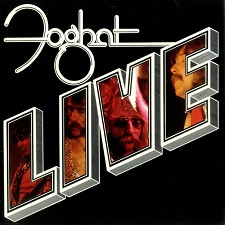 Live
Foghat
boogie/hard rock
Bearsville
1977
6
CD - Rhino Entertainment Company, 2009