Anglická skupina Argent vznikla koncem šedesátých let, když se varhaník, klavírista, skladatel, hudebník s klasickým vzděláním Rod Argent rozhodl odejít ze zavedených The Zombies a vytvořit vlastní skupinu, která by lépe odrážela jeho umělecké ambice směrem k náročnějšímu rocku. Kapela jeho jména v různých variacích odrážela progresivní rock a zejména v první polovině sedmdesátých let zajímavým způsobem vstupovala do rockové koncepce různými hledačskými postupy, čímž k sobě přitáhla pozornost zvídavého publika, které hledalo něco jiného a odlišného.
Do jejich hudby vstupovaly nejen zmíněné hudební prvky, ale také jejich varianta art rocku, dokonce i jazz a zpracovávali víceméně písňové koncepty do sofistikovanějších aranžmá. Jejich album In Deep mi v době svého vzniku poslala jako novinku moje teta z Londýna, když se jí nepodařilo mě zajistit tři jiné žádané tituly a prodavač v HMV na Oxford Street jí nabídl tohle dílo. Tak se stalo, že Argent "přistáli" v mé sbírce a jsou v ní dodnes.
GOD GAVE ROCK AND ROLL TO YOU – Úvod je zvukově poměrně matný, ale postupně vnímáme klasické téma s dominujícími hammondkami a už je to rozmáchlá melodie. Instrumentace hraje ve středním tempu a sborové prolínající se hlasy se vznášejí nad sólově zpívajícím kytaristou Russem Ballardem, který také skladbu složil a vytvořil proslulý hit. Ten o pár let později zpopularizovali američtí Kiss tak, že dodnes hodně lidí žije v mylném dojmu, že pomalovaná newyorská strašidla tuto skladbu i napsala. Nicméně Rod Argent vkládá do kompozice hodně toho, co si pamatuje ze školních škamen a Ballard přináší kytarovým sólem rockové napětí. Kánonický zpěv má svou sílu, přesto se mi zdá, že refrén zbytečně přebíjí kompoziční stavbu až do podbízející se podoby.
IT'S ONLY MONEY (Part 1) – Opakující se kytarové téma vyšívá zneklidňující linku pod dlouhý tón hammondek, do níž vstupuje v unisonu i basová linka Jima Rodforda. Bicí Roberta Henrita hrají základní rytmus s několika zásadními breaky. Ballard je hlavním zpěvákem kapely, ale na albu má autorsky úderné skladby, které vycházejí ze základního tématu a udržují potřebné napětí. Jeho kytarové sólo sice neomračuje žádnou výjimečností, ale do celistvého tvaru kompozice velmi dobře zapadá. Argent dodá sólo na varhany a doplní celkem zdařile aranžmá drobnými nápady.
IT'S ONLY MONEY (Part 2) – Skladba je obměnou původního nápadu. Osobně se mi Part 2 jeví jako zdařilejší kompoziční vstup. Je třeba připomenout, že všichni členové Argent jsou dobře sezpívanými vokalisty a právě ona vokální linka je u kapely velmi důležitým poznávacím znakem, ale také hybným impulsem pro aranžmá. Místy vyvažuje instrumentální postupy. Ballard vloží do skladby dobře odpíchnuté kytarové sólo a pak společně s hammondkami dodává v kytarových doprovodech ornamentální výměny sázených tónů až do závěru. Než k němu ovšem dojde, tak se základní téma odmlčí a opět se vrací zpět. Vokální linka si pohrává s jeho zpěvností.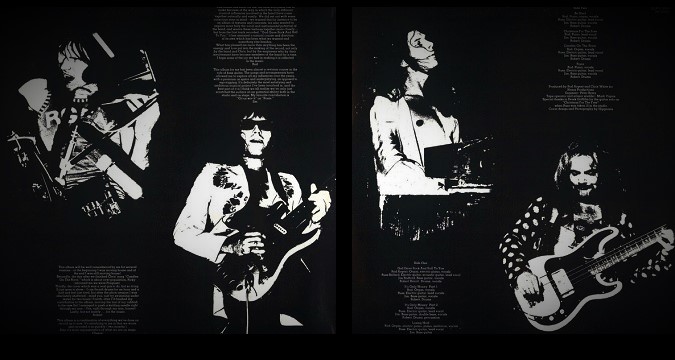 LOSING HOLD – Ve čtvrté skladbě přichází více experimentálnější téma. Zpívající Ballard přivolá ve vokálním pojetí ducha Uriah Heep, i když hudba je odlišná. Třebaže dlouhé tóny hammondek vévodí, ty sbory připomínají hardrockovou legendu. Ballardovo sólo zní drásavě a rozvolněně, vedle varhan zde vnímám i elektrické piano, mellotron, zatímco bubeník Henrit vedle bicích nástrojů hraje i na gong a orchestrální basový buben. Prokreslování tématu s rytmickou složkou je velmi hutné a vrstvy instrumentace mají téměř ortelný sound. Výrazně se zde promítá rozdílný skladatelský přístup Ballarda a Argenta, čitelný svojí odlišností.
BE GLAD – Klavírní téma v úvodu má klasicistní podobu, ale vrací se do základního akordu. Kapela se rozbíhá v přímém rockovém tempu a rytmickém členění. Ballard dokáže pořádně v hlase forsírovat a v instrumentální mezihře popřeje prostor klavírnímu rozjezdu, zatímco Argentovy hammondky drží v backgroundu harmonii. Argent hraje na klavír se suveréní jistotou a zde máme možnost jeho schopnosti vychutnat. Unisonové běhy jsou v mírně patetickém pojetí a klavírní téma nám trochu napoví, že Argent studoval i klavírní hru Petra Iljiče Čajkovského, aby si tu a tam něco malininko přivlastnil. Pochválit je třeba dobře zaranžované hlasy a dramatické napětí přichází s důraznými údery bicích nástrojů, ale i klavírních attacků. Zcela nečekaně do tématu vstupují hammondky, které ovládnou prostor a ostatní instrumentace se tomu přizpůsobuje s tím, že klavírní party střídají varhanní, včetně tubular bells. Instrumentální proměny jsou zajímavé, ale dokázal bych si k nim představit jinak zformovanou rytmickou složku v technicky barvitějších obrazech – art rock "první generace" je však nezpochybnitelný.
CHRISTMAS FOR THE FREE – Skladba začíná v písňovém duchu. Klavírní akordy se dobře propojují s tentokrát sólově zpívajícím Argentem. Ballard dostane svoji příležitost v mezihře, kde zahraje procítěné kytarové sólo, které dokresluje atmosféru. Píseň působí spíš jako vánoční rozjímání ve stylu eve-songs a tak vnímáme příjemné melodické obrazy s laskavým projevem prodchnutým náboženskou tématikou.
CANDLES ON THE RIVER – Úvod na hammondky zahajuje výraznější rockové téma, kterému přiznávky dělají elektrická kytara a důrazně akcentovaná rytmika. Klasické rockové téma, které prezentuje i dramaticky přiostřený Ballardův hlas a sborové vokály. Název skladby může vyvolávat kreativní vize v textu i v instrumentálním ztvárnění. Argent si s hammondkami opravdu pohrává nejen s jednotlivými detaily, ale i s celkovým tématem, které rozvírá do prostoru krátkými sekanými tóny, které střídá s dlouhými, dobře ohýbanými. Zajímavé prolínání nabízí Ballardova elektrická kytara s hammondkami, které přináší větší pestrost a kreativitu za podpory důrazné rytmické složky. Sborové hlasy se harmonicky dobře doplňují a za aplikace celkové hutnosti skladba spěje k závěru.
ROSIE – Poslední skladba má opět ballardovský rukopis, třebaže úvod patří klavírnímu tématu a rockově šlapavému rytmu, kde se kapela odvazuje v klasickém tématu. Jak vidno, rockandrollové základy mohou posloužit i v první polovině sedmdesátých let ke skladbě hitového charakteru. Kytara a klavír ruku v ruce šlapou vedle sebe až do okamžiku, kdy Ballard zahraje krátké, ale účinné sólo, zatímco Rodford a Henrit důrazně drtí klasický rytmus až do konce.
Znovu si uvědomuji, jak na albu společně koexistují klasické písničky s instrumentálně vypilovaným potenciálem a že mi to nějak markantně nevadí. Skupina Argent během dalších let doplatila na muzikantské ambice Rod Argenta a Russe Ballarda. Oba hudebníci byli natolik ješitní, že nevydrželi v jedné kapele pohromadě, protože Ballard nabyl dojmu, že je schopen utáhnout vlastní kariéru a skupinu opustil. Poté došlo k dalším personálním změnám.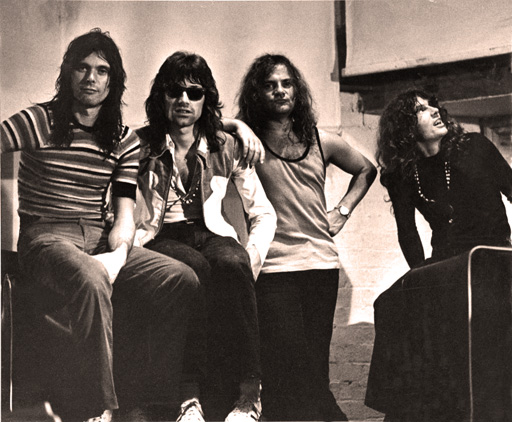 Také se mi doneslo, že v polovině sedmdesátých let, po odchodu Ricka Wakemana z Yes, bylo nabídnuto místo v této artrockové superskupině také Argentovi. Ten ale odmítl a nabízený post obsadil švýcarský hudebník Patrick Moraz (album Relayer). Třebaže je Rod Argent vynikající klávesový hráč, popravdě řečeno bych si ho ale u Yes dokázal jen stěží představit, protože Wakeman byl příliš vysoko nastavená laťka na dosažení, natož překonání jeho mimořádných schopností.
Podle toho, co jsem od Argent slyšel, patří album In Deep mezi to lepší co po nich dodnes zůstalo. I když si myslím, že zub času zahlodal a skupinu Argent, při vší úctě k jejich odkazu, dnes bude znát spíš méně než více posluchačů. Tady jsme ale na čtyřech hvězdičkách!

SKLADBY:
1. God Gave Rock And Roll To You /Russ Ballard/ 6:41
2. It's Only Money (Part 1) /Russ Ballard/ 4:02
3. It's Only Money (Part 2) /Russ Ballard/ 5:08
4. Losing Hold /Chris White, Rod Argent/ 5:32
5. Be Glad /Chris White, Rod Argent/ 8:38
6. Christmas For The Free /Chris White, Rod Argent/ 4:13
7. Candles On The River /Chris White, Rod Argent/ 7:00
8. Rosie /Russ Ballard/ 3:43
SESTAVA:
Rod Argent – organ, el. piano, piano, mellotron, vocals, lead vocal (6)
Russ Ballard – lead vocals, el. guitar, ac. guitar
Bob Henrit – drums, tam tam dong, orch. bass drum, vocals
Jim Rodford – bass, double bass, vocals
+
Derek Griffiths – guitar solo on "Christmas for the Free"
In Deep
Argent
Prog Rock, Classic Rock
Epic
1973
LP
8