"Ak by hrozil koniec sveta, presťahoval by som sa do Viedne, tam všetko mešká 50 rokov!".
Tento nelichotivý názor vyhlásil známy skladateľ klasickej hudby, Gustav Mahler na margo rakúskej metropoly. Aj keď toto vyhlásenie netreba brať doslovne, určitý časový odstup rakúskej rockovej hudby voči zvyšku Západnej Európy tam však bol. Určite to nebolo spôsobené nedostatkom mladých, talentovaných muzikantov s chuťou experimentovať s novými hudobnými postupmi, začiatkom 70-tych rokov už i v Rakúsku vznikali a pracovali zoskupenia pokrývajúce kompletnú paletu rockových žánrov. Skôr tu išlo o nedôveru hudobného priemyslu, orientovaného hlavne na klasickú hudbu, šláger, ľudovú hudbu a pop, voči novovznikajúcej rockovej scéne. Tak sa stalo, že kým na začiatku siedmej dekády Nemecko ponúklo svetu Krautrock, Taliani Rock Progressive Italiano, Francúzi Zeuhl, Rakúšania ponúkli Európe hudobný smer nazvaný Austropop. Až neskôr, nárastom popularity takých skupín v krajine, ako Pink Floyd, Genesis, ELP…. sa hudobný biznis začal vážne zaoberať aj s domácou rockovou scénou, to však už bolo na medzinárodné uplatnenie prineskoro.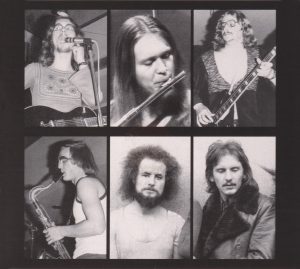 Skupina Isaiah bola založená niekedy počas roku 1970, keď sa na Innsbruckej univerzite stretlo počiatočné kvarteto hudobníkov. Gitarista, spevák, hráč na flautu, vedúci skupiny Gerd Raabe a bubeník Walter Reschauer prišli z Linzu, tam už spolu hrali v skupine The Alligators. Gitarista Edu Weber prišiel do Innsbrucku z mestečka Vöklabruck a Hans Gasser, basgitarista, rodák priamo z Insbrucku, ktorý už hrával predtým v miestnej protoprogresívnej kapele Spurius Forum. Hansov brat Jörg občas vypomohol skupine na Hammondoch. Meno skupiny si členovia požičali od jednej z básní Leonarda Cohena, Isaiah z básnickej zbierky The Spice-Box of Earth (1961). Skupina okamžite začala usilovne skúšať, členovia sa samovoľne zúčastňovali rôznych hudobných kurzov, ovocie čoho dozrelo už v roku 1972, kedy prvýkrát debutovali naživo už s kompletne vlastným repertoárom. Skupina sa okrem kvality rozrástla i obsadením, keď do skupiny prišli ďalší študenti univerzity, klávesák Hubertus Nolte z Nemecka a Američan Mike Bornhorst obsluhujúci saxofón a klarinet.  Toto kvalitné nástrojové obsadeniu umožnilo Isaiah si hravo poradiť s rôznymi smermi rockovej hudby. V ich tvorbe sa striedali prvky jazzrocku, bluesrocku a progresívneho rocku a rýchlo si získavali fanúšikov náročnej rockovej hudby po celej krajine. Vďaka kontaktu Gerda Raabeho na koncertného promotéra sídliaceho v jeho rodnom meste Linz, skupine sa v apríli roku 1973 podarilo vystúpiť na dvoch koncertoch preskakujúc skupine Man. Prišla tiež ponuka od televízie na vystúpenie v populárnom hudobnom kvíze, Wer weiß mehr? a v roku 1974 ďalšia možnosť vystúpenia, tentokrát v roli predskokana hardrockovej legende Nazareth.
Ich vlastné, vyše dvojhodinové vystúpenia, ktoré okrem širokého spektra rockových žánrov ponúkali vzrušujúcu svetelnú show a premietanie diapozitívov, zabezpečilo skupine spolu so skupinami Eela Craig a Paternoster kultový status v krajine. Na vrchole celonárodnej popularity nedala ani nahrávacia zmluva na seba dlho čakať, ponuka prišla od vydavateľstva CBS a Isaiah sa na dva dni nasťahovali do štúdia viedenského Konzerthausu, kde pod producentským dohľadom skúseného Švajčiara Jeana-Pierra Wuttkeho nahrali debutový, rovnomenný album, ktorý sa počas roku 1975 objavil v obchodoch.
Bohužiaľ, vydavateľstvo neumožnilo členom skupiny žiadne dodatočné úpravy hudby, zvuku ani dizajnu LP, CBS prinieslo všetky rozhodnutia ohľadom nahrávky samo, bez konzultácie s kapelou. Propagácia sotva polhodinového albumu bola žalostná a dostala minimálnu finančnú podporu. Turné na podporu LP usporiadaného CBS bolo tiež rozporuplné, hrali pred vypredanými sálami ale boli tiež vystúpenia, kde hrali pre sotva 20 divákov. Napriek tomu, že koncertné agentúry mali záujem skupinu predstaviť nemeckému i americkému obecenstvu, nakoniec všetky medzinárodné ambície zišli naprázdno.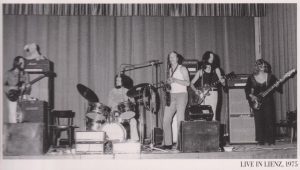 Skupina ešte stihla vo vlastnej skúšobni nahrať demá pre svoj nasledujúci album, vydavateľstvo však skladby odmietlo, pokladalo ich za príliš výstredné a nedostatočne komerčné. No a keďže členovia kapely Isaiah nechceli zradiť vlastnú víziu hudby a dodržiavať priemyselné štandardy a očakávania, v roku 1977 sa po ukončení štúdia na vysokej škole rozhodli činnosť kapely ukončiť.
Na svojom jedinom, 30 minútovom albume sa nám skupina Isaiah predstaví akýmsi mixom progresívneho jazzrocku a bluesrocku. Keďže išlo o skupinu pôsobiacu v krajine pod značným vplyvom Nemecka, nemôže byť pre nikoho prekvapujúca častá prítomnosť prvkov krautrocku. Po rezkom úvode, kde skladba Jericho prináša hru na saxofón pripomínajúcu mi skupinu Van Der Graaf Generator, prichádza môj vrchol albumu, skladba Summer Farewell. Tu sa skupine podarilo zastrešiť tú úzku, demilitarizovanú zónu vytvorenú medzi bluesrockovejšie znejúcim jazzrockom anglických skupín, napríklad Colosseum a ako z iného sveta znejúcim nemeckým jazzrockom v podaní skupín Embryo, Xhol, Missing Link… Tretia skladba, ladná, (folk)rocková pieseň Leave It All Behind uzatvára A stranu platne krásnou hrou klavíru a flauty.
Druhú stranu albumu otvára skladba Afterward na začiatku ešte rýdzi jazz(kraut)rock, ktorý sa po troch minútach pretaví do art(kraut)rockového slaďáku, ku koncu korunovaného bluesovým gitarovým sólom, presne takým garymoorovským, pri ktorom aj slušné dievčatá strácajú zábrany. Album uzatvára najdlhšia skladba Prophet, hlavnú úlohu dostáva saxofón. Podobne ako u predošlej piesni sa i tu v druhej polovici nálada ukľudní a skladbu uzatvára ďalšie nariekajúce gitarové sólo.
Rakúska spoločnosť Digaton v roku 2014 vydala v reedícii album skupiny doplnený nevydanými skladbami. Vydala ich vo forme dvoj LP obsahujúce vo vnútri tiež dvoj CD edíciu s rovnakým hudobným materiálom. Pre zaujímavosť dodám, že ja, ako rodený Stredoeurópan som si kúpil úplne funglové vydanie tohto albumu z Mexika (!!!), nie že by tu v Európe vtedy nebolo k dostaniu, ale chico de mexico ho ponúkol najlacnejšie vrátane poštovného. Bonusový disk ponúka zbierku skladieb nahratých v rokoch 1973 až 77, pokrývajú široké spektrum rockových smerov, meniace sa podľa toho, z akého obdobia skupiny tá ktorá skladba pochádza. Album v roku 2005 vydala i pirátska spoločnosť Mason Records.
01. Jericho
02. Summer Farewell
03. Leave It All Behind
04. Afterwards
05. Prophet
Bonus tracks:
06. Same To You
07. Nightmare
09. The Fighter
08. Long Way
10. No Reason
11. Playing The Circle Game
12. Hero
13. Sunset
Hans Gasser – basgitara
Walter Reschauer – bicie
Edu Weber – gitara, spev
Gerd Raabe – spev, gitara, flauta, perkusie
Hubertus K. Nolte – klávesi
Michael Bornhorst – tenor saxofón, klarinet
+
Jean Pierre Wuttke – tenor saxofón
Isaiah
Isaiah
prog rock
CBS S 80843
1975
LP
5
2 LP + 2 CD Digatone DIG 002 (2014)