Vyše dvojminútový úvodný chorál zmiešaného mužsko-ženského zboru otvára takmer 11-minútovú dramatickú kompozíciu The Mountain na v poradí druhom, anglicky spievanom albume absolútneho piliera a legendy talianskeho progresívneho rocku, skupiny Premiata Forneria Marconi (PFM).
Koncertovanie s Yes aj Genesis v úlohe predkapely, texty dovtedy dvorného skladateľa na prvých albumoch King Crimson, Petera Sinfielda, jednoznačná inšpirácia ranými nahrávkami King Crimson a Genesis, to všetko sú neprepočuteľné a nevyvrátiteľné atribúty tejto platne.
Za mohutný, výrazný refrén v titulnej The World Became The World by sa iste nehanbili ani The Moody Blues v čase svojej najväčšej slávy. V Just Look Away a Four Holes In The Ground jasne cítiť inštrumentálny a aranžérsky vplyv Gentle Giant (všetci piati členovia PFM sú nielen schopní inštrumentalisti, ale aj speváci), v posledných dvoch skladbách, Is My Face On Straight a Have Your Cake And Beat It (džezujúca inštrumentálka), zase raný Yes. 
Táto doska je skutočne pestrá zmes art rockových postupov. Nie je síce prevratná, ale v dobe svojho vydania, a s platnosťou dodnes, vysoko, vysoko nadštandardná.
Je to snáď plagiát vyššie uvedených britských vzorov kapely PFM? V žiadnom prípade, jej hudba má dostatok prvkov osobitosti a špecifickú taliansku atmosféru. A nakoniec, PFM je dodnes legenda rovnocenná všetkým vyššie uvedeným art rockovým hviezdam z Ostrovov.
SKLADBY:
1. The Mountain (L'Isola di Niente) 10:42
2. Just Look Away (Dolcissima Maria) 4:00
3. The World Became The World (Impressioni di Settembre) 4:44
4. Four Holes In The Ground (La Luna Nuova) 6:21
5. Is My Face On Straight 6:17
6. Have Your Cake And Beat It (Via Lumiere) 7:17
Total Time: 39:21
NOTES:
Re-recordings with English lyrics of full L'Isola Di Niente album,
plus tr. 3 originally from Storia Di Un Minuto.
ZOSTAVA:
Franco Mussida – guitars, lead vocals
Flavio Premoli – keyboards, lead vocals
Mauro Pagani – violin, flute, vocals
Jan Patrick Djivas – bass, vocals
Franz Di Cioccio – drums, percussion, vocals
+
Accademia Paolina Da Milano – chorus
Claudio Fabi – choir conductor, co-arranger & co-producer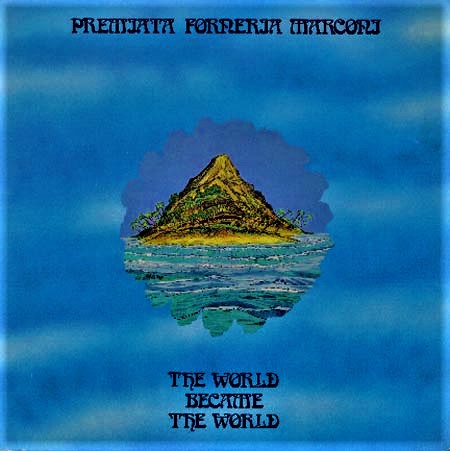 The World Became The World
Premiata Forneria Marconi
Prog Rock
Numero Uno
1974
LP
6