Môj úplne prvý album, aký som si od talianskej progresívnej kapely kúpil, bol Chocolate Kings od Premiata Forneria Marconi. Aby som bol úprimný, v tom čase som o nich vedel veľmi málo, ale bol som doslova ohromený skutočnosťou, že vydávali na značke, ktorá patrila skupine ELP. Bol to zároveň prvý album, na ktorom sa predstavil nový spevák Bernardo Lanzetti a komplexná hudba, ktorej súčasťou, mimo iného, boli aj husle a flauta, ma doslova odfúkla.
Vystúpenie P. F. M. z 1. mája 1976 na Nottinghamskej univerzite bolo nahraté pre budúce generácie a keďže išlo o turné k Chocolate Kings, musím sa priznať, že som vo svojom živle. Títo chalani boli (sú) majstrami svojich nástrojov i zložitého muzicírovania a ukazujú, prečo boli akceptovaní aj mimo talianskeho trhu. Do tej doby cestovali po Japonsku a vrátili sa zo svojho štvrtého turné po USA, kým albumom Chocolate Kings dosiahli na zlato.
Pretože sú Taliani a hrajú progresívny rock, patria do subžánru RPI (Rock Progressive Italiano). Podľa môjho ucha sú však – na rozdiel od mnohých iných kapiel, ktoré využívali tvrdšie klávesové plochy – úplne odlišní, s oveľa väčším využitím jazzového vplyvu a súhry medzi jednotlivými nástrojmi. Keď sa Mauro Pagani pohybuje medzi flautou a husľami, často v rámci tej istej piesne, ponúka mimoriadny dôraz a dynamiku, zatiaľ čo Lanzetti bol vždy hviezdou. Každý, kto pozná jeho prácu s Acqua Fragile alebo Mangala Vallis (okrem iného), to isto dosvedčí. Jeho vokály v štýle Rogera Chapmana nemusia byť každému po vôli, ale skupine umožnili v oveľa väčšej miere rozšíriť svoj trh.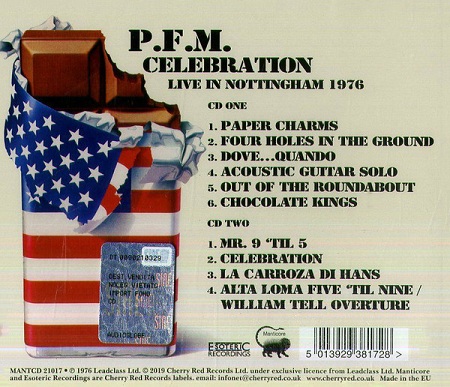 Dobre, máme tu rok 1976, čo znamená, že sa servírujú dlhé sóla, niektoré fungujú viac ako iné, ale toto 2CD zachytáva skupinu pravdepodobne na vrchole svojej kariéry. Fanúšikovia P. F. M. sa nemusia vždy zhodnúť na najlepšej štúdiovke, ale pre mňa je to Chocolate Kings nasledovaná Jet Lag. V roku 2019 opäť skvelá práca firmy Esoteric Recordings, ktorá naďalej ukazuje, ako by sme sa mali starať o albumy. Mark Powell je autorom zaujímavej eseje na predstavenie kapely každému, kto sa s ňou doteraz možno nestretol.
SKLADBY:
CD 1
1. Paper Charms – 10:20
2. Four Holes In The Ground – 14:26
3. Dove… Quando – 5:13
4. Acoustic Guitar Solo – 5:26
5. Out of the Roundabout – 7:38
6. Chocolate Kings – 5:06
CD 2
1. Mr. Nine Till Five – 4:35
2. Celebration – 5:48
3. La Carrozza di Hans – 14:43
4. Alta Loma Nine 'Til Nine – William Tell Overture – 15:30
Recorded at the University of Nottingham on 1st May 1976 during the UK tour to promote the album Chocolate Kings.
ZOSTAVA:
Bernardo Lanzetti – lead vocals
Franco Mussida – guitars, vocals
Flavio Premoli – keyboards, vocals
Mauro Pagani – woodwinds, violin
Patrick Djivas – bass
Franz Di Cioccio – drums, percussion, vocals
Celebration - Live In Nottingham 1976
Premiata Forneria Marconi
Prog Rock, Symphonic Rock
Manticore/Esoteric Recordings
2019
2CD
10