Keď sa písal marec 1973 bol som na strednej škole, mal som 16 a nikdy v tej dobe by som si nebol vedel predstaviť, že o viac ako 50 rokov si tento dátum pripomeniem. Ale stalo sa a ja len ozrejmím, že je to mesiac, kedy bol vydaný album The Dark Side of the Moon, dielo, ktoré znamená aj v mojom živote veľa. Vtedy som si vedel preložiť akurát tak názov albumu a názvy skladieb Money a Time. Veľmi som to ani neriešil, bol som pasívnym počúvateľom anglického rocku a zaujímala ma len hudba, slová neboli dôležité, hoci som si občas preložil text pomocou slovníka. Bol som odchovaný na počúvaní rakúskeho rádia Ö3. Práve tam som počul prvé piesne z The Dark Side of the Moon…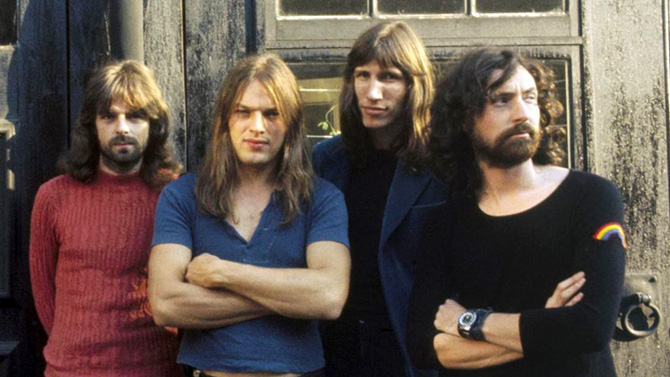 Ani neviem či ma ten album zaujal, tak ako vtedy vydávané albumy, ktoré sa mi páčili: Who – Qudrophenia, Deep Purple – Who Do We Thing We Are, Led Zeppelin – Houses of the Holy, Alice Cooper – Billion Dollar Babies, Mike Oldfield – Tubullar Bells, Black Sabbath – Sabbath Bloody Sabbath vyšli napr. v novembri 1973, v marci vyšiel môj celoživotný album Jethro Tull – Thick as a Brick a páčil sa mi pomaly prebúdzajúci sa glam rock. Time, ten ubiehajúci čas, ktorý je spomínaný aj v LP Pink Floyd (úryvky textu: "si mladý a žívot je dlhý…"; neskôr v texte: "slnko ide stále rovnakou cestou, iba ty si starší, nestačíš dychom a si bližšie o deň k smrti…") však ma nakoniec dostal v pravom slova zmysle a dnes viem, že päťdesiat rokov je iba malá chvíľa v živote človeka. Najuznávanejšia LP Pink Floyd nie je dielo, ktoré by som počul niekoľko stokrát, ani ho nemám zmapované do poslednej noty, alebo nástroja a skôr ma pri sporadickom počúvaní vždy niečím zaujalo. Je tam toho príliš veľa v rámci hudby, techniky hrania, hudobných nálada predstáv, texty nevynímajúc. Napr. slová v Breathe: "run rabbitt run / bež králik, bež…" sú pre mňa odvekou záhadou autora. Čo tým králikom vlastne Waters myslel? Je toľko rôznych verzií prekladačov textu a významu týchto slov, že dnes by už nebolo možné vytvoriť v mojej hlave verziu, ktorej by som veril. V rámci mnohých dostupných informácií, recenzií a ospevovania poslucháčmi ma však celkové dianie a dosah albumu na môj hudobný vývin celým mojím životom prinútili zaobstarať si všetky tri verzie tohto albumu, ktoré vyšli v roku 2023 pri 50-tom výročí vydania.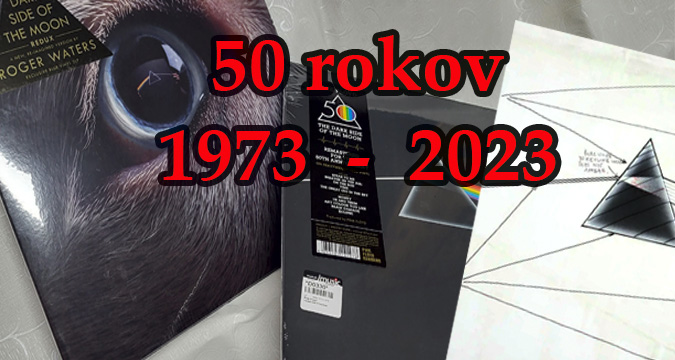 Menovite:
/Nejedná sa o krabicovú verziu, ale samostatné vydania LP./
The Dark Side of the Moon Live at Wembley 1974 – Pink Floyd /vyšiel 24.3.2023/
The Dark Side of the Moon Redux – Roger Waters
The Dark Side of the Moon  – Pink Floyd /remaster 2023/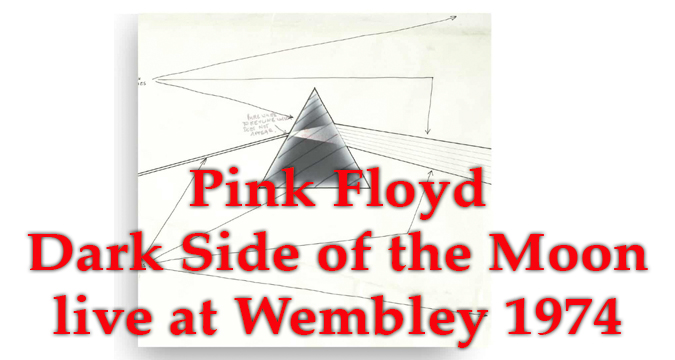 Pink Floyd:
The Dark Side of the Moon Live at Wembley 1974
Musím sa priznať, že živá nahrávka z londýnskej Wembley Empire Pool, nie z futbalového štadióna ako názov evokuje z novembra 1974 ma príjemne prekvapila a zvuk nahrávky je výborný. Koncert nahrávali technici BBC Radio 1. Samozrejme, že sa živé vystúpenie v mnohom líši od štúdiovej nahrávky, ale je vidieť, že všetci štyria muzikanti to vtedy naozaj ovládali dokonale a The Dark Side of the Moon je výstavnou skriňou kapely v najlepších rokoch v plnom význame. Kapela hrala album už od roku 1972, boli s ním aj v USA, ale záznamy sa zrejme nezachovali. V čom sú teda najväčšie odklony od štúdiovej verzie? Samozrejme, v počte obsiahnutých nástrojov. Album hrali iba štyria muzikanti s prispením saxofonistu Dicka Parryho. Namiesto éterického vokálu Clare Torry v The Great Gig in the Sky počujeme dvojicu speváčok Venettu Fields a Carlenu Williams. Do koncertného zvuku sa pridal aj ľudský faktor v podobe nahnevaného a drsného spevu Davida Gilmoura (údajne bol naštvaný pre dianie na koncerte) napr. skladby Us and Them a Money, alebo nespieva všetky vokály zo štúdiovej verzie.
David Gilmour nemohol použiť v skladbe Breathe druhú gitaru použitú v štúdiovej verzii – lap steel gitaru, tak je v skladbe nahradená jeho sólom na elektrickú. Tým významnejšiu úlohu hrá jeho elektrická gitara a spolu s Rogerovou basou niekedy predčí výsledný zvuk štúdiovej nahrávky. Niektoré efektové pasáže sú evidentne púštané z magnetofónu napr. Speak to Me, ale zrejme nie je nikomu jasné, koľko zvukov bolo vytvorených Richardom Wrightom a Rogerom Watersom na samotnom koncerte, napr. Wrightove sólo v Any Colour You Like na EMS VCS3 (analógový syntetizátor) je očarujúce. Technické zabezpečenie všetkých možných nástrojov, príprava playbackov, skúšanie efektov v živom hraní – to je dnes už asi nemysliteľné úsilie muzikantov, ale i technikov na koncerte.
Výsledok? Pri pozornom počúvaní sa dá nájsť veľa odlišností v dynamike skladieb, napr. Any Colour you Like, alebo v Rogersovej hre na basovú gitaru, nevynímajúc Davida Gilmoura, Nicka Masona na bicích a Richarda Wrighta na klávesoch. Zvuk je priamočiarejší, viac čitateľný a hlavne hudobná vyspelosť je zarážajúca a perfektná. Zvuk saxofónu sa priam vrýva do ucha a poslucháč sa hravo dostane do centra kapely a cíti sa ako spoluhráč. Súhra gitara-basa a Masonove bicie, ktoré sú udernejšie ako na štúdiovke, sú už len zárukou obdivu pri počúvaní. Všetky hlasové efekty komparzistov, ktoré sú neodmysliteľnou časťou niektorých piesní, sú neutlmené a vyznievajú ako súčasť koncertu. Koncertná nahrávka sa dotvárala ešte neskôr v štúdiu, ale zdroje tvrdia, že toho nebolo veľa. Zvuk prešiel remasteringom a je naozaj dobrý, preto moje hodnotenie je pozitívne. LP stojí za vypočutie a kto ju ešte nepočul, vrele odporúčam. Analógová vinylová platňa hrá veľmi dobre a s minimálnym hlukom.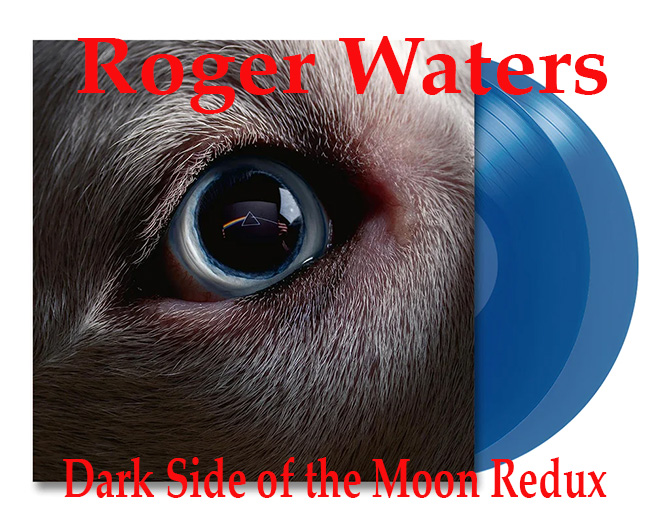 Roger Waters:
The Dark Side of the Moon Redux
Dvojalbum vyšiel 6. októbra 2023, objednával som ho ešte niekedy cez leto a dorazil pár dní po vydaní v krásnom modrom vinylovom prevedení, čo ma naozaj potešilo. Priznám sa, že ešte pred príchodom balíka som čítal negatívne recenzie, a tak ako vždy som vedel, že až samotným vypočutím budem vedieť zaujať stanovisko. Vizuálna stránka albumu s okom psa je absolútna špička, zvuk vinylových platní je dokonalý a nič nemám na vytknutie. Bez jediného prasknutia dvojalbumu, bez počuteľného šumu s absolútne dokonalým nahratým zvukom, snáď iba dvakrát som počul pri hovorenom slove Rogera akési slabé skreslenie (mohlo byť spôsobené aj znečistením stylusu). Takže doteraz iba najvyššie hodnotenie.
A teraz sa vrátim k hudbe, ktorá sa na albume nachádza. Nie je to kópia The Dark Side of the Moon z roku 1973 a v mnohých smeroch sa podstatne líši. Je tam prenáramne veľa hovoreného slova a musím predostrieť, že tomu, kto nerozumie anglicky, bude dvojalbum viacmenej stratou času a myslím, že každý z týchto ľudí si Redux vypočuje iba raz v živote a už sa k nemu možno nikdy nevráti. Po vypočutí viem, že hlas Rogera Watersa je brilantne nahraný, bez nádychov, breptov, zlých výslovností. Môže to byť šlabikár pre budúcich zvukárov a nahrávačov hlasu. Tak dokonale znejúci hlas som počul málokedy v živote: prosto nádhera. Pocity z minimalistickej náladovej hudby, často až priveľmi, ktorá sprevádza Rogerov hlas sú skvelé, skôr výnimočne dobré a krásne dotvárajú temnú pocitovú stránku pôvodného albumu z roku 1973. Je to návrat starého muža do doby spred 50-tych rokov a dielu, ktoré vytvorili v Pink Floyd. Nemyslím si, že je to málo a pri počúvaní Redux_u som prežíval naozaj krásne momenty a obdiv, ako sa postavil ku svojej klasike spred polstoročia.
Celý album obsahuje set list pôvodného The Dark Side of the Moon, je rozdelený na tri strany vinylu, štvrtá strana, ktorá nemá ani názov, je už iba akýmsi realistickým zvukovým záznamom prírody s veľmi sporadickým hlasom Rogera Watersa a nestojí za zmienku. Jedenkrát štvorku vypočuť a zabudnúť. Prvá strana so skladbou Speak to Me ukazuje pravú tvár Redux_u, hovorené spievané slovo a decentne nahrané nástroje, ktoré znejú výnimočne dobre a sú dôstojnou náhradou za originál. Stratila sa agresivita a drive? No a čo! A položím ešte otázku v rámci veku: "Má sa Roger Waters biť o dravosť piesne vo veku 80 rokov?" Ja sa už tiež netlačím dopredu a dravosť som už zanechal mladším. "Hovor so mnou", ak použijem názov piesne je výrazom muža, ktorý po všetkých tých rokoch v hudobnom priemysle a vedomosti svojej životnej púte na tejto zemi nastolí prvou piesňou albumu dosah svojej možno poslednej tvorby, obraz odkazu nesmrteľného diela v rámci prepletajúcich sa príbehov zo života.. Práve tým, že posúva zvuk do jemného zvukového obrazu, kde hudobných nástrojov je minimum, ide cestou "menej je viac" a spev je viac hovorovo-hlasno šeptaný. Počúvanie platne je určené do tichého prostredia zvukovej miestnosti a vylučuje počúvanie ako zvukovú kulisu.
Jasné je, že týmto štýlom sa celý album stáva monotónnym a uspávacím, ale pozorný poslucháč nájde množstvo zaujímavých momentov. V prípade, že použije poslucháč prekladač textov a pochopí slová z albumu, mu Roger Waters predostrie svoje vnímanie The Dark Side of the Moon po polstoročí. Na prvej strane vinylu je skladba Breathe, kde je znovu použitý syntetizátor VCS3. Nechcem popisovať skladbu po skladbe, na albume chýbajú sólové vstupy gitary (pôvodne David Gilmour), pekný zvuk nahrávky poskytuje množstvo dobre premyslených minimalistických aranžmánov a objaví sa v nahrávke aj málo používaný bezdotykový nástroj theremin. Nuž a čo na záver? Odmyslite si pocit počúvanej audioknihy, počúvajte bez predsudkov a v maximálnej pozornosti (aj keď je to asi úloha nedodržateľná), nezaspite a vychutnajte si kumšt majstra, ktorý radšej mal mlčať (nekecať o všemožných veciach) a viac spievať. Možno to stojí za ten "prespatý" čas. Mne sa to celkom páčilo a bol som pozorný poslucháč bez klipkania očami.
Pink Floyd:
The Dark Side of the Moon
/50th anniversary, remaster 2023/
Zvukári Bernie Grundman, James Guthrie a Joel Plante urobili zrejme iba zopár úprav na tohtoročnej verzii z roku 2023 a myslím si, že kúpa tohto albumu v prípade, že vlastníte dobrú kópiu na vinylovej platni, nemá význam. Vinyl je označený vyškrabaným logom Bernieho Grundmana "BG". Vydanie obalu je identické ako z roku 1973, obsahuje kompletné nálepky a plagáty pôvodnej verzie. Lisovanie je čisté, bez hluku, ale mne sa zdalo, že je potlačená dynamika a zvuk nemá iskru, ktorú si pamätám z pôvodnej nahrávky.
Po vložení LP platne na gramofónový tanier a spustení ihly na vinyl nastalo úplné ticho a nie je počuť žiadne praskanie, alebo hluk. Vinyl je veľmi čistý a pri počúvaní som nepostrehol žiadne prekvapivé zmeny vo zvuku oproti verzii z roku 2016, ktorú mám tiež doma. Iba raz som počul v Gilmourovom speve sykavku. Možno je rozdiel v menšej dynamike a slabších výškach, ale môj názor nemusí byť v tomto smere smerodajný a nákup čistej, nepraskajúcej LP môže byť posunom vpred. V podstate aj recenzie poslucháčov, ktoré som čítal, odpovedajú môjmu dojmu a nemyslím si, že bude niekto niekedy porovnávať toto vydanie s inými, alebo pôvodným do detailov. Skôr si myslím, že by vydavateľstvo Pink Floyd Records malo samo uviesť zmeny v nahrávke a vysvetliť z akého dôvodu je tu nová verzia albumu. Samozrejme ak sa budeme baviť o zvuku 5.1 Dolby Atmos nastane iná situácia. Ale pre mňa, poslucháča zvyknutého na stereo to už nikdy nebude dôvod na kúpu hocijakého albumu. Ak teda zhodnotím posledné vydanie The Dark Side of the Moon, rok 2023: veľmi málo zmien (nepočuteľné a nevýznamné) a kto album nepotrebuje v aktuálnej verzii, netreba utrácať peniaze.
Fakty:
The Dark Side of the Moon bol ôsmy štúdiový album skupiny, pôvodne vydaný v USA 1. marca a vo Veľkej Británii 16. marca 1973. Všetky piesne boli nahrané v rokoch 1972 a 1973 v EMI Studios (premenované v roku 1976 na Abbey Road Studios) v Londýne. Obal zobrazuje hranolové spektrum, ktoré navrhol Storm Thorgerson z Hipgnosis a nakreslil ho George Hardie. Nahrávku mixoval Alan Parsons a The Dark Side of the Moon je jedným z najuznávanejším albumom všetkých čias v rockovej hudbe. Tohtoročný remaster údajne je urobený z digitálnej verzie pôvodného albumu. Ak sa David Gilmour pred niekoľkými rokmi vyjadril, že pôvodný master na magnetofónovej páske je v zlom stave (neviem presne ako je poškodený), vychádzali pri tomto remasteringu z najlepšieho zdroja albumu. Dnes si neviem predstaviť, že by niekto vedel zopakovať mix pôvodného albumu zo zdrojov, ktoré boli vtedy použité. Používali sa slučky magnetofónových pások, napr. v skladbe Money v dĺžke viac ako 6m. Kto si pamätá dobu magnetofónov, si vie predstaviť ako Alan Parson za pomoci všetkých prítomných šesť metrovú slučku ťahal po zvukovej réžii pri mixovaní.
Mám rád nové informácie zo starých čias a pri písaní tejto trojrecenzie som sa dozvedel:
– spor Waters/Gilmour stále trvá a preto je zrejme na Reduxe vynechaný sólový part Gilmourovej gitary.
– LP The Dark Side of the Moon bola iba jeden týždeň na čele Bilboardu, v Anglicku nikdy nedosiahla prvé miesto, napriek tomu je najdlhšie umiestneným albumom v rebríčkoch (18 rokov v USA).
– existuje viac ako 1000 rôznych vydaní albumu po celom svete.
– prvýkrát album odznel na koncerte 17.2.1972 v londýnskom Rainbow Theatre, prvý neúspešný pokus bol v Brightone.
– názov The Dark Side of the Moon bol zmenený na Eclipse po vydaní albumu skupiny Medicine Head v roku 1972 (mali hit One and One is One) s názvom The Dark Side of the Moon. Medicine Head však nemali úspech pri predaji, a tak sa Pink Floyd vrátili k pôvodnému názvu.
– album nahrával a mixoval Alan Parsons v EMI Studios, ktorý tam pracoval a používal 16-stopý magnetofón. Mal vtedy plat 35 libier / týždeň. Na jeho podnet bola prizvaná speváčka Clare Torry, svoj part zaspievala na viac pokusov a následným strihom sa dosiahla výsledná verzia. Dostala za spev 30 libier. V roku
2004 podala súdnu žalobu o autorstvo a tantiémy na Pink Floyd a EMI. Súd vyhrala a odvtedy sa píše na výtlačkoch albumu autor hudby: Richard Wright/Clare Torry – The Great Gig in the Sky.
– hlasy sú nahrané komparzistami, ktorí pracovali v štúdiu, alebo hudobníkmi, ktorí v tom čase boli prítomní. Odpovedali na Watersom pripravené filozofické otázky.
-na niektorých výtlačkoch je v úvodnom búchaní srdca v Eclipse počuť slabo skladbu Ticket to Ride (Beatles). Chyba vznikla pri presluchu hrajúcej skladby z iného štúdia pri nahrávaní hovoreného slova. Po zistení chyby na výliskoch, bol záznam opravený a vyčistený.
– v nových vydaniach sa uvádza "Lacquer Cut". Je to veľmi dôležitá práca zvukového inžiniera, ktorý robí rezanie zvukového signálu do rezacej fólie pri masteringu. Je to stará technológia, ktorá sa znovu vrátila do výroby lisovania vinylových platní. Iniciály človeka, ktorý to robil, nájdete väčšinou v označení platne na vrstve blízko stredovky.
Album: The Dark Side of the Moon (Live at Wembley, 1974)
Autor: Pink Floyd
Žáner: Rock
Vydavateľstvo: Pink Floyd Records,
Rok: 2023
Formát: LP
Počet skladieb: 10
Zdroj: LP PFR50LP2
Hodnotenie: 4 z 5
Artwork [2023 Line Drawn For The Inner Sleeve] – Richard Evans
Artwork [Original 1973 Line Drawn Cover] – George Hardie
Backing Vocals – Carlena Williams, Venetta Fields
Bass Guitar, Vocals – Roger Waters
Design [2023 Album Cover] – Aubrey Powell, Hipgnosis, Peter
Curzon, StormStudios
Design [Sleeve Design] – Hipgnosis
Drums – Nick Mason
Graphic Design [Heartbeat Graphic From A Idea By] – Roger Waters
Keyboards, Vocals – Richard Wright
Lacquer Cut By – Stu.
Lyrics By – Roger Waters
Mixed By – Andy Jackson, Damon Iddins
Music By – Pink Floyd
Organ – David Gilmour (tracks: A5)
Producer [Produced By] – Pink Floyd
Saxophone – Dick Parry (tracks: B1, B2)
Vocals, Guitar, Synthesizer [Synthi AKS] – David Gilmour
Written-By – Gilmour* (tracks: A2, A3, A4, B3), Mason* (tracks: A1, A4, B3), Wright (tracks: A2, A4, A5, B2, B3), Waters* (tracks: A2, A3, A4, B1, B2, B4, B5)
Written-By [Vocal Composition By] – Clare Torry (tracks: A5)
Na tejto verzii sú vynechané "tape effects", pravdepodobne boli všetky efekty pustené z magnetofónovej pásky počas koncertu. nemyslím si však, že kapela vtedy hrala na "timecode", ktorý sa dnes bežne používa v rámci synchronizácie s vizuálnami efektmi a pod. Taktiež je uvedený iba Gilmour ako syntetizér, hoci Wright evidentne používal syntetizér VCS 3 tiež.
Album: The Dark Side of the Moon Redux
Autor: Roger Waters
Žáner: Rock
Vydavateľstvo: SGB Music Limited
Rok: 2023
Formát: LP
Počet skladieb: 10
Zdroj: 2 LP Cooking Vinyl – SGB50LP, blue colour
Hodnotenie : 3 z 5
Album: The Dark Side of the Moon (2023 remastered)
Autor: Pink Floyd
Žáner: rock
Vydavateľstvo: Pink Floyd Records
Formát: LP
Počet skladieb: 10
Zdroj: PFR50LP1
Hodnotenie: 5 z 5
Remasterovaná verzia: líši sa od pôvodnej iba uvedením remasteringu.
Artwork [Sleeve Art], Artwork [Stickers Art] – George Hardie N.T.A.
Backing Vocals – Barry St John, Doris Troy, Lesley Duncan, Liza Strike
Bass Guitar, Vocals, Synthesizer [VCS3], Tape [Effects], Lyrics By [All] – Roger Waters
Design [Sleeve], Photography By – Hipgnosis
Engineer – Alan Parsons
Engineer [Assistant] – Peter James
Keyboards, Vocals, Synthesizer [VCS3] – Richard Wright
Lacquer Cut By – BG
Percussion, Tape [Effects] – Nick Mason
Producer, Music By – Pink Floyd
Remastered By – Bernie Grundman, James Guthrie, Joel Plante
Saxophone – Dick Parry (tracks: B1, B2)
Supervised By [Mixing] – Chris Thomas
Vocals, Composed By [Vocal] – Clare Torry (tracks: A4)
Vocals, Guitar, Synthesizer [VCS3] – David Gilmour
Written-By – Gilmour* (tracks: A1b to A3, B3), Mason (tracks: A1a, A3, B3), Wright (tracks: A1b, A3, A4, B2, B3), Waters (tracks: A1b to A3, B1, B2, B4, B5)