Katapult, jeden z fenoménov na československej hudobnej scéne. Vari nikto z branže si nevyslúžil toľko kopancov, invektív, osočovania a zosmiešňovania, ako mozog tejto kapely – gitarista, spevák a skladateľ – Olda Říha. Nezlomný rocker, ktorý ťahá hard rockovú káru Katapult v lepších i horších časoch, až do dnešných dní. Po smrti svojich kolegov sa obklopil mladou krvou a rozdáva koncertnú radosť fanúšikom na oboch brehoch Moravy. Rozdával, kým nás banda liberálnych zapredancov zaživa nezavrela do domácich kobiek…

Skupina na svojom debute ponúkla 10 skladieb naživo. Či došlo k nejakým dodatočným úpravám a vylepšeniam, tak to naozaj netuším. Album sa mi páčil v čase vydania a do dnešných dní sa na tom nič nezmenilo. Hard rock v podaní troch rockerov z Čiech si užívam naplno, spievam spolu s nimi a spomínam na časy, keď sme chodili na zábavy, navštevovali koncerty, ľudia pracovali, detičky ráno nacupitali do škôlky, deti do školy, študenti zvykli každý rok aj maturovať a vysoké školy mali cveng i v cudzine. A dnes? Dnes je "radosť" žiť. Rentami nám zatkali papule. Z najväčších podvodníkov, mafiánov, zlodejov a kuriev sú celebrity. A čo je najpodstatnejšie – máme banány!!!!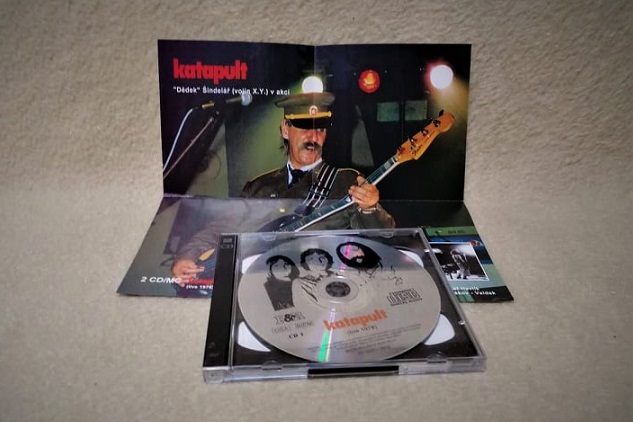 A o čom je ten Katapult zo sedemdesiateho ôsmeho?

Z tracklistu vyčlením bokom tri skladby, ktoré som si zamiloval. To však neznamená, že zbytok je do počtu. Rockovica Půlnoční závodní dráha to odpáli naplno, pritom si spomeniem na chalanov, ktorí to vďaka promile a ťažkej nohe na plynovom pedále nezvládli. Lepák Hlupák váha mal svojich napodobiteľov od Ašu až po Čiernu nad Tisou. A hrali ho aj u nás, na Šariši. A balili sme pri ňom baby. A kto zaváhal, ten "nežral". Tichá pošta mi pripomenie spolužiakov, ale hlavne baliaci papier na spolužiačky.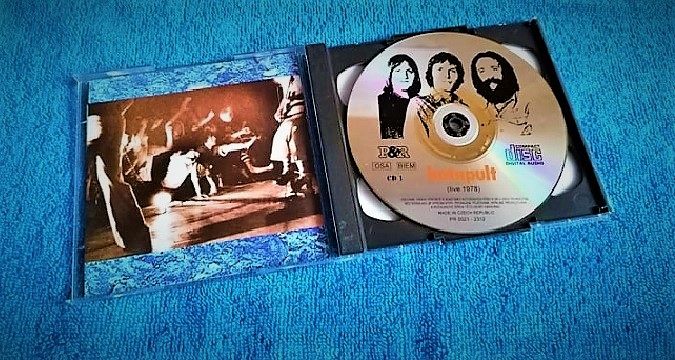 Upaľujúca jazda Každé ráno… akoby textom predbehla dobu – skoro v každučkej rodine počet áut úmerný k počtu rodinných príslušníkov, singlovky na cestách, zápchy, stresy, diaľnice v nedohľadne, pričom kilometer tej slovenskej stojí ako polovica tunela popod Lamanč. Hobľovačka Máš na to být víc mi nastaví zrkadlo. Možno stačilo viac odvahy, viery vo vlastné schopnosti. Žiadne možno však v živote neplatí. Podobne ladený je aj ôsmy zárez – Perfektní součet. Niekomu prídu na um matematické zákony, mne nenaplnené lásky. Čo už!? Takmer deväť minút trvajúca zatváračka Vlaky v hlavě dá priestor na hard rockovú improvizáciu, o slovo sa prihlási harmonika, zaspomíname aj na Ričiho a jeho bandu Díp Párpl z čias, keď ešte opeľovali Švajčiarky a sledovali požiar v mestečku Montró, či ako sa to vyslovuje…
A moja spanilá trojka?

Miluji severní nebe – Pomalý kúsok. Tá gitara je taká, proste "smrdí" človečinou. A páči sa mi Šindelářov spev i Říhova fúkačka – paráda!!!
Tvoje dlouhý vlasy – Tento baladický šláger pochopia iba bratia v zelenom, ktorí si to odmakali spolu so mnou. Síce sme za dva roky zarobili veľké H, ale máme dobrý pocit, však? A priniesol som si domov "žeľene fusekľe". Pritom mnohí podvodníci s modrými knižkami, ku ktorým prišli za bok slaniny, zatiaľ odkladali groše do Českej i Slovenskej sporiteľne. A dnes sú z nich disidenti…
Stovky hotelů – Balada o živote rockera. "A já budu hrát pro všechny, dokud o to budou lidi stát…" – toto pre mňa znamená viac, ako celá velebená a nedotknuteľná česká a slovenská, akože skladateľská a textárska, elita pre vyvolených. Ktorá? Veď Vy dobre viete, koho mám na mysli.
…Koncertný album Katapult bol pre skupinu slušným odrazovým mostíkom. Za "najsvätejšiu Trojicu" pridávam hviezdu navyše a verím, že čoskoro sa s Oldom a jeho partiou opäť uvidíme naživo. Ako frontman nedávno napísal: "Vysvobodí NÁS snad až záře reflektorů..." Síce tie liberálne zrúdy ešte ceria protézy, ale som presvedčený, že svoje dni už majú zrátané.
Kaťáci, do skorého videnia!!!!
P. S.: Zelené fusakle na titulke už nie sú moje origoš…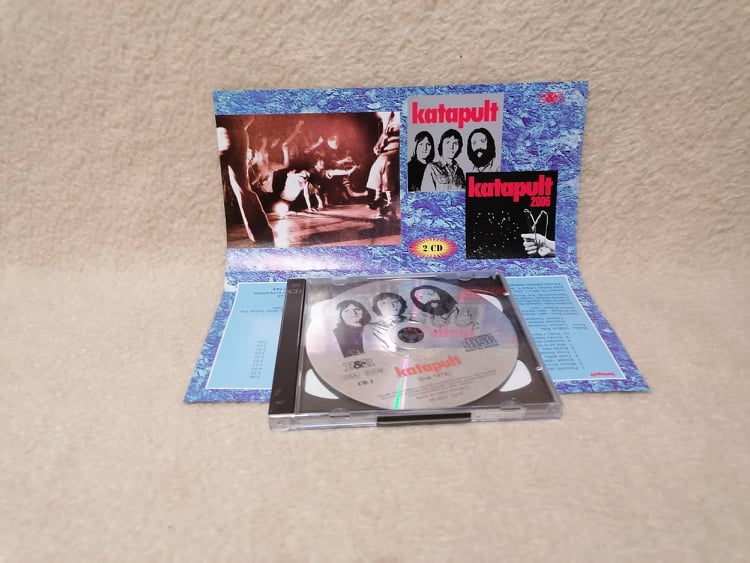 SKLADBY:
01. Půlnoční závodní dráha (2:50)
02. Miluju severní nebe (4:20)
03. Hlupák váhá (3:00)
04. Tichá pošta (3:25)
05. Tvoje dlouhé vlasy (3:05)
06. Každé ráno… (3:50)
07. Máš na to být víc (4:00)
08. Perfektní součet (5:00)
09. Stovky hotelů (3:40)
10. Vlaky v hlavě (8:40)
Hudba: Olda Říha
Slová: Ladislav Vostárek (03.-10.), František Gellner (02.),  Ladislav Vostárek/Milan Flanderka (01.)
ZOSTAVA:
Olda Říha – spev, gitara, fúkacia harmonika
Jiří Dědek Šindelář – basová gitara, spev
Tolja Kohout – bicie
NOTES:
Vydané v spolupráci s časopisom Mladý svět.
Nahrávané 30. septembra a 1. októbra 1977 pri verejných koncertoch – Obvodní dům kultury, Praha 4.
Made in Czechoslovakia
℗ 1978
———
Released in collaboration with the Mladý svět magazine.
Recorded September 30 and October 1, 1977 during public performances at the Obvodní dům kultury Prague 4.
Katapult
Katapult
Hard Rock
Supraphon
1978
LP
10
CD - P&R ‎– PR 0021-2 312 /1993/