CD RCA Italiana – 88697343622, Sony BMG Music Entertainment /2008/
Pravěkej
underground
, animální a primitivní nářez s odpovídajícím zvukem. Výplach. Komplet celé album trvá necelých 33 minut, ale když si odečteme jeho úvod a závěr – které vyplňují jen nějaké dobové speciální efekty (rozuměj pazvuky) – zbyde nám sotva pětadvacetiminutová fašírka.

Zpěvu tady moc není, ale stojí za to. Je expresivní a dramatickej přesně tak, jak to mám rád a tak, jak to uměj jenom talijáni. Baskytara je v instrumentálních pasážích brutálně vytažená a člověk se tak nemůže zbavit dojmu, že oba kytaráci bojují o to, kterej z nich bude mít navrch. Slyšet je tu stopové množství flétny, ale pozor! Vůbec žádné klávesy. A to je věc ne zas tak zcela obvyklá…
Koncepční hardrockové album (inspirované Biblí a Starým zákonem) se stopami progresivního rocku se sice nahrávalo ve studiu, ale pěkně naživo a ten zvuk podle toho taky tak vypadá. Moc se s tím nemazali. Nejambiciózněji se tváří víc jak deset minut dlouhá Il giudizio, ale já si cením i přímočaré instrumentální palby Sodoma e Gomorra.
Z italské scény mě napadá jediné album, ke kterému bych to mohl přirovnat. Sirio 2222 (1970) podobně divokých Il Balleto di Bronzo. A i to je – proti téhle patálii – ještě celkem uhlazené…
Reedice z roku 2008 má výbavičku, chudou jak kostelní myšičku. "Booklet" je jen dvoulistem papíru a neobsahuje nic, než názvy písní a sestavu. Ovšem i přes všechny výtky jsem rád, že ji mám.
Lepší trojka.
SKLADBY:
1. Il Nulla 4:56
2. La Creazione 5:17
3. L'Ammonimento 5:19
4. Sodoma E Gomorra 4:51
5. Il Giudizio 10:15
6. Il Diluvio 2:14
SESTAVA:
Pino Ballarini – zpěv, flétna
Enzo Vita – kytara
Stefano Urso – basová kytara
Gino Campoli – bicí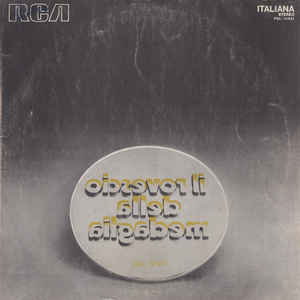 La Bibbia
Il Rovescio Della Medaglia
Hard rock
RCA Italiana
1971
LP
6
CD - Sony BMG Music Entertainment, 2008