První album Pink Floyd – s poetickým názvem The Piper At The Gates Of Dawn – jsem objevil až v polovině sedmdesátých let. Nikoliv jako samostatné album, ale jako součást kompilace A Nice Pair, která obsahovala první dvě řadová alba kapely.  Byl jsem tehdy na vojně. Dolehly ke mně různé protichůdné názory: jedny album označovaly jako slaboduchý experiment psychedelické doby pod vlivem Syda Barretta a druhé jako základní pilíř britské hudební psychedelie, který bude milníkem daného žánru a jedno z nejexperimentálnějších projektů historie.
Samozřejmě, nejdůležitější pro mě bylo to, jak ho budu vnímat já. Do jisté míry je vždycky chybou, když se člověk seznamuje s diskografií kapely – která má bohatou produkci – roztříštěně, chaoticky a nemůže vnímat jejich vývoj podle posloupnosti. Naštěstí jsem se s touhle okolnosti vyrovnal poměrně rychle. Dvě skladby jsem znal z živé části dvojalba Ummagumma a představa, že album bude pojednáno ve stejném duchu, mě už dopředu vzrušovala a naplňovala velkým očekáváním. Přesto nějaký čas trvalo, než doputovalo do mé sbírky, i když už podle poslechu jsem písně na něm znal. A tak se k němu v téhle chvíli zase vracím…
ASTRONOMY DOMINE – Zkreslené hlasy z pravého kanálu a postupně narůstající napětí v hudbě, ve které se propojují varhany, elektrická kytara, baskytara a bicí nástroje s podivně šeptajícími hlasy. Formálně není hudba nijak komplikovaná, ale od prvního okamžiku cítím, že mám co dělat s experimentálním albem. Zvukové imprese přeznívajících varhan, vířivých činelů a dravých breaků na bicí nástroje s rozostřeným kytarovým tónem a hypnotickými basy. Kaleidoskopické tajemno ve středním tempu vyvolává v jistém slova smyslu znepokojující iluzi strachu a podivných vibrací. Přesto jsem unešen teď jako před mnoha lety. Velmi dobrý úvod alba a skladba je bezesporu jedním z jeho pilířů.
LUCIFER SAM – Estetika šedesátých let ve vedení vokálních partů (podobně zpívali na některých singlech i The Who), ale hudba stojí na větším napětí a dynamických odstínech, zatímco Wrightovy farfisy dokreslují onen tetelivý sférický sound a přiváději nás do podivné pohádky pro dospělé.
MATILDA MOTHER – Krásné vokální party se zajímavými proměnami v harmonické struktuře s víceméně čitelnou melodickou linkou. Máme tu další pitoreskní postavičku z dílny Syda Barretta, který v dané době určoval hlavní koncepční myšlenky. Rick Wright dostane příležitost vystavět snivé sólo na varhanní mezihru. Kytarové doprovody jsou podmanivé, ale nijak nekomplikované. Hudební kontemplace vyvolávají pocit nekonečného prostoru, do kterého se propadá celá harmonie až do ztracena.
FLAMING – Strašidelný psychedelický zvuk se vymyká zvyklostem, zvláště, kdy na něj naváže zcela nečekaně klasická písnička vypravěčského typu, kde nám dokonce kuká kukačka. Cítím jak mě pohlcuje ta zvláštní atmosféra. Cinkání zvonečků, vedle farfis do hry vstupují i velebné hammondky. Barrettova kytara nevyčnívá ve smyslu vystavěného kytarového běsnění, ale účinně dotváří atmosféru.
POW R. TOC H. – Podivné zvuky, které jsou nezařaditelného typu. Skřehotající papoušci, pelikáni, do hry vstupují tympány a klavírní téma. Je melancholické a téměř s jazzovou náladotvorností. Spojení šamanského bubnování s uvolněnou atmosférou nespecifikovatelných vizí, třeba pod vlivem psychotropních látek. V téhle skladbě slovo psychedelie dostává možná ten nejkonkrétnější tvar nebo význam. Pociťuji zvláštní vibrace neklidu a dynamicky odstupňovaného napětí. Harmonická struktura graduje, aby se pak zvolna roztříštila. Prostor je pohlcen varhanním soundem, tympány a kytarovými rozklady s podivným šepotem, se strašidelným dozvukem a neurotickým vyjádřením napětí v divokém rytmickém chaosu, který je náhle zakončen.
TAKE UP THY STETHOSCOPE AND WALK – Opakující se schéma psychedelického obrazu rozvíjeného motivu. Divoké Masonovy bubenické eskapády sice nejsou nějak technicky obtížné, ale tady působí výrazné napětí, u kterého očekávám vyvrcholení. Wright kouzlí s varhanami a Watersova baskytara opakuje důrazné téma. Waters je autor. Divoký šamanský tanec přináší úzkostlivé napětí a stupňovaný chaos s podivnými hlasy. Přesto je hudba pod vnitřní kontrolou a neopouští písňovou formu.
INTERSTELLAR OVERDRIVE – Další důležitá skladba na albu (zmiňovaná už s Ummagummou). Psychedelický opus v tom nejlepším slova smyslu. Nepostrádá nic, co se v daném typu skladby očekává. Podivný tetelivý sound, napětí, rozčeřená harmonie a náladotvorné hudební proměny. Hudba jako stavěná pro filmový nebo divadelní horror. Neděje se zde instrumentálně nic mimořádného, ale ten úžasný prostor pro erupce emocí, práce se zvukovými stěnami a podivně nesourodé aranžmá dělají ze skladby opravdové progresivní dílo své doby. Kosmické vize v hudební estetice vždycky sváděly k velkým představivostem a bezbřehému improvizování. Tady tahle formule platí bezezbytku. Emocionální uchopení hudební formy s důrazem na fantazijní svět bez hranic. Bloudivé tóny hammondek v kostelním chóru s tetelivými zvuky bzučivých farfis, do toho proměnlivé kytarové sestupné i vzestupné tónové obrazce. V závěru se vrací původní téma procezené přes elektronické vibráto a s nepojivými těžko identifikovatelnými zvuky.
THE GNOME – Tohle je typická barrettovina se vším všudy. Deriváty této skladby slýcháme na jeho sólových albech a znovu si uvědomuji, jak Pink Floyd jeho odchodem ztratili zajímavě definovaný sound, ke kterému se už později nikdy nevraceli. Nápad se zpěvem, který doprovází tajemný šepot s ozvěnou, je famózní. Jinak máme co dělat s "písničkou" – ovšem v pinkfloydovském slova smyslu.
CHAPTER 24 – Další barrettovská hříčka – opět máme co dělat s podivným hračičkářstvím nenapodobitelného typu, navíc s originálními texty. Není to hudba složitá, ale řekl bych, že sotva napodobitelná a vytváří zvláštní snové až panoptikální zvukové i obrazové vize nepojmenovatelného typu. Krásné vokální party, které trochu připomínají beatlesovské vedení hlasů ve vyšších polohách. Leccos z toho, co se zde odehrává, jako by bylo možno slyšet z jejich instrumentální skladby Flying. Rozpínání mysli a v jistém slova smyslu vliv orientálních vizí zabalených do psychedelie – příjemná a hodně zvláštní věc.
SCARECROW – Další překvapení přichází v podivném ťukání a klepání, které doprovází farfisy, které místy znějí jako hoboj. Kytarové akordické proměny mají jen ilustrativní charakter k Barrettovu zpívanému projevu. Farfisy vytvářejí důležitý prvek hledání imaginárního klidu, tepla a světla. Velmi příjemně zní i akustická kytara, která dovádí tento další experiment k závěru.
BIKE se vrací zpět k rockovému charakteru, i když i zde pořád barrettovský model vítězí a Waters, Wright a Mason jsou součástí tohohle hudebně kaleidoskopického kolotoče. Ani stopa po blues, rock and rollu, soulu. Hymnické postupy za asistence varhan, tympánů, hutných basů a rázných kytarových doprovodů spějí k závěru, v němž se opět ke slovu dostávají strašidelné zvukové orgie těžko specifikovatelné povahy, které nás odvádějí do vysněné nirvány. Tohle už není hudba, ale zhmotnělé sny a vize, včetně podivných zvuků, které už jsem měl objeveny na albu Ummagumma ve watersovském experimentu. Deska s řadovou podivných postupů je u konce.

Velmi zvláštní hudební koncepce. Dokáži si docela živě představit rozporuplné reakce, které musela v dané době vyvolat (podobně jako v USA zcela jiná hudba zachycená na albu Velvet Underground And Nico). Písničkové album není hned v prvním plánu a nějaké intelektuální articifiálně vize zde také nenajdeme. Pink Floyd po několika singlech nastoupili cestu neprozkoumaným pralesem, ve kterém se snadno mohli ztratit. S odstupem času, ale také pod vlivem toho jako jsem sledoval historii téhle kapely a jejich vývoj, jsem byl trochu poučen, jak vnímat hudební souvislosti. Netvrdím, že tohle album je nejzásadnějším počinem kapely, ale s ohledem na progresivní linii a také skutečnosti, že Pink Floyd prožili během své kariéry několik zlomových okamžiků, který zanechali na dlouhé cestě jejich existence významné křižovatky, jim pět hvězdiček dám. Především za ten progresivní a odvážný čin, který v době, jež ovládaly skupiny jako Beatles, Rolling Stones, Manfred Mann, Spencer Davis Group, Bluesbreakers, Moody Blues, Procol Harum, Animals, Yardbirds, dokázali nabídnout vnímavému posluchači, bez ambic zaujmout v hitparádách a oslovit široký mainstream. Undergroundové období pinkfkloydovských začátků má v sobě tajemnou moc a sílu, která je podle mě spíš tušená než hmatatelná. Prostě, paráda!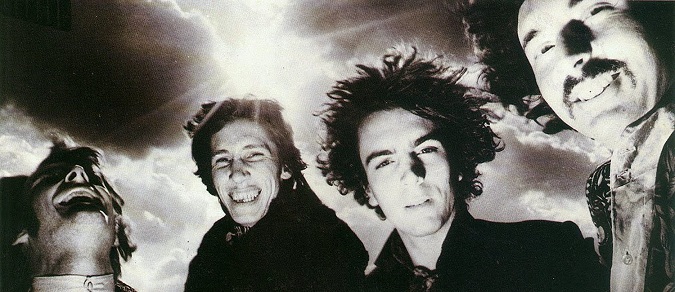 SKLADBY:
01. Astronomy Domine (4:12)
02. Lucifer Sam (3:07)
03. Matilda Mother (3:08)
04. Flaming (2:46)
05. Pow R. Toc H. (4:26)
06. Take Up Thy Stethoscope And Walk (3:05)
07. Interstellar Overdrive (9:41)
08. The Gnome (2:13)
09. Chapter 24 (3:42)
10. Scarecrow (2:11)
11. Bike (3:21)
SESTAVA:
Syd Barrett – guitar, lead vocals, voice
Richard Wright – Farfisa Compact Duo organ, piano, celeste, vocals
Roger Waters – bass, vocals, voice
Nick Mason – drums, percussion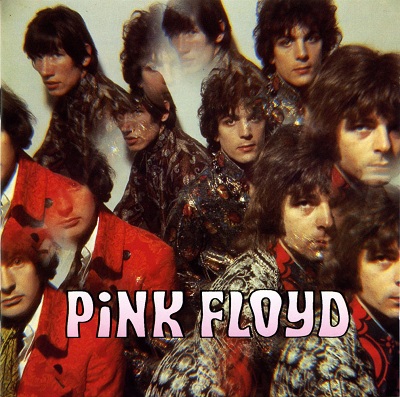 The Piper At The Gates Of Dawn
Pink Floyd
Psychedelic Rock
Columbia
1967
LP
11
LP - A Nice Pair /1972/