The Last Detail je holandská kapela, o ktorej som počul, ale nikdy predtým som sa s ňou nestretol. Niektorí členovia boli v skupine Ywis, ktorej rovnomenný album (1983) bol opätovne vydaný v 90. rokoch. Neskôr vznikol Timelock… 


Nemôžem sa zaručiť, že moje informácie sú presné, keďže mám zakúpený iba download a nie samotný album, čo je limitovaná edícia, ktorá obsahuje 16-stranovú, plnofarebnú brožúru s biografiou, informáciami atď. Môžem sa iba ospravedlniť. V priebehu rokov 1987 až 1991 vydali The Last Detail dva albumy na magnetofónových kazetách (tu na bonusovom disku), jedno kompletné CD a rôzne skladby na niekoľkých kompilačných albumoch. Pri príležitosti 35-ročného jubilea vydavateľstva FREIA Music sa toto rozhodlo obnoviť všetky oficiálne nahrávky skupiny a znova vydať jej tvorbu na jednom dvojalbume v limitovanej edícii 300 kópií. Výsledkom je dvojitý disk so 41 skladbami, viac ako 2 ½ hodiny hudby.
Musím povedať, že keď som tento mamutí produkt počúval prvýkrát, veľmi na mňa nezapôsobil. Mnohé piesne sú tu duplicitne a v niektorých ohľadoch to znelo dosť amatérsky. Ale bol som vytrvalý a čím viac som ho počúval, tak ma postupne vrátil späť v čase, do prvých dní neo progu. So spevákom, ktorý znel trochu ako Michael Sadler. Pri silnom používaní klávesových nástrojov je zrejmé, že hudobníci hľadali inšpiračné vplyvy a Saga bola jedným z nich, ale tiež mali veľa spoločného s ranou tvorbou takých Galahad. Chýba im však jemnosť a substancia iných skupín tohto obdobia, akými boli napr. IQ a Pendragon. Trochu ma prekvapuje, že som vtedy nezaregistroval vznik kapely, pretože som sa pokúšal zachytiť mnohé z najlepších holandských a britských činov, ale všetka česť značke FREIA, že to konečne znova sprístupnila.
Je pravda, že pre niekoho ako ja, ktorý ich v tom čase nepočul, je to zaujímavejšie z historického hľadiska ako z hudobného, ale pre tých, ktorým sa v tej dobe skupina páčila, je táto kompilácia absolútne nevyhnutná. Je ešte dôležité spomenúť, že v Holandsku vychádza časopis s názvom True Music Guide, kde sa každé vydané číslo zameriava iba na jedno dielo. Dvojka z februára 2019 patrila skupine The Last Detail. Od tejto chvíle bude objavených veľa drahokamov. Pre fanúšikov raného neo progu.
Moje hodnotenie: 7/10.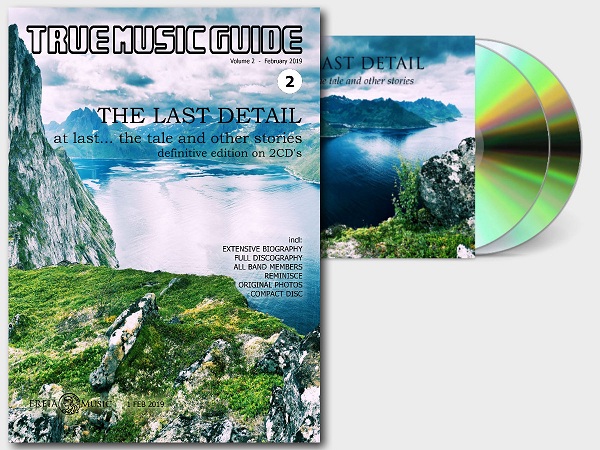 DISC ONE: 1. Man Out Of Time 4:54 2. The Wrong Century 6:48 3. On The Edge 3:25 4. Kingdom's Road 3:33 5. Innocence 5:12 6. Answers 3:28 7. Bearhind Lane 1:13 8. Letter To Chadwick 3:08 9. Lucinda 5:01 10. So Many Night 3:59 11. Mirrors 3:59 12. The Feast 3:18 13. Near The Thames 3:41 14. Gloves And Boots 3:54 15. The Document 4:37 16. The Overture 1:41 17. Beneath The Waterfall 1:49 18. Imagining 2:46 19. The Forest 2:18 20. The Duckery Mells 1:39 21. Fire And Ice 3:44 22. Alisia 5:15
DISC TWO: 'The Silhouette': 1. Overture 1:45 2. The Prophet: a. One man b. The Vision (4:03) The Journey: 3. Beneath The Waterfall 2:17 4. Imagining 2:36 5. The Forest. 2:34 6. The Prince Of Darkness 5:10 The Battle: 7. Alisia. 2:34 8. The Battle (Parts I & II) 5:18 9. A New Beginning 3:05 'Waterford': 10. Waterford Castle 3:54 11. Bearhind Lane / Letter To Chadwick 4:01 12. Lucinda 4:09 13. The Marquis Of W. 4:12 14. Mirrors 3:52 15. The Feast 3:35 16. Near The Thames 3:56 17. Gloves And Boots 3:07 18. Fire In The Night 3:48 19. The Document / The End 6:28
ZOSTAVA:
Ruud Stoker – spev
Bart Feis – gitara
Peter Stoker – basová gitara
Julian Driessen – klávesy
Andy de Zeeuw – bicie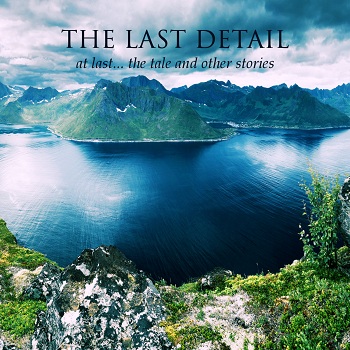 At Last... The Tale And Other Stories
The Last Detail
Neo Prog, Prog Rock
FREIA Music
2019
2 x CD
41