Třetí album Led Zeppelin je pro mě velice důležité. Bylo totiž první, které jsem po výběrovce Remasters slyšel a zařadil do své sbírky. Dodnes na něj nedám dopustit, a kdybych si měl vybrat deset alb, bez kterých se neobejdu, tak tohle bude jedno z těch, které vyberu, bez váhání vložím do batohu a vyrazím na pustý ostrov.
Deska začíná nezapomenutelnou písní Immigrant Song, která námětově čerpá z dob temného středověku. A stejně jako dávní severští válečníci nedbajíce na nebezpečí se hnali přes moře na svých dlouhých dračích lodích a všude, kam dorazili, nechali za sebou zkázu a smrt, tak i úvodní skladba se valí vpřed rychlostí silného větru a drtí vše, co se jí postaví do cesty. Samotného Planta bych si dovedl představit, jak stojí na přídi drakkaru, vyhlíží pevninu a svým výkřikem dává ostatním znamení k zahájení útoku na novou, určitě bohatou a úrodnou pevninu. Kytarový riff, na kterém je skladba vystavěna, opět patří k těm nezapomenutelným a je podporován Bonzovým hromobitím.
Následující píseň Friends je postavena na akustických kytarách doplňovaných zvuky smyčců a celou ji chápu jako jakýsi předěl mezi úvodní hardrockovou smrští a následující peckou Celebration Day. Opět zde slyším výrazný riff, který žene píseň kupředu. Plant je zde zpočátku ztlumený, ale velmi rychle se dostane do plných obrátek a především v refrénu dokazuje, čím je jeho hlas tak důležitý pro sound celé skupiny.  Následuje blues Since I've Been Loving You, ve kterém se zpěvák opět překonává a Page předvádí další ze svých geniálních sól. Celé to podbarvují klávesy Johna Paula Jonese a dodávají celé kompozici zdání tajemna. První stranu desky zakončuje svižný hard rock Out On The Tiles, jímž se hudebníci na této desce nečekaně brzy loučí se svou burácivou elektrickou podobou.
Otočíme na druhou stranu a ejhle… Jako mávnutím kouzelného proutku se nálada promění, pryč jsou hardrockové a bluesrockové výboje, elektrické kytary víceméně mizí a ke slovu se dostává jemnější tvář Led Zeppelin. I když tradicionál Gallows Pole v zeppelinovské úpravě je taky pěkná jízda. Skladba začíná akustickou kytarou, ke které se později přidá mandolína, a dokonce i banjo. Nakonec i na tu elektrickou kytaru dojde. Nad tím vším poletuje Plantův hlas, který ve mně vyvolává zdání skřítka zabloudivšího mezi nás z říše královny Mab. Ještě že je tu Bonham, který svým přesným bubnováním drží tu nádheru pohromadě.
Následuje další poklad, píseň Tangerine. Vlastně country, ale zahraná tak, jako by tam spíš než divoký západ pronikalo kouzlo orientu. Ta píseň je vybroušeným diamantem a vyvolává ve mně pocit absolutního štěstí. Tento pocit zůstává i u další písně That's The Way, křehké baladě vystavěné na zvonivých akustických kytarách, nad kterými se vznáší Plantův hlas. A že bez proudu se dá hrát pěkně od podlahy, nám skupina dokáže skladbou Bron-Y-Aur Stomp. Celou tu nádheru završí další tradicionál Hats Off To (Roy) Harper, pocta folkrockovému písničkáři Roy Harperovi a zároveň černošským bluesmanům.
Tímto albem skupina Led Zeppelin chtěla celému světu ukázat, že nehodlá ustrnout ve vývoji a že i nadále bude do svých písní vnášet podněty z jiných hudebních oblastí, než je hard rock a blues. Page a spol. zahájili skvělé dobrodružství a zatím netušili, kam až je jejich vzducholoď na své cestě zanese.
(Upravené, původně publikováno na progboardu)
Skladby:
01. Immigrant Song (Page/Plant) 2.23
02. Friends (Page/Plant) 3.54
03. Celebration Day (Page/Plant/Jones) 3.28
04. Since I've Been Loving You (Page/Plant/Jones) 7.24
05. Out On The Tiles (Page/Plant/Bonham) 4.05
06. Gallows Pole (Traditional) 4.56
07. Tangerine (Page) 2.57
08. That's The Way (Page) 5.37
09. Bron-Y-Aur Stomp (Page/Plant/Jones) 4.16
10. Hats Off To (Roy) Harper (Traditional) 3.42
Sestava:
Jimmy Page – acoustic guitar, electric guitar, pedal steel guitar, backing vocals, banjo
Robert Plant – vocals, harmonica
John Paul Jones – bass, organ, synths, mandolin, backing vocals
John Bonham – drums, percussion, backing vocals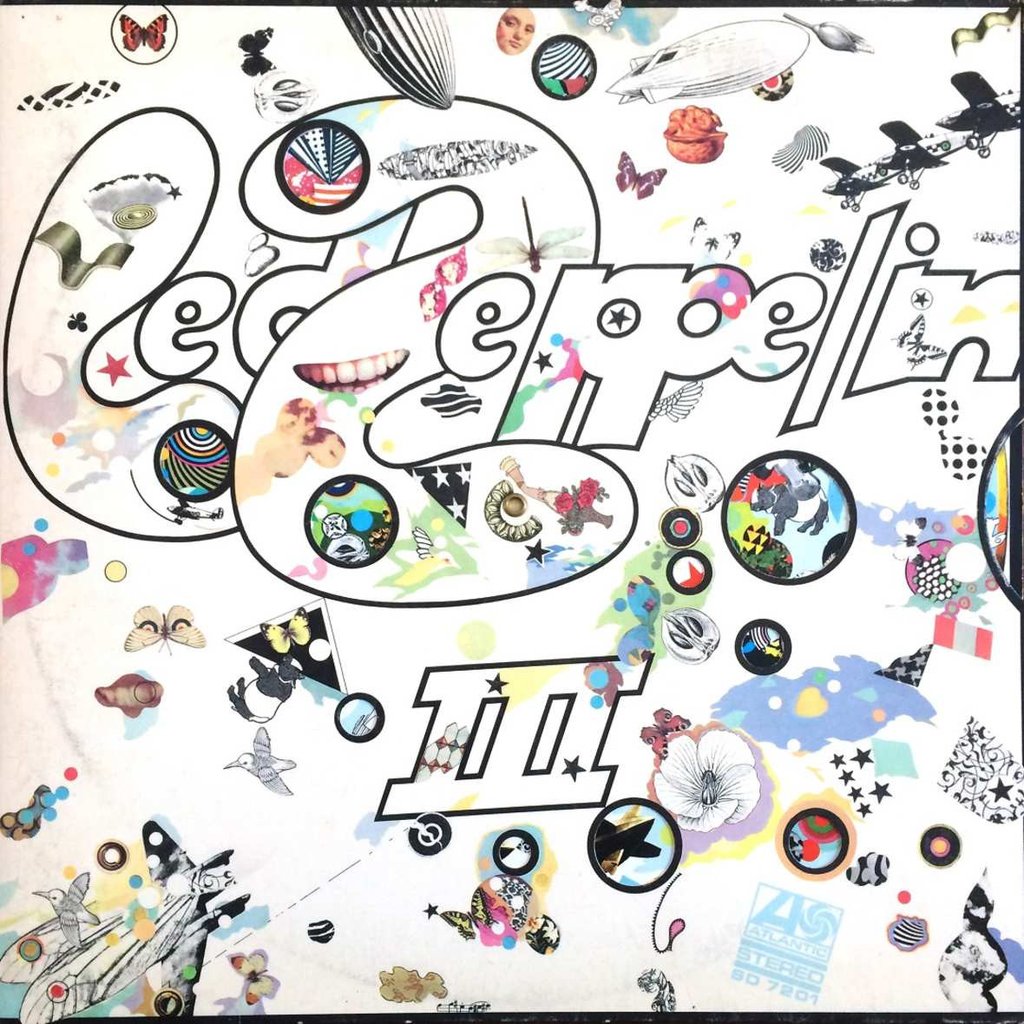 Led Zeppelin III
Led zeppelin
Blues rock, hard rock, folk rock
Atlantic
1970
LP, CD
10