Šedesátá léta, pro někoho vzdálená a přesto příjemná nostalgie, pro jiného dávno zapomenutá naivní historie. Navzdory komunistickému režimu pozvolna docházelo k jistému uvolňování na poli kultury. Díky této okolnosti mohlo v oblasti populární hudby, potažmo bigbítu, vzniknout několik hudebních projektů, které se staly milníky své doby a historie nám je dodnes vrací jako neklamné důkazy muzikantské potence tehdejších časů.
Pražská skupina Olympic patří mezi nejstarší a dodnes aktivní hudební společenství, kterému se podařilo udržet jakousi kontinuitu a přečkat raketové vzestupy i bezedné propady a stala se součástí historie. Olympic má svou účastí zásluhu na natočení skutečně první domácí bigbítové písni u nás – Hvězda na vrbě.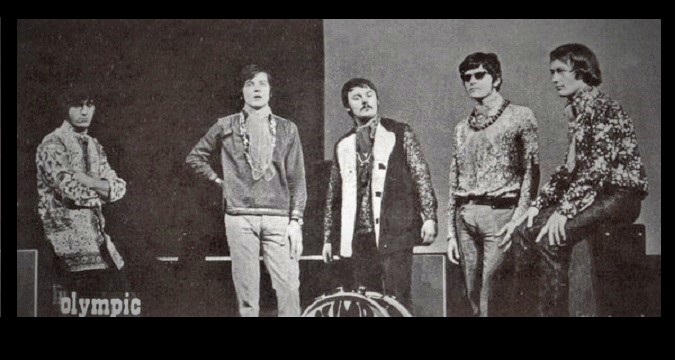 Od r. 1965 se skupina etablovala jako bigbítové těleso, zbavené řady zpěváků, kteří budili dojem pojízdné estrády. Kytarista Petr Janda se stal kapelníkem, který pak (až do současnosti) vedl Olympic s neomylnou velitelskou úporností. Veden představou vytvořit ryzí a nezávislou kapelu začal, společně s Pavlem Chrastinou, skládat skladby, které se s cíleně trefovaly do obecného vkusu domácí mládeže. Úspěšnost Olympiku přivedla skupinu do nahrávacího studia v Dejvicích a jejich singly zaznamenaly velký úspěch. Během r. 1967 se pak díky příznivým okolnostem začaly rodit skladby pro plánované album. Vyšlo pod názvem Želva na labelu Supraphon v r. 1968. Lze o něm hovořit jako o prvním skutečně bigbítovém albu v Československu – albu, které průkopnickým způsobem otevřelo cestu dalším skupinám a stalo se silným motivačním zdrojem pro stovky amatérských bigbítových kapel tehdejších časů. Originální design obalu vytvořil výtvarně vzdělaný Jan Antonín Pacák, který desce vdechl nezapomenutelné humorné vibrace.
Olympic tak ve druhé polovině šedesátých let potvrdil roli nejpopulárnější bigbítové skupiny v Československu a v žebříčcích popularity se dělil s umělecky náročnějšími Matadors. Budeme-li hledat v pohnuté historii československé bigbítové hudby typicky české album s obecným pojetím a masovým vlivem na tehdejší mládež a vývoj daného žánru, bude to právě tato deska. Janda byl muzikantsky velmi dobře vybavený hráč, vyrůstající na Chucku Berrym, Beatles, ale i Shadows, což bylo na albu leckde znát. Tato okolnost ale byla logickým vývojem této hudby v dobových konotacích. S ohledem na další vývoj skupiny, lze hovořit o "klasické sestavě", která zůstala pro řadu pamětníků zásadní a ryzí, což se v dalších desetiletích už říct nedalo.

ŽELVA – Úderný úvod nám představí přímočaře pojatý bigbítový song s foukací harmonikou a přímočarými kytarami a klasickým dvojhlasem. Kouzlení s boosterem v závěrečné fázi písně a se zesilujícím dynamickým náporem patřily k dobové klasice.
VZPOMÍNKA PLÍŽIVÁ – Balada ve středním tempu s Kleinovým vokálem a s Berkovými varhanami vysunutými do popředí navazuje na tradice mersey soundu anglických skupin své doby.
LÍNEJ SKAUT – Typicky české vepřo-knedlo-zelo. Ryzí česká bigbítová hospodská záležitost ve valčíkovém pojetí s vozembouchem a atmosférou trampské hospody s dobovými narážkami. Lidovější bigbít si snad ani nelze představit.
DÁM ZEJTRA ZAS FLÁM – Další baladická záležitost se zvonivou Jandovou kytarou. Berka, navzdory všem předpokladům, nahrál klávesové party na cembalo. V závěru lze vypozorovat vliv anglických Yardbirds.
MODRAVÉ MÁMENÍ – Melodicky výrazná skladba s harmonickými a rytmickými proměnami. Zvonivé kytary v pozadí v harmoniích drží varhany. Uprostřed písně Janda vystřihne slušné kytarové sólo, preparované boosterem.
NIKDO NEOTVÍRÁ – Olympic se vrací k rockandrollovému pojetí. Jandovy a Kleinovy kytary zemitě podmalovává Chrastinova baskytara. Jandovo kytarové sólo upomíná na Chucka Berryho, ve snaze nalézt vlastní výraz.
NEBEZPEČNÁ POSTAVA – Píseň rozjíždí úderným způsobem rock and roll. Jandova kytara v sólových pasážích připomíná rané Beatles a Berkův klavír zanechá velmi příznivý dojem.
SNAD JSEM TO ZAVINIL JÁ – Tklivá balada, jedna z nejlepších, které kdy Janda složil, se stala klasickým majstrštykem svého žánru. Že v nekomplikovanosti mnohdy bývá velká síla, potvrzuje právě tato skladba s procítěným kytarovým sólem a nostalgicky znějícím Jandovým hlasem. V závěru můžeme opět vycítit vliv Yardbirds, možná i Beatles.
DĚDEČKŮV DUCH – Zemitá rychlejší píseň v bigbítové údernosti vnáší do atmosféry typický rys českého humoru, kolorovaný boosterovanou kytarou a podmanivými sbory. Pacákova rytmika jede vpřed s přesným tahem na branku, pro daný žánr nezastupitelná.
JEN BŮH VÍ – Pomalá, téměř líná balada, zpívaná Chrastinou, jeho nepevným hlasem, podporovaná sbory a bloudivými kytarovými tóny, se zapsala do paměti svým boosterovým sólem Jandovy kytary.
TELEFON – Netypický úvod s vyzváněním telefonu a hlasu v ústředně nás uvádí do další úderné skladby, která se v rychlém tempu žene vpřed, podepřená Berkovou foukací harmonikou a Pacákovou rozpoutanou hrou na bicí nástroje.
PSYCHIATRICKÝ PRÁŠEK – V psychedelickém duchu se vine závěrečná píseň alba. Dominuje zde i nezvyklá stopáž (6:26). Výměna základních akordů posléze graduje, doprovázená naříkavými a nezřetelnými zvuky v pozadí. Jandovy kytarové experimenty a vazbení navozují atmosféru psychiatrické terapie. Nepřeslechnutelný je i melodický vstup ve stylu ruské písně Kaťuša, který byl vtipně vkomponován do skladby. Tato okolnost byla po srpnové invazi vděčně přijímaným aktem protestu a ironie, což pravděpodobně později Olympiku příliš neprospělo a dalo by se říci, i tato okolnost byla důvodem, proč album Želva na dvacet let uložit k ledu.

Album Želva se navzdory příznivému postavení Olympiku za totalitního režimu dočkalo reedice až v r. 1991. Možná to bylo i z toho důvodu, že bylo tehdejšími kulturtrégry seznáno jako málo ideové a příliš svobodomyslné, ale zcela určitě i proto, že Pavel Chrastina v osmdesátých letech emigroval do Austrálie a podle "dobrého zvyku" v české kotlině se tedy na album mělo oficiálně zapomenout. V r. 2004 bylo vydána CD verze s ošetřeným zvukem a ve sbírkách pamětníků patří k "rodinnému stříbru".
Budeme-li hovořit o vývojových milnících československého bigbítu, musíme chtě nechtě zabloudit do světa zvířat. Asi ne náhodou se tvrdí, že bigbítová cesta u nás vedla od Želvy přes Kuře v hodinkách až ke Strace v hrsti.
Pět hvězdiček, zaslouženě! 
SKLADBY:
01. Želva 3:40
02. Vzpomínka plíživá 2:49
03. Línej skaut 2:16
04. Dám zejtra zas flám 2:30
05. Modravé mámení 2:22
06. Nikdo neotvírá 2:09
07. Nebezpečná postava 1:46
08. Snad jsem to zavinil já 3:05
09. Dědečkův duch 2:22
10. Jen Bůh ví 3:38
11. Telefon 1:51
12. Psychiatrický prášek 6:26
Hudba: Petr Janda (1, 3-11), Ladislav Klein (2)
Text: Pavel Chrastina (1-6, 8-11), František Čech (6, 7)
SESTAVA:
Petr Janda – sólová kytara, zpěv
Pavel Chrastina – baskytara, zpěv
Miroslav Berka – piano, varhany, čembalo, celesta, foukací harmonika
Ladislav Klein – doprovodná kytara, zpěv
Jan Antonín Pacák – bicí, foukací harmonika, zpěv
+
Zdeněk Nossberger – trombón (03)
Eva Pilarová – ženský hlas (12)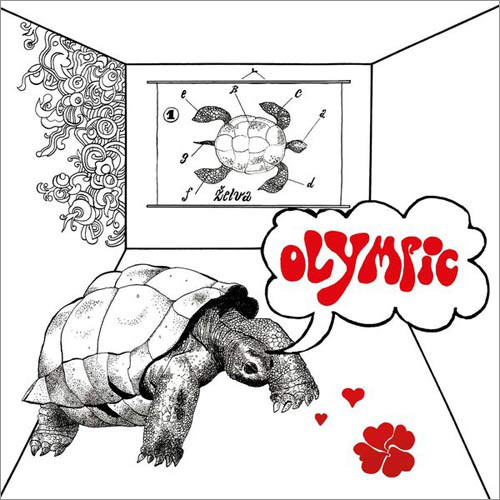 Želva
Olympic
Psychedelic Rock, Beat
Supraphon
1968
LP
12