CD Mellow Records ‎– MMP200  /1994/
"Máš rád jazzrock?"
"Jo, jasně."
"A nevadí ti italština?"
"V zásadě ne, a co má bejt?"
"Tak to bys mohl zkusit Ping Pong."
"Cože? Pinčes? A proč jako?"
"Já nemyslím tu hru kolem zelenýho stolu, ale italskou partičku z první poloviny sedmdesátých let…"
Skupina Ping Pong je další z takřka neznámejch italskejch rarit a nebýt hudebních archeologů, zůstala by navždy ztracená v propadlišti dějin. Zbyla po ní dvě alba, ale bez nějakejch konkrétních informací a jména členů kapely se tak podařilo odhalit teprve dávno potom, co zmizela ze světla světa. Debutovala v roce 1971 anglicky zpívaným albem About Time (Emiliana LP 5022) a firma ji pravděpodobně propagovala jako skupinu ze zahraničí. Jediným cizincem v sestavě byl však pouze baskytarista Alan Taylor, který do Itálie přivandroval v šedesátých letech s beatovou formací The Casuals a už tam zůstal. Pokud si od toho vydavatel sliboval vyšší prodejní čísla, tak zůstalo jen u zbožného přání a o tři roky mladší nástupce vyšel už u jiné firmy a komplet v italštině.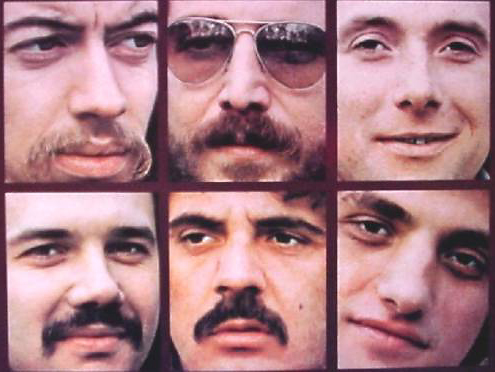 Většina pramenů řadí album Ping Pong do roku 1973 (progarchives, discogs, rateyourmusic), ale přímo na vinylu je vyražena číslovka 7.1.74. a bylo tedy vydáno až v prvních dnech roku 1974 na značce Spark (SRLP 246). Je dlouhé necelých 36 minut, nachází se na něm osm skladeb a je to takovej mix komerčně orientovanejch melodií a originálnějších kousků s vlivy jazzu. Ty skladby se celkem pravidelně střídají, takže po melodickém cajdáku Il miracolo potěší jazzrocková nakládačka Plastica e petrolio, kterou vystřídá orchestrálním aranžmá vybarvená balada Cresciuta in un paese. Čtvrtá Il castello je opět pořádnou, tepající masírkou s vynikající instrumentální vsuvkou a první strana původního vinylu končí melodickou a necelé tři minuty dlouhou písničkou Il villaggio.
Jednoznačným vrcholem alba je rozmáchlá a řádně komplikovaná skládačka Suite in 4 tempi. Já tomu jazzu sice moc nedám, ale tahle přehlídka instrumentálních dovedností všech členů kapely mě baví a třešničkou na dortu je dlouhatánské sólo na bicí. Podle zákona desky by měla následovat další melodická písnička, ale s Viene verso di me je to půl na půl. Část skladby je až pastorálně klidná, ale nechybí ani štiplavé vsuvky v podobě lámaných rytmů a bezuzdně sólující flétny. Definitivně posledním kouskem na desce je jednoduchej a veselým dojmem působící popěvek Caro giuda. Paradoxem je, že zrovna tenhle cover od Blue Mink se stal největším hitem skupiny…
Album určitě nepatří k tomu nejlepšímu, co z Itálie v první polovině sedmdesátých let vzešlo, ale je dobré a poslouchá se fajn. Melodické písničky jsou opravdu melodické a temperamentní jazzrockové nakládačky patřičně virtuózní. Kapela uměla hrát a je to slyšet, přitom se dokázala vyhnout nějakejm disharmoniím, nebo freejazzovému pidlikání. A to se cení.
Album Ping Pong je totální zapomněnkou (třeba na progarchives nemá jedinou recenzi) a dá se sehnat jen jako původní vinyl, nebo na CD reedici od Mellow Records. Jenomže ta už je taky pěkně fousatá (z roku 1994) a případnému zájemci nezbyde nic jinýho, než obrážet bazary a aukce. Mě se zadařilo a jsem rád, že ji mám.
SKLADBY:
1. Il miracolo – 4:23
2. Plastica e petrolio – 3:38
3. Cresciuta in un paese – 3:35
4. Il castello – 3:45
5. Il villaggio – 2:27
6. Suite in 4 tempi – 10:30
7. Viene verso di me – 4:27
8. Caro giuda (A time for winning) – 3:13
SESTAVA:
Giorgio Bertolani – vocals
Mauro Falzoni – guitar, vocals
Celso Valli – keyboards
Paride Sforza – sax, clarinet
Alan Taylor – bass, vocals
Roberto Poli – drums
Ping Pong
Ping Pong
Prog Rock
Spark
1974
LP
8
CD Mellow Records ‎– MMP200 /1994/