CD Philips – 842 509-2   /1990/
Tak tohle se tedy nepovedlo. Předcházející a ještě ryze art rockové album Contrappunti (1974) se moc neprodávalo (ne tolik, jak bylo u Le Orme zvykem) a management i kapela usoudili, že by to chtělo nějakou změnu. Label se plácnul přes kapsu, objednal lupeny a zaplatil skupině pobyt a nahrávací session v Los Angeles. Ta rozšířila posádku o nového kytaristu Tolo Martona, napnula plachty a vyrazila. Během plavby však uhnula z cesty a uvízla v mělkých, zrádných vodách, kde zabředla v popovém marasmu…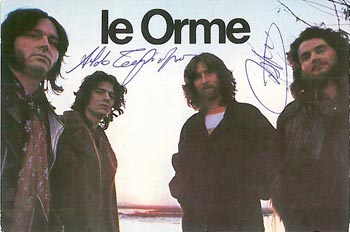 Album Smogmagica vyšlo v roce 1975 a již od prvních tónů si nelze nevšimnout, kolik prostoru dostala kytara. Vždy tolik dominantní klávesy musely ustoupit do pozadí a to je věc věru nezvyklá. Stačí krátkej pohled na ProgArchives a zjišťuju, že je to vůbec nejhůř hodnocená deska Le Orme ze sedmdesátejch let, přitom začátek nějakému fiasku vůbec nenasvědčuje. Úvodní, přes sedm minut dlouhá skladba Los Angeles je totiž nejlepším kouskem z celé kolekce. Není sice bůhvíjak komplikovaná, ale nepostrádá rockovej důraz a hlavně pěknou a zvukomalebnou instrumentální vsuvku.
Ovšem potom už to jde pomalu z kopce. Balady sice Le Orme vždycky uměli, ale melancholickej cajdák Amico di ieri se mi zdá jednoduchej až příliš. S akustickou kytarou, primitivní rytmikou a foukací harmonikou jak od táboráku? Ale jo, dá sa… Ostatně, jde také o nejúspěšnější písničku a největší hit alba, kterej vyšel na samostatném singlu a vzniknul k němu aj dobový klip.
Jenomže taková Ora o mai più, to už je teda opravdu úlet. Čistokrevnej pop s podivným vokálem a kvazi bluesovým sólem, kterej nezachrání ani hluk automobilové bouračky a jak siréna ječící kytara v samotném závěru skladby. Nemastná a neslaná instrumentálka Laserium Floyd napravuje aspoň trochu dojem z předcházející písně, ale i tady si veškerej prostor uzurpuje kytara a klapky plní si jen funkci jakéhosi křoví. Z mého pohledu nejslabší skladbou celého alba je následující odrhovačka Primi passi. To je popík nejhrubšího zrna, patřící do repertoáru spíš takových Ricchi e Poveri. Odborník se diví, laik žasne a fanoušek aby si rval vlasy z hlavy.
Jedním z mála světlejších okamžiků je melodramatická balada Immensa distesa, jenomže mezi slepými je i jednookej králem a ani tady se nejedná o žádný zázrak. Poprockové skladbičce Amanti di città nemůžu upřít jistou chytlavost a vtip, ale vzápětí přichází poslední hřebíček do rakve v podobě pouťového popěvku L'uomo del pianino. Navíc se nedokážu ubránit dojmu, že už jsem tu melodii někde slyšel. No nic, je tu závěr a s ním až někam k southern rocku přesahující instrumentálka Laurel canyon. Není špatná, ale k Le Orme mi nepasuje a tak nemůže napravit rozčarování z celého alba.
Nevím, zda za to mohl pobyt v Americe, jestli kapelu do něčeho takového natlačila produkce a nebo jestli na ní měl až takovej vliv bezesporu zručný kytarista Tolo Marton, ale tenhle experiment se tedy nepovedl. Jako fanoušek Le Orme jsem desku nakonec přijal, ale víc jak na dvě hvězdy – a to notně omrněné a odřené – to nevidím. Pro fandy, kompletisty a sběratele, vy ostatní se jí snad raději vyhněte.
SKLADBY:
01. Los Angeles – 7:10
02. Amico di ieri – 3:18
03. Ora o mai più – 2:40
04. Laserium Floyd – 4:16
05. Primi passi – 3:30
06. Immensa distesa – 3:50
07. Amanti di città – 3:28
08. L'uomo del pianino – 3:18
09. Laurel canyon – 4:18
SESTAVA:
Tolo Marton – chitarra elettrica, cori, armonica
Tony Pagliuca – tastiere
Aldo Tagliapietra – basso, voce solista, chitarra acustica
Michi Dei Rossi – batteria, percussioni
Smogmagica
Le Orme
Prog Rock
Philips
1975
LP
9
CD Philips – 842 509-2 /1990/