Parta spolužáků z Topeka West High School založila v polovině šedesátých let formaci The Gimlets.
"Zdálo se mi, jakoby na střední škole byli všichni v nějaký kapele. Byla tam spousta lidí, kteří někde hráli, ale jen málokdo v tom byl zdatnej. Jednoho dne ke mně přišel Kerry Livgren a povídá: 'Potřebujeme klávesáka… budeš to ty!' Takhle jsem začínal," vzpomíná Dan Wright. Jako kvintet se Scottem Kesslerem, Johnem Pribblem, Timem Straussem a vlastním repertoárem, který představovala směsice popu a psychedelického rocku, procestovali celý Kansas i sousední Missouri.
V roce 1968 ale Livgren přestoupil k formaci The Mellotones zaměřené na rhytm&blues, ve které působil Don Montre. Padli si do oka a začátkem roku 1969 se spolu domluvili na přestupu k The Reasons Why se zpěvákem Lynnem Meredithem, rodákem z Yanktonu v Jižní Dakotě. Po příchodu někdejších spoluhráčů Wrighta s Kesslerem a nástupu nového bubeníka, kterým byl Zeke Low, změnili název na Saratoga. A přestože se nedařilo špatně, jádro kapely se v roce 1970 rozhodlo pro další změnu. Jejich spojení s Philem Ehartem a Davem Hopem z dalšího místního bandu White Clover znamenalo začátek éry Kansas.
Počáteční fáze, označována jako Kansas I, však trvala pouze do jara 1971, kdy se rozhodli odejít Ehart s Hopem. K bicím se vrátil Low, kterého později vystřídal Brad Schulz, za Hopeho nastoupil Rod Mikinski a definitivní podobu druhé verzi Kansas vtiskl příchod dechaře Johna Boltona.
Livgren v následujícím období plodil jeden song za druhým a kapela ve snaze získat smlouvu na vydání alba nahrála řadu demosnímků. Přetrvávající neúspěch ale nakonec vedl k rozchodu a Livgrenově nástupu k White Clover, kteří koncem roku 1973 obnovili činnost. Jeho spoluhráči z druhé sestavy Kansas, později označené Proto-Kaw, se k muzice vraceli už jenom sporadicky (Meredith v novovlných Plastique – skladba Best Friend's Mother natočená na podzim 1981 pro radio KSDB, Mikinski v sestavě Starvin' Marvin) a uplatnění našli v rozličných profesích. Bolton se vrátil na univerzitu, Schulz se přesunul do Idaha, kde podnikal, Montre se věnoval medicíně, Wright práci redaktora a Meredith dráze fotbalového trenéra na státních univerzitách v Kansasu a Pittsburgu.
White Clover ještě před Livgrenovým příchodem nahráli ve složení Ehart, Hope, Steve Walsh, Robby Steinhardt a Rich Williams pětiskladbové demo, které jim pomohlo k uzavření smlouvy s nově vzniklým labelem Dona Kirshnera a odjeli do New Yorku točit první album. Tento krok doprovázelo rozhodnutí o přijetí názvu Kansas, pod kterým také v březnu 1974 eponymní debut vyšel. A jestliže se třetí varianta kapely dočkala většího úspěchu "až" s druhým albem Song For America (US #57), předchozí sestava si musela počkat téměř tři desetiletí.
Teprve nadšený ohlas, s nímž se setkaly její nevydané nahrávky šířené po internetu, probudil zájem americké společnosti Cuneiform Records o dochované záznamy, a v září 2002 vedl k vydání kompilace Early Recordings From Kansas 1971-1973. Aby se předešlo právním sporům, vychází album pod novou značkou Proto-Kaw (Kaw – indiánský kmen ze středozápadu Spojených států, od jehož názvu byl odvozen pojem Kansas).
Příprava projektu svedla dohromady hned šest členů někdejší druhé sestavy Kansas, chyběl pouze Don Montre, který zemřel v roce 1989 ve věku 39 let. I kvůli němu Livgren ve vlastním nahrávacím studiu GrandyZine v Berrytonu věnoval materiálu spoustu času, aby ho předložil v tom nejlepším světle: "Měl jsem za to, že ty nahrávky byly historicky zajímavé, a že by se všichni zúčastnění měli stát součástí této historie."
Nevšední atmosféru navodí již úvodní Hegemonium s klávesovým intrem, opakujícím se výrazným motivem a psychedelickou tečkou a pestrou škálu emocí dokáže vyvolat i Reunion In The Mountains Of Sarne s přesvědčivým výkonem pěvce. Blok nejstarších songů pořízených koncem roku 1971 končí skladbou Nactolos 21, jejíž instrumentální části ozdobené krátkým kytarovým sólem jsou neoposlouchatelné.
Nový bubeník dostal dostatek prostoru ve strhujícím hardrockovém marši Belexes se skvělou kytarou a ještě lepšími klávesami. Není divu, že si skladbu vybrali i Kansas na svůj debut. Z tohoto "souboje" však vítězně vychází původní, nezkrácená, syrovější verze Proto-Kaw.
Nudit nedokáže ani nejdelší ze všech dlouhých skladeb, bezmála čtrnáctiminutová Totus Nemesis s dechberoucí instrumentální pasáží a s jemným bluesovým nádechem, zatímco snová píseň Greek Structure Sunbeam s kouzelnou flétnou je tou nejlepší ukázkou schopností vokalisty. Píseň Incomudro, obdařená neskutečným vnitřním nábojem, která s podtitulem Hymn To The Atman uzavírá druhé album Kansas Song For America, poskytne příležitost k dalšímu zajímavému srovnání. V tomto případě ale zůstává bez vítěze, resp. poraženého.
Studiovou část alba bonusově doplňují jeho nejjazzovější kousky (Cyclops a Skont) z vystoupení v kansaském Lawrence v roce 1972 ještě s původním bubeníkem. Ani snížená kvalita živého záznamu nemůže pokazit celkový dojem z kompilace. Staré nahrávky osvěží všechny vyznavače prog/art rocku sedmdesátých let jak kropení živou vodou.
Znovuobjevené vzájemné sympatie přivedly hudebníky k myšlence natočit i první řádné album Proto-Kaw, s jehož přípravou začali v březnu 2003. Přizpůsobit svůj program potřebám nahrávání nedokázal jen Rod Mikinski, symbolicky se tak podílel na jediné skladbě (Axolotl), ostatní basové party mistrně převzal Craig Kew.
Album Before Became After spatřilo světlo světa po několika odkladech 5. dubna 2004 a potvrdilo, že Livgren ze svého skladatelského umu pranic neztratil.
Vyzrálé kompozice daly vzniknout vrcholnému dílu melodického progresivního rocku, jehož podmanivou atmosféru ještě násobí neopotřebovaný Meredithův hlas. Do nálady tak bez problémů zapadne i předělávka zapeklitého názvu Greenburg, Glickstein, Charles, David, Smith and Jones z dílny Isaaca Guilloryho a Jima Fairse, která se již v roce 1968 stala lokálním hitem v podání The Cryan' Shames, garážové kapely z Hinsdale v Illinois.
Speciální edice navíc obsahuje bonusový disk s prodlouženou koncertní Belexes, novinkou It Moves You a rádiovou verzí Words of Honor, plus čtrnáctiminutový videorozhovor s pěti členy kapely.
Album bylo přijato s nadšením v řadách fanoušků i mezi kritiky, zvěsti o pokračování projektu tak přivítali všichni. Nahrávalo se v roce 2005 opět ve studiu GrandyZine s kosmetickou změnou v sestavě – Schulze vystřídal Mike Patrum a dosud hostující Livgrenův synovec Jake byl oficiálně přijat za sedmého člena Proto-Kaw.
Titul The Wait of Glory byl k mání 31. ledna 2006 a popřel všechny řeči o tom, že nelze dvakrát vstoupit do stejné řeky. Znovu přináší materiál nejvyšší jakosti, precizní muzikantské výkony, znamenitý zpěv i vrstvené vokály a dýchá veskrze pozitivní atmosférou. Je nejen progresivní, ale také přístupný. Jako bonus je zařazen ryzí r&b song One Fine Day a přestože sedmdesát minut čistého času často bývá moc, tu je pořád co poslouchat.
Speciální edice tentokrát obsahuje DVD s dvacetiminutovým záznamem (songy Occasion of Your Honest Dreaming, Words of Honour a Skont) z vystoupení Proto-Kaw v předvečer sedmého ročníku NEARfestu 2005, konaného začátkem srpna v areálu univerzity v pensylvánském Bethlehemu.
North East Art Rock Festival v uplynulých letech hostil celou plejádu legendárních jmen progresivní scény (Steve Hackett, Peter Hammill, Fish, Nektar, Caravan, Camel, Strawbs, PFM, Gong, Van der Graaf Generator aj.), v roce 2011 se však neuskutečnil z důvodu nedostatečného prodeje vstupenek…
Obnovená akce pod názvem NEARfest Apocalypse se o rok později konala naposledy za účasti UK, Renaissance, Van der Graaf Generator, Änglagård, Mike Keneally Band, ad.
Livgrenova družina se v rámci Worth the Wait Tour na jaře 2006 představila i v Evropě. Se skotskými veterány Pallas vystupovala v Holandsku, Belgii, Německu a Švýcarsku, v březnu 2007 absolvovala dva koncerty na domácí půdě (Kansas City a McPherson) a o dva měsíce později zahájila práce na albu, jež mělo být mixem nových skladeb s několika staršími songy, nyní v podání Proto-Kaw.
Na podzim 2008 však Livgren nečekaně oznámil rozpuštění souboru a přepracovaný materiál vydal jako sólové album Prime Mover (Redux). Z nedávných spoluhráčů se na něm objevil pouze Craig Kew.
"Bohužel musíme oznámit, že kapela oficiálně končí. Bylo to velkolepé setkání a parádní jízda, ale dál už to prostě nešlo – ekonomická stránka i další okolnosti hudebního průmyslu… Všichni jsme ovšem zůstali dobrými přáteli, a nikdy to nebude jinak."
Těžko soudit, nakolik uveřejněné prohlášení odráželo skutečný stav věcí, popravdě jsem projektu mnoho šancí do budoucna již nedával. Natožpak po ránu 1. září 2009, kdy Kerry Livgren prodělal mozkovou mrtvici.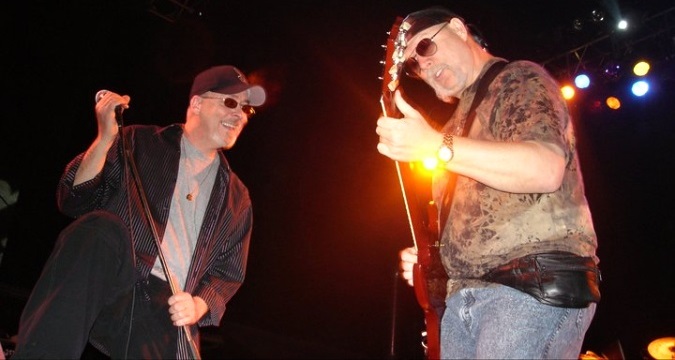 Po operačním zákroku se ale jeho stav začal zlepšovat a po nezbytném čase na rekonvalescenci se pomalu vrátil k rozdělané práci.
Koncem roku 2010 se znovu sešla většina členů Proto-Kaw v jeho studiu a sám Livgren se 28. ledna 2011 představil v roli dirigenta symfonického orchestru Kansaské státní univerzity při uvedení Dust in the Wind během slavnostního koncertu k oslavám 150. výročí přistoupení státu Kansas k Unii. Obecenstvo ho přivítalo bouřlivými ovacemi.
O měsíc později bylo definitivně potvrzeno vydání nového alba: "Po oznámení zániku Proto-Kaw je nám nyní potěšením dát vědět, že kapela se dala opět dohromady a dokončuje nové studiové album s názvem Forth!"
Strohá zpráva slibovala dosud nejinteresantnější dílo Proto-Kaw s množstvím žánrových ingrediencí, jež nadchne stávající fanoušky a zároveň osloví zcela nové publikum.
Album nakonec vyšlo 3. srpna na Livgrenově labelu Numavox a sedmičlennému jádru skupiny s ním vypomohla trojice hostů; kytarista Steve Morse si vystřihl sólo v Pilgrim's Wake a osvědčení dechaři Daryl Batchelor s Bryanem Nelsonem v One to Follow a Sleeping Giant.
Kdesi na webu tehdy jeden z příznivců Proto-Kaw ohodnotil nové album slovy: "Neznám žádný výstižnější způsob, jak popsat Kerryho výkon, než použít srovnání s dobrým vínem. Prostě se pořád zlepšuje! Ještě před rokem, potom co prodělal mozkovou příhodu, jsem se ptal sám sebe, jestli to nebude konec jeho hudební kariéry. Forth je tou nejlepší odpovědí na tuhle otázku."
Pravda, všechna vína nemají stejnou optimální dobu zrání a zdaleka ne všechna jsou vhodná k archivaci, nic trefnějšího mě ale taky nenapadá, bo album je dalším lahodným mokem z Mistrova sklepení.
V době nedávno minulé se zpěvák Lynn Meredith objevil po boku hvězdných kolegů Grahama Bonneta či Doogieho Whitea v projektu Stardust Reverie, na jehož albech Ancient Rites of the Moon (2014) a Proclamation of Shadows (2015) se představil ve skladbách Song from a Cantina, Silver Bullet a Wuthering Heights.
Kerry Livgren připravuje novou sólovou desku a obnovil práci na vokálně-orchestrálním epickém díle vycházejícím z biblického příběhu o vzkříšení Lazara Cantata: The Resurrection of Lazarus, na němž dělá průběžně už přes 20 let (podobnou porci času promrhal Waters se svou operou Ça Ira).
Na svých webových stránkách mj. uvádí: "Jsem rodinným typem člověka, ale mám úkol i ve své církvi, vlastním nahrávací společnost, studio, produkční společnost, farmu… mám víc koníčků a zájmů než má den hodin."
O tom, že už je opravdu fit svědčí i fakt, že mu nebylo zatěžko v letech 2014-16 postupně nově zremixovat a zremasterovat tituly Before Became After, The Wait of Glory i Forth…
Proto-Kaw byli v roce 2015 při slavnostním večeru v Opera House v Lawrence uvedeni do kansaské Music Hall of Fame. V mé hudební Síni slávy měli své jisté už dávno.
DISKOGRAFIE:
2002 – Early Recordings from Kansas 1971-73 (Cuneiform Records,) A
2004 – Before Became After (InsideOut Music) B
2006 – The Wait Of Glory (InsideOut Music) C
2011 – Forth (Numavox) D
SESTAVY:
Kerry Livgren – kytara, piano, klávesy, perkuse, bicí, doprovodný zpěv (A, B, C, D)
Lynn Meredith – zpěv, komentář (A, B, C, D)
John Bolton – elektrický saxofon, flétna, tenor saxofon, baryton saxofon (A, B, C, D)
Don Montre – RMI piano, flétna, alt saxofon (A)
Dan Wright – varhany Hammond, Ring modulátor, klávesy, perkuse, doprovodný zpěv (A, B, C, D)
Rod Mikinski – basová kytara (A, B)
Zeke Low – bicí (A)
Brad Schultz – bicí (A, B)
Craig Kew – basová kytara, doprovodný zpěv (B, C, D)
Jake Livgren – doprovodný zpěv, kytara, alt saxofon, perkuse, sólový zpěv (B, C, D)
Britta Livgren – doprovodný zpěv (B)
Jessica Livgren – doprovodný zpěv (B)
Mike Patrum – bicí (C, D)
Daryl Batchelor – trubka, křídlovka (C, D)
Steve Morse – kytara (D)
Bryan Nelson – trombón (D)