Když se objevili na britské scéně koncem šedesátých let, bylo to něco jako přepsání starých map! Rocková skupina každým coulem si dovolila pozměnit pravidla, na kterých vystavěla bezmála celou filosofii svého hudebního přístupu a orientace. V rockovém velkokvasu té doby by bylo téměř považováno za svatokrádež, že by se dala v daném žánru zaměnit elektrická kytara nebo varhany takovým nástrojem jako byla příčná flétna!!!
Samozřejmě se flétna (příčná i zobcová) objevovala v aranžmá různých skupin té doby, ale nikdo si nedokázal představit, že by bylo možné zaměnit role a elektricky zesilované tóny kytary a tremolo varhan poodsunout do pozadí a naopak do role frontmanského nástroje postavit historický zvuk melancholicky znějícího nástroje, který nepatřil do inventáře rock and rollu. Jméno skupiny zůstalo dodnes aktivní na světové hudební scéně a je skloňováno s úctou a obdivem – ano, Jethro Tull!
V roce 1968 vychází její první řadové album, které zaujalo hudební kritiky, cestu k posluchačům si hledalo o něco pomaleji, nicméně další alba potvrdila jasnější koncepci, kdy se skupina vymanila z jazz-bluesového pojetí rocku a stala se skutečnou uměleckou atrakcí počátku sedmdesátých let.
Od druhého alba se stal suverénním frontmanem skupiny Ian Anderson, zpěvák, skladatel, textař a multiinstrumentalista, který dostal pod kontrolu veškerý hudební materiál, jež kapela natočila. Pozice skupiny ve Velké Británii rychle rostla a i když žebříčky jejich prodejů, stejně jako postavení v hitparádách neodpovídaly vysokému nasazení, přesto se stali ve své době možná "nejryzejší anglickou skupinou".
Zásadní podíl na tomto označení a hudebním směřování mělo jejich čtvrté řadové album. Odbornými kritiky bylo album označeno jako koncepční počin, čemuž se Anderson urputně bránil, protože po textové stránce a hudebním pojetím nebylo podle jeho názoru propojeno jednotícím konceptem. Nicméně album patří nejen k nejlepším projektům skupiny, ale i k tomu nejlepšímu, co v sedmdesátých letech v Británii vyšlo.
AQUALUNG – úvodní syrový riff elektrické kytary se stal dnes už klasickým modelem rockového songu, rozpoznatelným podobně jako riffy Cream, Led Zeppelin, Black Sabbath nebo Deep Purple. Dobře sehraná skupina demonstruje svou hudební platformu a proměny ostrého rocku s aplikací akustické kytary a Andersonova nakřáplého, ale perfektně frázujícího hlasu s výrazným emocionálním prožitkem. Barreho kytarové sólo se ústrojným způsobem vklínilo do harmonie a vytvořilo spojovací most mezi klavírními akordy a rozběhnutou rytmikou.
CROSS-EYED MARY – mellotronová clona a neklidné tónové proměny flétny a přesně rytmicky prověřené figury přinášejí další skladbu. Andersonův hlas je podpírán rockovou kytarou a klavírní téma se vznáší nad celkovou rockovou koncepcí ve středním tempu. Uprostřed se střídají skvěle promyšlená sóla na flétnu, střídající se s elektrickou kytarou, která dodávají skladbě patřičný odpich. Bunkerovy bicí drží přesný rytmus a přesvědčují o dynamickém stínění jeho hráčského potenciálu, stejně tak emocionálně pojmutý zvuk flétny.
CHEAP DAY RETURN – třetí skladba vypadá jako renesanční kytarová studie, než přijde samotná melodie a vypravěčsky znějící Andersonův hlas se propojuje se staroanglickým vnímáním harmonií. Jiskřivá a hravá miniatura niterného přednesu.
MOTHER GOOSE – akustické kytary otevírají další skladbu s výraznějším rytmickým spodkem, který citlivě podkresluje celé téma s přídavnými perkusemi. Flétnová miniatura opět připomíná starou anglickou renesanční hudbu. Postupně skladba získává na dynamice, až se připojí i elektrická kytara, která s baskytarou dodává patřičné koření, ale nijak neubíjí základní akustickou atmosféru. Akustická kytara energickou výměnou tónů činí tečkou za skladbou.
WOND'RING ALOUD – Anderson dopřává akustické kytaře dostatek prostoru, o čemž svědčí i tato křehká píseň, doprovázená klavírním doprovodem, recordery. Příjemný a citlivý projev se opírá o emotivní text s výraznými metaforickými obrazy.
UP TO ME – rockovější pól přichází v další skladbě. Je skvěle zaranžovaná. Propojení akustických kytar, flétny, elektrické kytary a přesná práce bicích nástrojů a baskytary činí z této kompozice pevný celek. Barevná nástrojová kouzlení přinášejí kýžený dopad na posluchače. Anderson přesvědčuje, že správně uchopená melodická hudba má v pojetí Jethro Tull silnou devízu, navíc rozvíjenou emocionálním zvládnutím použitých nástrojů.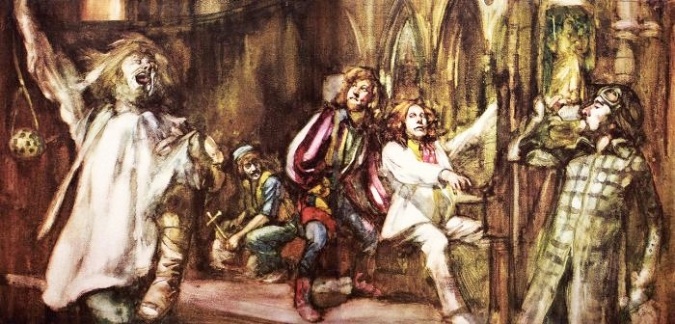 MY GOD – pravděpodobně nejzávažnější skladba na albu. Anderson v textové rovině zaútočil na nedotknutelné principy náboženství a svým osobitým způsobem deklaroval názor, který vzbudil v křesťanských kruzích značnou nevoli. Skladba má několik částí – ta úvodní je pojímána jako balada na akustickou kytaru, s připojujícím se klavírem, postupně ovšem ohromí svou sofistikovanou proaranžovaností a nástrojovými proměnami, což ji se zhutněním soundu pozvedá na rockovou platformu s přeznívajícími flétnovými tóny a sólem na zkreslenou elektrickou kytaru. Anderson na flétnu kouzlí šamanským způsobem za dokreslení přidaného sborového vícehlasu.
HYMN 43 – rocková hutnost zůstává, navíc se zrychluje tempo a pokud měl někdo tu a tam pocit, že album nemá dostatečnou rockovou platformu, tak ho v této chvíli ztrácí. Rozvíjené téma staví na klasických základech přímé kompozice rockového charakteru s výrazným riffem a škrabáním na tlumené struny s klavírními postupy a dominující elektrickou kytarou, které sekunduje upozadněná flétna. Výrazný energetický potenciál ji nezapře.
SLIPSTREAM – další příspěvek je ryze písňového charakteru s dominující akustickou kytarou a recordery v pozadí. Přimíchaná melancholie je zakončena kouzlením s recordery. I v miniatuře může být přesvědčivost sdělení a vnitřní náboj, aniž by bylo třeba používat silnějších vyjadřovacích prostředků.
LOCOMOTIVE BREATH – pravděpodobně druhá nejúspěšnější skladba na albu. Její intro ovšem připomíná spíše náladotvornou jazzovou kompozici, která se ovšem zásadním kytarovým riffem proměním ve šlapavou a dynamicky velmi odstíněnou skladbu s výtečným sólem na flétnu uprostřed skladby. Recept na úspěch v intencích nosné melodie a bezchybných muzikantských výkonů.
WIND UP – závěrečná skladba začíná smířlivě a velmi klidně s mírným nástupem, také ona má svou katarzi a vnitřní část ji proměňuje v rockovou skladbu podle všech pravidel s přiostřenou kytarou a dunivou baskytarou, aby pak v závěru klavírní akordy přinesly smír a pohodu po řadě nečekaných proměn.
Stejně jako jiná nejmenovaná alba přelomu šedesátých a sedmdesátých let Aqualung patřil a dodnes patří do rodinné výbavy klasického rockera, který přísahá na kvalitu, ryzost, výjimečnost a osobitost.
Neustále z ní vyvěrá nespecifikovatelná moudrost, lehkost a zpěvnost prokreslovaná výtečnými instrumentálními výkony.
Pět hvězdiček je zcela oprávněných!
Původně zveřejněno 9. 5. 2011, editoval Borek
SKLADBY:
A1. Aqualung 6:31
A2. Cross-Eyed Mary 4:06
A3. Cheap Day Return 1:21
A4. Mother Goose 3:51
A5. Wond'ring Aloud 1:53
A6. Up To Me 3:14
B1. My God 7:08
B2. Hymn 43 3:15
B3. Slipstream 1:12
B4. Locomotive Breath 4:23
B5. Wind Up 6:01
Autorem všech skladeb je Ian Anderson, s výjimkou A1 (Ian Anderson/Jennie Anderson)
Nahráno: 12/70 – 02/71 v Island Studios, Londýn
Produkce: Ian Anderson a Terry Ellis
OBSAZENÍ:
Ian Anderson – zpěv, flétna, akustická kytara, hlas
Martin Barre – elektrická kytara, sopránová zobcová flétna
Jeffrey Hammond – basová kytara, altová zobcová flétna
Clive Bunker – bicí, perkuse
John Evan – klavír, varhany, mellotron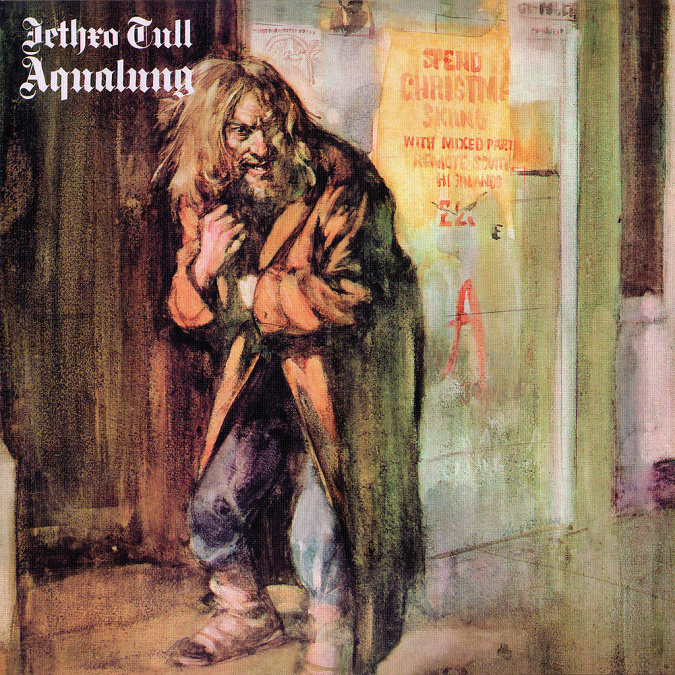 Aqualung
Jethro Tull
Prog Rock
Chrysalis
1971
LP
11