Na skupině Gong, této kultovní kapele canterburské scény, mě dlouhodobě fascinuje několik věcí. Např. nenásilné vkládání jazzu do, dá se říct, rockové hudby. Hudební pestrost vzdálená za celá ta desetiletí tuctové komerci. Nebo svobodou vonící svěžest, kterou cítím z jejich nahrávek, jak už z alba Magic Brother z roku 1969, tak podobně i třeba až z alba Rejoice! I'm Dead z roku 2016. Dále třeba to, že jako jedni z mála (napadá mě v takové míře v tuto chvíli např. krautrocková legenda Can včetně sólovek jejích členů), byť začali na konci šedesátých let, neklesli na počátku osmdesátých let do sirénovitě líbivé náruče popíku – aby šli s dobou a vydělali si balík peněz.
Gong šli v podstatě dokonce opačným směrem. Rozštěpili se (škoda, že poměrně brzy) na několik Gongů a Mother Gong, skupina zformovaná pod Gilli Smyth (narozenou v roce 1933! – † 2016), byť zaškatulkovaná pod termín psychedelický spacerock, nabídla zvláštní, až rozvernou kombinaci psychedelického rocku hodně okořeněného jazzem, v němž převládaly v podstatě instrumentální skladby doplněné buď "vesmírným šepotem" nebo "čarodějnou recitací" Gilli Smyth.
Tahle ženská se také uměla obklopit skvělými muzikanty. V jednu dobu třeba v Mother Gong působili společně s ní např. Hugh Hopper, basák ze Soft Machine a Guy Evans, bubeník Van der Graaf Generator.
Album Tree In Fish bylo nahrané v roce 1991, vyšlo v roce 1994 a kombinuje výborné, spíš jazzové instrumentálky (některé nádherně procítěné, např. skladba Lament, některé znějí jak improvizační jamování ve stylu "rozehráváme se" – ale přitom to má hlavu i patu) a skladby, ve kterých dominuje jazzový saxofon Roberta Calverta a recitace Gilli Smyth. Když se vám to líbí a povede se vám to naposlouchat, vlezou ty skladby pod kůži způsobem, že snadněji ze sebe setřásnete spíš nacucané klíště.
Obzvlášť rád bych vypíchl vynikající kompozici The Mother Goddess, moderně znějící klidnou jazzovou skladbu se spoustou zvratů a nádherně britskou (- ne americky tvrdou) angličtinou Gilli Smyth. Už její úvodní ´knock-knock, who's there?´ vás příjemně navnadí se do skladby ponořit jak do vany.
Je to i trochu kosmicky psychedelické a jako v případě jakékoli odnože Gongu opět bez vydatné pomoci kláves (další věc, která mě dlouhodobě udivuje) a bez "pomoci" toho, že "budu prokletý, ponurý, melancholický". Vždyť hudba kapely Gong se opravdu často naopak spíš směje. Už jen název tohoto alba (minimálně) mě připadá vtipný.
Album, vyšlé v roce 1994, má podstatně jiné složení skladeb než album znovuvydané v roce 2004 – jen šest kousků se objevuje na obou albech souběžně (?!?) a na novějším vydání zejména absentuje jedna z jejich snad vůbec nejkrásnějších skladeb, Lament.
SKLADBY:
01. The Ally (4:11)
02. Love Poems (5:00)
03. Lament (3:37)
04. Between Us (2:11)
05. She Smiled (3:44)
06. The Mother Goddess (7:09)
07. Cafe Reflections (2:58)
08. The House Is Not The Same (4:15)
09. Space Tango (4:59)
10. The Beach Is Hot (4:34)
11. Balein (10:44)
12. Touch (3:18)
13. Tree I (4:43)
14. Tree II (4:31)
15. Wilful Housewife (Live) (3:51)
16. Crying (Live) (1:58)
17. Man/Woman (Live) (1:43)
SESTAVA:
Gilli Smyth – vocals, spoken voice, producer
Harry Williamson – keyboards, guitars
Robert Calvert – saxophones
Conrad Henderson – bass
Robert George – drums, percussion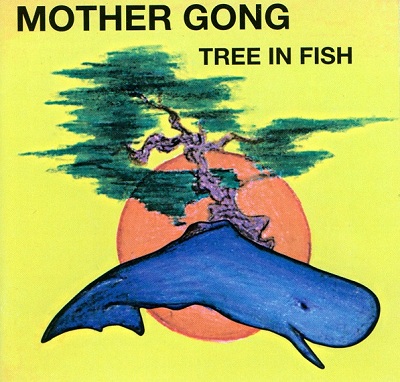 Tree In Fish
Mother Gong
Psychedelic Rock, Jazz Rock, Prog Rock
Tapestry
1994
CD
17