Ak sa medzi vami nájde fanúšik heavy metalu, stavím sa, že po prečítaní názvu tejto nahrávky vás v okamihu napadla kapela Black Sabbath. Nebudeme si klamať, Electric Wizard sa nikdy netajili tým, že sú ovplyvnení touto legendárnou kapelou, hoci hrali troška inú, tvrdú "muzičku". Electric Wizard považujem sa úplne základný kameň doom metalu a sludge metalu, hoci fanúšikovia týchto žánrov ma teraz ukameňujú (ty blbec… a čo Saint Vitus? Candlemass?). Tvrdiť to budem. Kapely, čo hrali niečo podobné, tu boli aj predtým, ale nič ma ani zďaleka tak nezaujalo a špecificky neklasifikovalo žáner, ktorý už iné kapely iba viac-menej kopírovali. Pre tento tvrdší a pomalší žáner sú ako Beatles, Black Sabbath či Mozart… Dobre, Mozarta som prehnal, hehe, ale chcem tým povedať, že to boli oni, čo definovali žáner.
Od roku 2007 sa však od doom metalu postupne odkláňajú. A to k starému hard rocku. To sa samozrejme "die hard" fanúšikom nepáči, priestor pre nenávisť tak už má základ. Osobne som sa stretol skoro vždy s výhradne negatívnymi reakciami od fanúšikov k novým nahrávkam, akurát kritika to vždy triezvo zhodnotila. Prišlo mi to ako boj Metallici. Mne to viac-menej neprekážalo, keďže starý hard rock mám celkom rád, ale rýpnuť si musím ako dôchodca… "Už to nie je ono".  Hoci sa v minulých nahrávkach ako Witchcult Today (2007), Black Masses (2010) či Time to Die (2014) obšmietali okolo doomu celkom obstojne, blížilo sa to stále viac a viac k hard rocku. S najnovším albumom Wizard Bloody Wizard (2017) zabili aj poslednú nádej poslucháčov EW z 90´s rokov. Povedal som si, že Jus Oborn, frontman kapely, sa trávou prefajčil do stavu, z ktorého už nič poriadneho nevymyslí.
Prvý singel See you in hell ma na prvé počutie vôbec nezaujal. Videoklip a zvuk bol úplne 70´s vintage klišé, rovnako ako aj riffy. Nuda, ktorú som na skúške s kapelou dokázal zahrať ihneď, keďže všetky tie tóny sú tak prefláknuté a v nejakých obmenách ich hrá skoro každý… Chvíľku mi trvalo, kým som tomu došiel na chuť. Ale to iba preto, že som čakal niečo úplne iné. Tento vintage štýl som počul minimálne u stovky ďalších dnešných kapiel a považujem to skôr za gýč ako plus.
Čítal som jeden rozhovor, ešte pred vydaním, v ktorom líder kapely Jus Oborn hovoril, že sa snažil nahrať klasický heavy blues album. Proste, niečo ako Led Zeppelin s jeho rukopisom, ktorej je fanúšikom. Čo sa myslím, celkom podarilo. Možno tomu pomohla obmena zostavy. Po nejakých piatich, šiestich vypočutiach sa mi nahrávka celkom zapáčila, ono tie klišé riffy sú vtesnané medzi zaujímavé melódie, ktoré som si obľúbil. Ide o najkratší a pravdepodobne naj "friendly listen" album EW, keďže je bez experimentovania, kakofonických zvukov a pomenej skreslenia. Má iba 6 skladieb a 43 minút. Negatíva, ktoré som spomínal na konci "nedoomovej" state, kritike neprekážali a zhodnotili album ako celkom podarený (z odstupom mesiaca po vydaní aj so mnou). Nič prelomového, ale rozhodne obstojného, recenzie na internete hovoria aj za mňa.
Zo šiestich skladieb sa mi najviac páči mnou ma začiatku ofrflaná See you in Hell, ďalej Hear the Sirens Scream a záverečná 11-minútová Mourning of the Magicians, v ktorej sa nachádza jeden zaujímavý easter egg. V refréne sa spieva So come together, and feel it now, goodbye, farewell, I'll see you in hell. Pozorný poslucháč si všimne, že to má spojitosť s prvou skladbou nahrávky, lenže… Pred vetou "come together" hrá basgitarista riff skladby Come together od Beatles, viete, ten známy motív, tá kultová basová linka. Sám som to zachytil asi pri treťom počúvaní.
Wizard Bloody Wizard je skôr určený fanúšikom tvrdej muziky 70´s rokov ako dnešným metalistom. Na druhú stranu, taký poslucháč si predsa radšej pustí klasiku ako niečo, čo sa na to iba podobá. Preto si myslím, že album nahraný pre takú úzku skupinu ľudí sa nedostane do popredia a zapadne prachom ako väčšina tejto retro rockovej muziky, ktorá sa vyrába dneska ako na bežiacom páse.
SKLADBY:
1. See You In Hell 6:41
2. Necromania 6:16
3. Hear The Sirens Scream… 8:47
4. The Reaper 3:17
5. Wicked Caresses 6:45
6. Mourning Of The Magicians 11:18
ZOSTAVA:
Jus Oborn – guitar, vocals
Liz Buckingham – guitar
Clayton Burgess – bass
Simon Poole – drums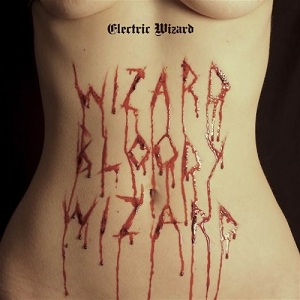 Wizard Bloody Wizard
Electric Wizard
doom metal, stoner rock
Spinefarm Records
2017
LP, CD
6