Altın Gün je holandská rocková skupina, ktorá je nezvyčajná tým, že vo svojej tvorbe dokáže skĺbiť také heterogénne prvky, ako turecký folklór a rockovú hudbu. Tento hudobný žáner má dokonca aj svoje vlastné meno. Volá sa anatolian rock. Pochádza z Turecka a spája v sebe tradičný turecký folklór, ktorý je hraný aj s hudobnými nástrojmi bežnejšími pre západnú hudbu ako elektrická gitara, bicie a klávesy.Pochádza z Turecka a spája v sebe tradičný turecký folklór, ktorý je hraný aj s hudobnými nástrojmi bežnejšími pre západnú hudbu ako elektrická gitara, bicie a klávesy.
Svoj boom, úspech, vrchol aj pád zažil v šesťdesiatych a sedemdesiatych rokoch. Inšpirovaný hudbou skupín The Beatles, The Rolling Stones, Led Zeppelin, Yes, či Status Quo, začali turecké skupiny prispôsobovať svoju hudbu vtedajším trendom. Prekvapivo, za veľkú inšpiráciu uvádzajú zdroje aj maďarskú skupinu Omega. Čo je na jednej strane celkom prekvapivé, ale na druhej zase nie neuveriteľné, pretože maďarský jazyk a turecký majú dodnes niekoľko spoločných výrazov. Osmanská ríša okupovala územie Maďarska, vtedajšieho Uhorska, niekoľko storočí, takže nie je to až také neuveriteľné, ani by som to nepripisoval nejakej náhode. Za najvýznamnejších predstaviteľov tohto špecifického žánru sa považujú Erkin Koray, Barış Manço a Cem Karaca. Nejde iba o nejaký výstrelok dnešných hudobných historikov, ktorí musia zaškatuľkovať a zaarchivovať každú jednu zvukovú stopu do nimi vybraného správneho oddelenia, ale išlo naozaj o pop kultúrnu revolúciu. Po vypočutí niekoľkých skladieb od rôznych interpretov a albumu Elektronik Türküler (1974) od Erkina Koraya, (táto nahrávka je podľa Wikipedie, jedna z medzinárodne najznámejších albumov predstavujúci tento žáner, no o ňom samotnom napíšem možno inokedy) musím uznať, že zaradiť toto pod novú kolónku ako turkish rock alebo anatolian rock, je na mieste, lebo túto hudbu dopĺňajú aj iné stupnice a aj iné hudobné nástroje, na aké je poslucháč západnej hudby zvyknutý. 
Je paradoxom, že práve turecký folklór ma v tomto prípade priťahuje viac ako elektrické gitary a to sa produktom tureckého moderného umenia zvyčajne vyhýbam. Hlavne filmom. No hudba, na čele s Altın Gün, ma očarila. Podľa mojich doterajších diváckych skúseností, sa predstavitelia tureckého filmu radi nechávajú inšpirovať západom natoľko, že vytvárajú svoje lacnejšie verzie, ktoré sa ani nesnažia oddeliť od pôvodného originálu.  Nie, že by to iné produkcie nerobili, no Turecko je v tomto svetový unikát. Zobrali si nejaký úspešný film, doslova ho skopírovali a vsunuli príbeh do Turecka. Aby šetrili s rozpočtom, špeciálne efekty buď vynechali alebo ich vykradli z pôvodného filmu. Väčšinou to pripomínalo skôr paródiu než serióznu snímku. Filmy ako Dünyayı Kurtaran Adam alias Turkish Star Wars (1982), Karateci Kız alias Karate Girl (1973), Badi (1983) turecká verzia E.T. mimozemšťana, či boom tureckých telenoviel u nás, ma vystrašili natoľko, že si dávam pozor, do čoho tureckého sa pustím. Ale, samozrejme, existujú aj výnimky, videl som zopár slušných filmov z tejto krajiny, ale konkrétne na tieto spomínané neviem zabudnúť a strašia ma doteraz. 
K tejto prevažne psychedelickej formácií som sa dostal úplne náhodou. Pravidelne sledujem na youtube kanál hudobného obchodného reťazca Amoeba Music, ktorý uvádza zaujímavý formát What's In My Bag?. V tejto, ako keby, Talk-Show účinkuje hosť z umeleckej scény, buď je to herec, hudobník, producent, režisér alebo osobnosť, ktorá má čo to dočinenia s umením, a  rozprávajú sa s ním o produktoch, ktoré si u nich dotyčný kúpil. Páči sa mi na tom to, že tento nezávislý obchod má veľmi široký záber a rovnako ako známe celebrity, pozýva aj ľudí z nezávislej scény. Celé čaro tkvie v tom, že takýto hosť si nakúpi v obchode CD, platne, DVD, Bluray alebo audio kazety a potom o nich rozpráva. Veľakrát som sa nechal inšpirovať tým, čo počúvajú moji obľúbený hudobníci. A takto som natrafil aj na Altın Gün. 
Hneď ako som začul prvé orientálne tóny, moje uši zbystrili. Je to niečo, čo nepoznám a veľmi sa mi páči, čo to je? Chytľavé, pre rockovú hudbu, neštandardné melódie, s hrubým nánosom psychedélie, ma dostali na prvé počutie. Zmes blízkeho východu, štipľavých syntetizátorov a poctivej skreslenej gitary ma očarili. Skupina používa popri štandardných nástrojoch ako gitara, basa a bicie aj mnohé folklórne. Nenašiel som zoznam použitých nástrojov, ale najviac tam prenikajú popri bicích hlavne perkusie-bongá, ktoré vytvárajú spolu s rôznymi dychovými či strunovými nástrojmi "tú" atmosféru. V sólovom speve sa strieda mužský a ženský hlas a hoci im nerozumiem ani slovo, táto pestrosť ma baví.  Bicie majú mäkký zvuk, taký klasický mix, akoby pre alternatívnu hudbu až indie pop. Málo ostrých výšok, žiadny reverb s uterákom na blane. Taký zvuk mám pri tejto hudbe rád. Gitara tiež obstojne hrá svoje skreslené partie, no dlhé kvákajúce gitarové sóla tu budete márne hľadať. Gece nie je nahrávka, ktorú vedie elektrická gitara. Za najlepšie skladby považujem titulnú Yolcu, Vay Dünya a Kolbastı, Anlatmam Derdimi. No za úplný vrchol považujem záverečný hit Süpürgesi Yoncadan. Keď som ho pustil môjmu dobrému kamarátovi metalistovi a presvedčil ho, že sa mi to naozaj páči, povedal mi, že som úchylák a mal by som sa dať liečiť. Je to totiž skladba, ktorá má v sebe celú škálu zvukov 80's popu. Všetko to, čo si pod touto hudbu predstavujete, je tu. Basová minimoog linka, syntetizátorové arpeggiá, akoby 808 programovací bicí automat (možno to bol iný, možno 606, možno VST emulátor, neviem, na toto nie som odborník), single line rytmus a všetky tie zvuky, ako prekompresované tlieskanie a ostatné, ktoré neviem ani len pomenovať, ale pripomínajú mi osemdesiate roky. V jednoduchosti, nachádza sa tu všetko to, čo na hudbe z osemdesiatych rokov milujeme alebo zatracujeme. Keby niekto namietal, že Süpürgesi Yoncadan ani nezahrali živými nástrojmi, iba sa to "naklikalo" do DAW softvéru, vyvediem vás z omylu. Nech sa páči, live verzia. 
Gece je poctivá psychedelická nahrávka, ale nemôžem ju odporučiť každému, kto má rád tento typ hudby. Mám taký pocit, že fanúšikovia psychedelickej éry šesťdesiatych a sedemdesiatych rokov by ma skôr odháňali vidlami než by mi poďakovali za zoznámenie. Možno kvôli vibrato spevu, ktorý pripomína muezína z mešity, možno kvôli niečomu inému čo som už spomínal, ale nedá sa poprieť to, že Altın Gün v sebe spája dva odlišné hudobné svety a robí to dobre. Myslím si, že si to viac užijú poslucháči-alternatívci alebo funku, no možno sa mýlim, lebo čo je prekvapujúce, na rôznych metalových fórach sa k Altın Gün vyjadrili väčšinou skôr pozitívne. Takže, ak sa Vám páčili ukážky, smelo do toho. 
Moje hodnotenie 5/5*. 
SKLADBY:
01. Yolcu
02. Vay Dünya
03. Leyla
04. Anlatmam Derdimi
05. Şoför Bey
06. Derdimi Dökersem
07. Kolbastı
08. Ervah-ı Ezelde
09. Gesi Bağları
10. Süpürgesi Yoncadan
Ben Rider – gitara
Daniel Smienk – bicie
Erdinç Ecevit – syntetizátor, spev
Gino Groenveld – perkusie
Jasper Verhulst – basová gitara
Merve Daşdemir – spev, klávesy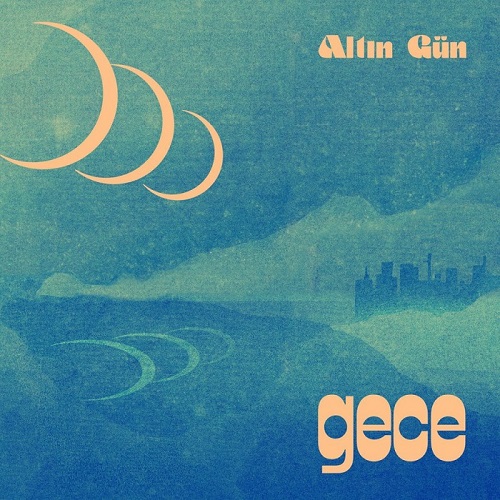 Gece
Altın Gün
anatolian rock, psychedelic rock
Glitterbeat Records
2019
CD, LP, FLAC
10