Album Milese Davise Sketches Of Spain je z roku 1960! Neuvěřitelné! Tohle dílo je v mých očích nahrávka, skutečně progresivně a zajímavě fúzující různé styly hudby; která navíc vznikla v době, kdy ještě rock'n'roll Beatles byl v plenkách! 

Vždycky, když si tohle album pustím, žasnu, jaká nenudná, časem nepoznamenaná hudba je na tomto albu zachycena. Obsahuje postupy, které později používali v modernějším hávu ELP a jiné progrockové skupiny. Obsahuje originálně propojenou španělskou klasickou hudbu s jazzem; stačí si poslechnut už jen úvodní Concierto de Aranjuez, klasický kousek od Joaquína Rodriga, obléknutý do jazzového hávu. Druhá skladba, Will o' the Wisp, v myslích posluchačů dokonce probouzí jakési westernové obrázky! Velice zajímavé. Skladba Saeta (obsahující nehlučné pochodové bicí) mi zase zní jako takový mexický lyrický soundtrack. Pompézní úvod a závěr skladby opět jak vystřižený z hudby britských progrockových legend sedmdesátých let (tehdy ještě hodně vzdálených).
Myslím, že hudba na tomto albu dokáže zaujmout i posluchače, kterým jinak jazz moc nevoní. Dodnes nemohu uvěřit, že LP je z roku 1960. Fandové Milese Davise i fandové jazzu toto dílo jistě mají. Já bych album jednoznačně doporučil i fandům symfonického rocku. Jazz, funk, Jimi Hendrix a rocková psychedelie, Stockhausen, tradiční hudba Afriky… – těmito vlivy Miles Davis překvapoval v sedmdesátých letech minulého století a překvapovat vlastně nikdy nepřestal. V tavícím kotli jeho alb se později, v osmdesátých letech, dokonce objevila např. coververze Human Nature od Michaela Jacksona! Miles Davis byl evidentně silná osobnost a dělal si hudbu po svém, bez ohledu na výtky zapřisáhlých, stylově zakrnělých jazzmanů. Ale tohle album, Sketches Of Spain, má v mých očích (a s ohledem na můj rozhled), co se originálních fúzí týče, prvenství.
Poměrně dost lidí, majících rádo rockovou hudbu – hudebníků i posluchačů, Milese Davise zná. Ale spíš poslouchá a pěje ódy na jazzrockové klenoty z let 1969-1974. In A Silent Way (1969), Bitches Brew (1970), A Tribute To Jack Johnson (1971), On The Corner (1972), Get Up With It (1974) a Big Fun (1974). Ano, ta alba jsou bez jakékoli pochybnosti úžasná, ale Sketches Of Spain, mám takový dojem, se trochu krčí v rohu zapomnění. Přitom je podobně hudebně stravitelné jako nahrávky právě před chvíli vyjmenované. A asi i proto jsem ho vybral (kromě toho, že se mi líbí) a vytáhl tak trochu na světlo.
Zajímavost: Album Sketches Of Spain získalo v roce 1960 cenu Grammy (ocenění je udělováno od roku 1958).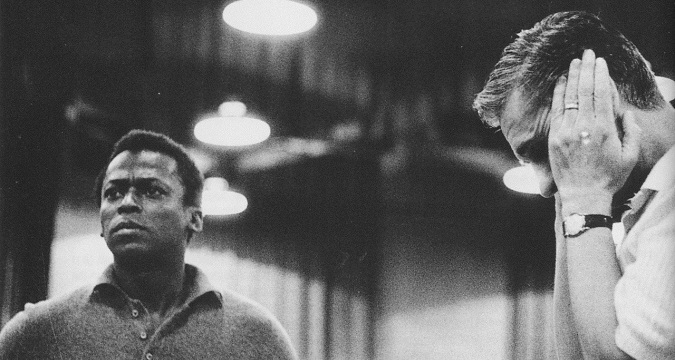 SKLADBY:
1. Concierto de Aranjuez (Adagio) (16:19)
2. Will o' the Wisp (3:47)
3. The Pan Piper (3:52)
4. Saeta (5:06)
5. Solea (12:15)
SESTAVA:
Miles Davis – trumpeta, křídlovka (1.);
+
Danny Bank – basový clarinet; Bill Barber – tuba (2.-5.); John Barrows – lesní roh (1.); Albert Block – flétna (1.); James Buffington – lesní roh (1.); Eddie Caine – flétna (1.); Paul Chambers – basa; Earl Chapin – lesní roh (1.); Jimmy Cobb – bicí; Johnny Coles – trumpeta (2.-5.); Gil Evans – dirigent; Harold Feldman – klarinet (1.), hoboj (1.), flétna (2.-5.); Bernie Glow – trumpeta (2.-5.); Dick Hixon – trombon; Elvin Jones – perkuse; Taft Jordan – trumpeta (1.); Jack Knitzer – fagot (2.-5.); Jose Mangual – perkuse; Jimmy McAllister – tuba (1.); Tony Miranda – lesní roh (2.-5.); Louis Mucci – trumpeta (1., 3.-5.); Romeo Penque – hoboj (2.-5.); Janet Putnam – harfa; Frank Rehak – trombon; Ernie Royal – trumpeta (2.-5.); Joe Singer – lesní roh (2.-5.).
Sketches Of Spain
Miles Davis
Jazz, Fusion
Columbia
1960
LP
5