Kde bolo, tam bolo, v jednom bohatom a slávnom kráľovstve, ktoré dalo svetu mnoho dobrého i zlého a tiež krásnu hru, kde 22 pomätencov naháňa jedno guľaté čudo, sa v roku 1965, v Butlinskom letnom tábore, stretli dvaja začínajúci trubadúri, Ferko a Riško. Slovo dalo slovo a títo, vtedy ešte fagani, si sľúbia, že raz potiahnu hudobnú rikšu neúprosným svetom šoubiznisu spoločne. A tak sa aj stalo…
O dva roky neskôr, keď Riško dostal od šibalských víl z príbuzenstva, Jean a Glorii, po papuľke, takmer zavesil mandolínu na klinec. Lenže osud to zariadil inak. Kde sa vzal, tu sa vzal, v obývačke zahrkútal telefón a Ferko s Riškom boli konečne v jednom spolku. Tak sa začala história jednej inštitúcie, ktorá je so Spojeným kráľovstvom Veľkej Británie a Severného Írska spätá rovnako, ako jej Veličenstvo, kráľovná Betka druhá. Tento stav sa nezmenil a trvá dodnes – Status Quo. Iba tá muzika je už, po toľkých rokoch, o niečom inom…
Začiatky sú veľmi ťažké, pár svetlejších okamihov, ale nič extra. Po dvoch neúspešných asfaltových koláčikoch rozhodnú sa pridať do kotlíka iné esencie – hard, boogie rockové ingrediencie. Zároveň s tým zhadzujú dovtedajšie brnenie – farebné saká a nariasené košele a navliekajú pohodlnú garderóbu – džínsy a tričko. Na svet prichádzajú ďalšie dve porcie korenistej rockovej štrúdle, ale tie poddaní prijímajú iba po kúskoch. Družina okolo Ferka a Riška sa však nevzdáva. Brázdi jarmoky od mesta k mestu, spieva a hrá svoj boogie hard rock a karta sa začína obracať. V medzičase žijú svoj vlastný život, milujú, pijú, drogujú a v uliciach kupujú ošúchané džínsy od okoloidúcich, ktorí si nechápavo klepú na čelo. No, je to čudné, ale imidž je imidž a vtedy sa obnosené rifle nedali kúpiť, ani v londýnskych butikoch, ani na čínskych blšákoch. Príbeh ako z rozprávky naberá jasné kontúry, keď sa do toho obuje manufaktúra Vertigo…
December 1972. Opičiak Piledriver odvážne zabúcha na brány kaštieľa Hudobná smotánka. Valcuje všetko a všetkých, až je piaty najmocnejší v Británii. Otrasy z úderov doletia aj do Westminsterského paláca, kde je Snemovňa lordov nútená prerušiť kecy o daniach pod náporom jeho mocných pästí, dokonca až osemkrát. A v čom je tá sila? Ferko, Riško a Alanko v popredí, rozkročení na únosnú mieru, gitary tancujúce zo strany na stranu, hlavy s bujnými hrivami sklonené nadol, kývajúce do rytmu. Vzadu to istí Janko svojím striedmym, ale účelným búchaním do bubnov. Toto je Piledriver, toto je Status Quo. Žiadne posolstvá, odkazy, politika, iba jednoduchá láska k rock and rollu. Pár akordov, vraj len tri. Nijaké hudobné či hráčske orgie, iba boogie hard rock. Veľa a či málo? Pre mňa požehnane! Moje najobľúbenejšie? Všetky, aj tie rýchlejšie, aj tie spomalené, aj tá "ukradnutá". Týchto osem kúskov z opičiakovho registra úderov je pre mňa "knock out" – balzam na moje rockové srdiečko…
…a Statusákov prijíma Londýn, zaľúbi si ich Anglicko, žerie Veľká Británia a postupne celý svet, okrem tej zakomplexovanej Ameriky. Mal som šťastie, nebodaj smolu, že to bol prvý album Status Quo, ktorý sa ku mne dostal? Pre mňa jednoznačne – veľké hudobné šťastie! Pridávam sa na stranu ostatného sveta, mám rád túto skupinu, obzvlášť nahrávku Piledriver. Tento stav je u mňa stály a nemenný.
Za päť libier šterlingov!
Skladby:
1. Don't Waste My Time 4:20 (Rossi/Young)
2. Oh Baby 4:39 (Rossi/Parfitt)
3. A Year 5:48 (Lancaster/Frost)
4. Unspoken Words 5:07 (Rossi/Young)
5. Big Fat Mama 5:52 (Rossi/Parfitt)
6. Paper Plane 3:00 (Rossi/Young)
7. All The Reasons 3:39 (Parfitt/Lancaster)
8. Roadhouse Blues 7:29 (Doors)
Zostava:
Francis Rossi: lead guitar, 12 string guitar, acoustic guitar, vocals
Rick Parfitt: rhythm guitar, acoustic guitar, piano, organ, vocals
Alan Lancaster: bass guitar, 12 string acoustic guitar, vocals
John Coghlan: drums, percussion
Rob Young: harmonica
Jimmy Horrowitz: piano
Ďalšie informácie o albume: Discogs.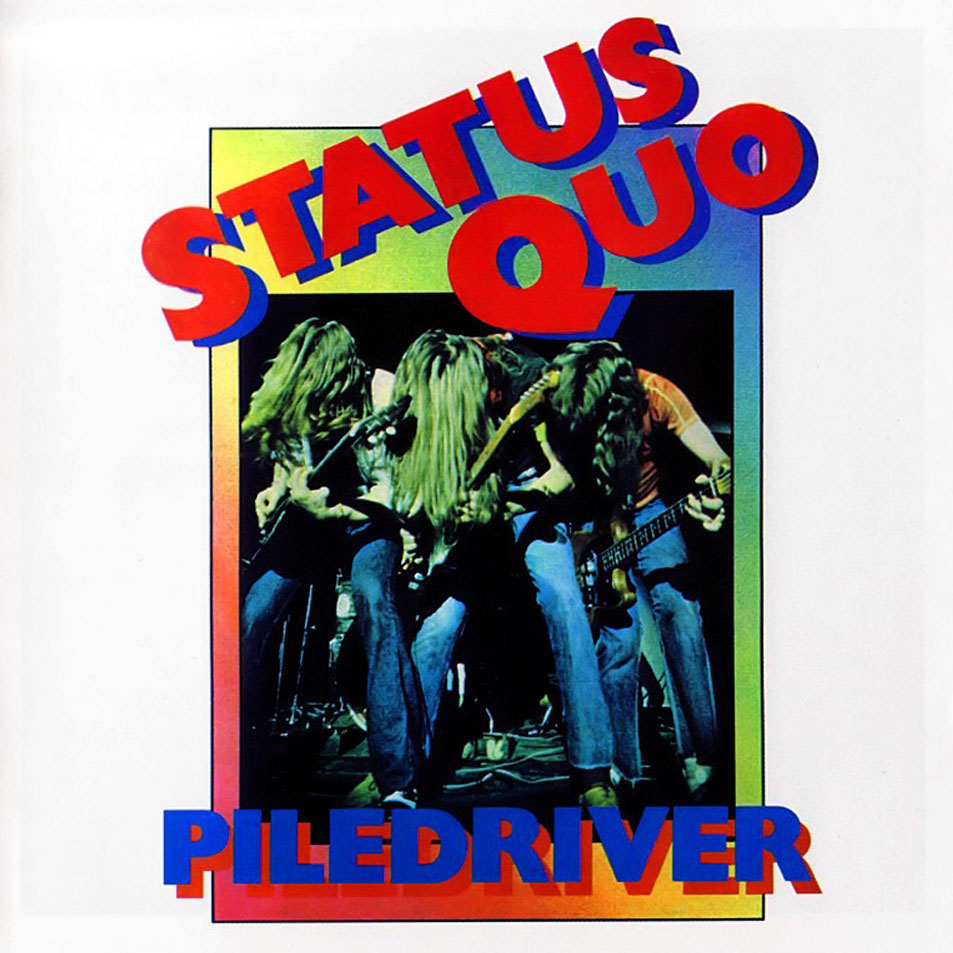 Piledriver
Status Quo
hard rock
Vertigo
1972
LP
8
CD - Vertigo, 1991