…aneb když vás společná práce baví i po čtyřiceti letech
Každá z nových desek instrumentálně brilantních a skladatelsky nadaných hudebníků, kteří už od konce let sedmdesátých vystupují pod názvem Toto, byla vždy obrovskou událostí. A to v kterékoli době, do níž byla porodníky producenty (většinou samotnou kapelou) povita. A proč tomu tak bylo. No na to je úplně jednoduchá odpověď. Každá totiž dokázala přinést sbírku melodicky košatých písní velké umělecké kvality, kdy se řada z nich nesmazatelně zapsala do srdcí posluchačů díky svým krásným melodiím a ušlechtilým myšlenkám. Dnes jsou Toto kamarádskou partou muzikantů, kde každý z nich překročil šedesátku a studiové nahrávky vydávají velice sporadicky. 
Před dvěma roky hodili na trh kompilaci největších hitů pojmenovanou 40 Trips Around The Sun, na které se vyskytly také tři songy nové. Postupně se tyto písně stali základem pro novou, před pár dny vydanou desku pojmenovanou Old is New. Ta v sobě, krom zmíněných věcí, shromažďuje ještě dalších šest písní (plus jeden společný projekt s elektronickým souborem What So Not, poslední We'll Keep On Running) vydolovaných z archivů kapely a částečně poupravených. Zajímavostí je, že během dvou let bylo z této deseti skladbové kolekce už použito šest písní formou singlů, což je solidní kredit.
Srdéčka mnoha pamětníků tak musí plesat blahem, když z nahrávky slyší původní stopy zesnulých bratří Porcarů, jmenovitě Jeffa za bicími a Mikea na basu. Zaslechnout můžeme i nástroj Davida Hungatea (baskytara), dlouholetého pomocníka na perkuse Lenny Castra a v nových písních účinkuje jako bubeník Vinnie Colaiuta. Hlavní základnu Toto opět tvoří čtveřice S. Lukather/D. Paich/S. Porcaro/J. Williams.
Úvodní song Alone typově naprosto odpovídá tomu nelepšímu z předchozí fošny XIV. Energicky eruptivní, nápaditý a výsostně melodický kus, s opravdu překrásnými klávesami a syntezátory dvojice Paich/S. Porcaro, okolo vás letí ladně jako nadýchaný obláček na obloze a vy si jen říkáte, jak to ten chlápek za mikrofonem (Joseph Williams) dělá, že má hlas stále tak vitální jako v osma osmdesátém.
Druhou Devil's Tower začíná zpívat Lukather. Ta spadá až do roku 1981 a většina stop je původních. Přimíchany byli vokály a další kytary. Jde o návrat k nejranějšímu zvuku a stylu kapely, ovšem s novým moderním sejmutím a mixem.
Fearful Heart je rovněž pamětní. Představuje Jeffa Porcaro a Steva Porcaro na syntezátorech, Mike Porcaro se Steve Lukatherem (kytara a klavír) a Davida Paicha s klávesy. Joseph Williams usměrňuje píseň svým typicky chlapským charisma.
Spanish Sea je staronová nedávno přepracovaná věc. Navazuje na obrovský hit Afrika. Podobné tempo, David Paich u mikrofonu, Castrovy perkuse, odrazová rytmizace písně, vokální modulace, výsostná melodika a obrovský (jazzový) nadhled – prostě Toto ve vrcholné formě.
In a Little While je klasická balada alá Toto ze šuplíku, šitá přesně pro Lukatherovo hrdlo.
Chelsea je úplně nová skladba. Kluci zde zachytili atmosféru 80. let a skvělý vokál Josepha Williamse přibližuje píseň atmosféře alba Fahrenheit.
Dvojice Chase the Rain a Oh Why? je opět staršího data. První dokonce zpíva Steve Porcaro, druhou (jejíž melodie prý Stevovi připomíná Beatles, brnkne si tu na sitar) David Paich. Jde o pomalejší, emotivní až něžné songy prorostlé city a láskou model Toto.
Poslední novinkou je Struck by Lightning. Colaiuta tu předvádí tvrdé údery, Lukatherova kytara je pěkně nabroušená a Williams zpívá energicky a zároveň si na chvíli odskočí do něžnější polohy.

Lahůdkový plně dynamický zvuk nám letos přivanul řekněme kompilaci staro-nových Toto. Věřím, že si tuto placku jejich příznivci nenechají ujít, protože podobná událost se u nich, podobně jako u jiných služebně postarších kolegů, už nemusí v budoucnu opakovat. I Love You Toto! 4,5*
SKLADBY:
01. Alone 4:32
02. Devil's Tower 3:44
03. Fearful Heart 3:52
04. Spanish Sea 4:25
05. In A Little While 4:49
06. Chelsea 4:51
07. Chase The Rain 3:16
08. Oh Why? 3:55
09. Struck by Lightning 4:17
10. We'll Keep On Running 4:41
NOTES:
Originally released in 2018 as part of the All In 1978 – 2018 box set.
SESTAVA:
Steve Lukather – guitars, backing and lead vocals, bass guitar (1, 9), sitar (8), piano (3)
Joseph Williams – lead and backing vocals, additional keyboards, keyboard bass (6)
David Paich – piano, keyboards, backing and lead vocals
Steve Porcaro – synthesizers, keyboards, lead vocals (7), backing vocals (4, 5), synth bass (7), Hammond organ (6, 8, 9)
Vinnie Colaiuta – drums (1, 6, 9)
Lenny Castro – percussion
Jeff Porcaro – drums (2–5, 8)
Mike Porcaro – bass guitar (3, 4, 8)
David Hungate – bass guitar (2, 5)
Shannon Forrest – drums (7)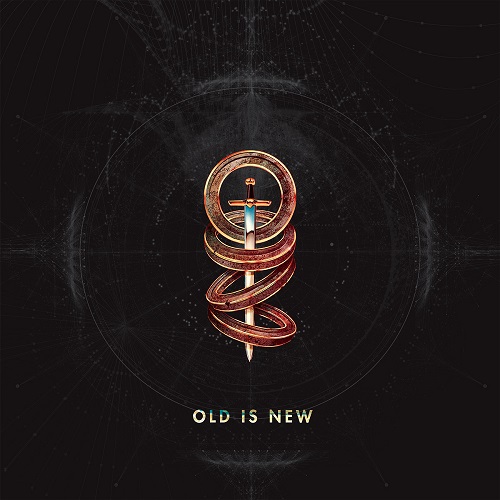 Old Is New
Toto
AOR
Sony Music
2018
CD, LP
10
CD - Legacy /2020/