Molly Hatchet patří do stáda významným jižanských kapel, které na americkém Jihu učinili výrazný otisk do jejich rockové hudební kultury. Nejsem si tak jistý, jestli u nás získali stejný věhlas jako třeba The Allman Brothers Band nebo Lynyrd Skynyrd, nicméně patří i bez nějaké mediální kampaně mezi jejich výstavní zboží. 
První album podle obalu připomíná spíš nějaké staré rytířské mýty s železným jezdcem těžké jízdy, možná vikingského typu a veden designem by asi málokdo hledal v hudbě Molly Hatchet odpíchnutý jižanský rock. Ale svět chce být klamán a tak nastupme do vlaku. Právě odjíždíme.
BOUNTY HUNTER – Správně šťavnatý a odpíchnutý bigbít, který sleduje primární hudební linku, na níž nechybějí mírně přiostřené kytary, pulsující basy a tepající rytmika. Zpěvák má stylově chraplavý vokál a dodává nahrávce zemitost. V mezihře ovšem kytarista vypálí vynikající vyšťavenou jízdu s mrštnými hadovitými tóny a spontánnost dokresluje i hvízdání. Kompozice si neklade žádné nesplnitelné normy a v oné přímočarosti tkví její kouzlo nechtěného.
GATOR COUNTRY – Jak vidno, ve druhé skladbě se nám toho moc nezmění. Rytmika přede ve stejném tempu a postupech, jako v předešlé písni. Občas se zatleská a už tady máme zase mezihru, kde se kytary dostávají do čela s krátkým svižným tématem. Ani stopa po klavíru, varhanách, houslích, foukací harmonice. Zato kytara nabízí novou barvu a zazvoní nám i akustická kytara, třebaže spíše zamlží, než zahraje. Sází se zde opět na sdělnost a nekomplikovanost. Kytarové jízdy mají správnou rychlost a v zatáčkách nehrozí kolize. Všechno se odehrává na jasném terénu a milovník kytarových běhů a jemných hráčských nuancí zrějmě zaplesá. Harmonicky opět nic mimořádného. Výměna čitelných akordů s kytarovými nálety výtečných mlýnků tvoří základ vlastně od začátku do závěru.
BIG APPLE – Rytmus jede ve středním tempu a máme tady odpíchnuté boogie. Dobře se to poslouchá, ale na druhé straně mám pocit, že tenhle model skladby už znám od jiných skupin a když přemýšlím nad tím hudebním motivem… Jakoby si chodili muzikanti vzájemně poslouchat ke dveřím, když se píseň rodila. Opět musím chválit výtečnou kytarovou práci suverénních modelů hry. Stavba skladby mi ale moc originální nepřipadá, oproti předešlým kompozicím změna, ale…
THE CREEPER – Změna přichází i v další písni. Rytmus se nám roztříštil, teď se drolí a ja hledám melodickou zpěvnost. Vychází se tady z celkem čitelného základu, který se schematicky bude opakovat. Přesto je v interpretaci dostatečný prostor pro sebevyjádření a výtečné frázování. Cítím zde mírný opar blues, ale hodně přetransformovaný a také kvílející slide kytaru. Na Johnnyho Wintera nebo Duane Allmana ale přece jenom nedosahuje, přesto je pro skladbu důležitým zdrojem energetického potenciálu, stejně jako forsírovaný vokální projev.
THE PRICE YOU PAY – Hudba nám trochu zprůzračnila. Kytarové nástupy jsou zbaveny zkreslení a víceméně hrají v normálních barvách. Rytmika vaří sice z podobné vody, jako v předešlé skladbě, ale… Konečně! Je tady foukací harmonika a ta zní opravdu hodně přesvědčivě, ale nedostává tolik prostoru, jak by si zasloužila. Hudební doprovod je víceméně předvídatelný. Zdobné kytarové ornamenty září jako nebroušené krystaly a zpěvák je trochu při zdi. Chybí mi u něho více emocionality, ale závěr zní povzbudivě.


DREAMS I'LL NEVER SEE – Začátek skladby zní spíš opatrně s rozezníváním kytarových tónů a vida, taky jsem přicházejí varhany. Moc čitelné ale nejsou. Rozehrávání kytarového tématu je už pro kapelu typické a příznačné. Pozoruhodné akcentování se zajímavým breekem v lichém rytmu. To potěší, když bubeník opustí svoje vyšlapané teritorium a přidá sem více kreativity, což strhne i další instrumentaci. Ale varhany jsou moc v pozadí, jakoby se aranžér skladby tohoto nástroje bál dát mu alespoň jednou větší příležitost a do toho kytarového soundu přinést něco navíc, co osvěží. Jak jinak, kytary jsou řemeslně zručné, zpěvné a poslouchají se víc než dobře. Málo platné, na americkém Jihu hraje na kytaru málem každý druhý a tak to musí být někde poznat.
I'LL BE RUNNING – Zjišťuji, že v téhle hudbě je důležité najít nějaký ústřední motiv, výrazný riff a pak obalit tenhle základ do nějaké látky. Zatím jsem na albu nenalezl nějakou zásadně silnou melodii, a musím konstatovat, že kapela víc než po skladatelské linii, mě zaujala po instrumentální stránce. Zrovna tahle skladba to zcela potvrzuje. Parádní kytarová jízda s pořádným odpichem a opět prostor pro foukací harmoniku.
CHEATIN' WOMAN – málem hardrockový nástup. Kytary mají syrovější a ostřejší barvy. Také zde máme hutný riff, ale hard rock to není. Bicí znějí moc krotce, nevýbojně a společně s baskytarou jsou na můj vkus hodně uzemněné. Ale přídavné sbory znějí dobře a tak po úderných akordech přichází opět kytarové řádění. Myslím, že tahle skladba by mohla mít ambici hitu a pravděpodobně uvízla i na rádiových vlnách. Není ale podbízivá a laciná, má dravé rockové základy. Myslím, že sedí nejen šoférům trucků, ale i na pověstných slavnostech pod širým nebem se při ní dobře tancuje a klátí do rytmu. Na přemýšlení to moc není, ale komu by to v daném okamžiku vadilo?
TRUST YOUR OLD FRIEND – poslední skladba už v lecčems může korespondovat s tím, co po sobě zanechali Allman Brothers Band nebo Lynyrd Skynyrd, i když ti druzí kapánek víc. Kytary jsou krásně vypíchnuté, vzájemně si lezou do zelí a nikdo se nešetří. Tohle je prostě kytarový hudba hned na první pokus. Přesto mi tady chybí pořádné boogie piano, steel kytara a varhany, ale tohle je především kytarová parta. Hrají co je baví a to je hlavní devíza téhle hudby, v níž nikdo nic nepředstírá.
Bohužel, tato sestava nebyla v dalších letech stejná a mnozí členové už opustili tenhle svět. Čtyři hvězdičky dám, ale kdybych se na Molly Hatchet vrhnul cíleněji a nabídli mi podobný model hudby na dalších dvou albech, ubral bych. Možná si zasloužím výtku, že jsem byl vůči nim moc přísný, no tak to cítím. Koncertně silní, ale v nahrávacím studiu se toho zas tak moc převratného nevymyslelo.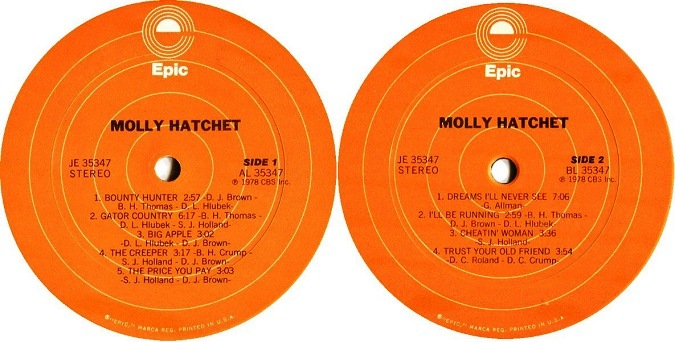 P. S.: Velkým milovníkem Molly Hatchet je mj. frontman pražské skupiny Žlutý Pes – Ondřej Hejma, který mi vlastně kapelu přiblížil. Žlutý Pes od těchto Jižanů něco okopíroval a koncertně nabídl, ale už si nepamatuji co. O Hejmovi si můžeme myslet ledacos, ale anglicky zpívat umí, aniž by to byl nějaký mimořádný zpěvák (je to polyglot a navíc expert zejména na americkou angličtinu), ale na to se tady nehraje. Každý zpívá jak to cítí.
SKLADBY:
1. Bounty Hunter – 2:58
(Dave Hlubek, Steve Holland, Danny Joe Brown)
2. Gator Country – 6:17
(Dave Hlubek, Steve Holland, Banner Thomas)
3. Big Apple – 3:01
(Dave Hlubek, Danny Joe Brown)
4. The Creeper – 3:18
(Steve Holland, Bruce Crump, Danny Joe Brown)
5. The Price You Pay – 3:04
(Steve Holland, Danny Joe Brown, Cecil Berrier, Bob Huckaba)
6. Dreams I'll Never See – 7:06
(Gregg Allman)
7. I'll Be Running – 3:00
(Dave Hlubek, Banner Thomas, Danny Joe Brown)
8. Cheatin' Woman – 3:35
(Steve Holland)
9. Trust Your Old Friend – 3:55
(Duane Roland, Bruce Crump)
SESTAVA:
Danny Joe Brown – vocals
Dave Hlubek – guitar
Steve Holland – guitar
Duane Roland – guitar
Banner Thomas – bass
Bruce Crump – drums
+
Jai Winding – keyboards
Tom Werman – percussion
Thomas Powell – bass
Tom Werman – producer
Frank Frazetta – cover painting
Molly Hatchet
Molly Hatchet
Southern Rock
Epic
1978
LP
9