Axel Rudi Pell, gitarista, ktorý každým novým titulom láme svoj vlastný rekord úspešnosti v oficiálnej hitparáde Nemecka, je u nás dosť zaznávaným umelcom. Ťažko mi hľadať dôvody alebo príčiny. Zrejme nie je každému súdené…
Zoznámil som sa s ním prostredníctvom 2CD kompilácie Long Live Rock'N'Roll od nemeckej firmy SPV, ktorú som kúpil v roku 1997. Z tej kolekcie si ma totálne podmanili dve, pre mňa dovtedy, úplne neznáme mená – americká južanská úderka Molly Hatchet eposom The Journey, a Axel so svojou skupinou, s ktorou práve vydal nový album Magic, tu zastúpený rovnomennou, 9 minút trvajúcou, baladou. V súčasnosti absolútne nepredstaviteľné, aby dnešná mládež vysolila 750,-Sk za CéDé.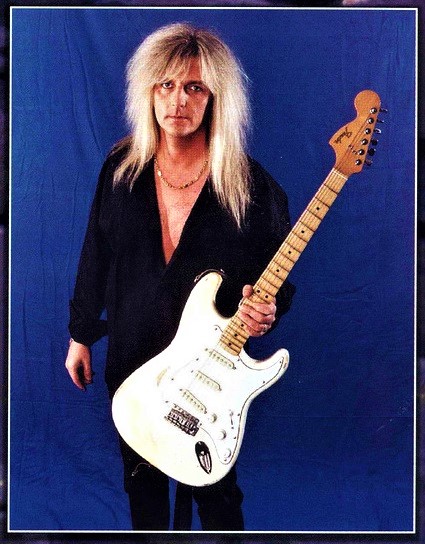 Axel Rudi Pell, milovník hard rocku, ktorého kritici stále tlačia do polohy rodeného metalistu, zrejme kvôli začiatkom v nemeckej úderke Steeler, sa nikdy netajil obdivom k fenomenálnemu gitaristovi z pôvodnej zostavy Deep Purple. Novinári si na tom vedia zgustnúť, a tak sa z Axela stáva blonďatý Blackmore a podobne. Medzi jeho najväčších favoritov sa ďalej radia spolky Black Sabbath, Dio, Free, Led Zeppelin, Rainbow, Scorpions, UFO, Uriah Heep…
Nič na tom, že tento neúnavný skladateľ má na svojom konte množstvo nahrávok. Vraj už nevie, čo od rozkoše, preto vydáva aj čisto baladické diela. Zväčša čítam iba odsudky – plagiátor, napodobňovač, nič nové pod slnkom, stále rovnaká pesnička… A čo by tak mal obdivovateľ zlatej éry hard rocku a heavy metalu priniesť?
Som presvedčený, že jeho baladické eposy mu môžu závidieť aj v tábore takých Wishbone Ash. Pravda, ak ste ochotní prijať trochu tej tvrdosti. Nechce sa mi veriť, že tento blonďáčik, podľa vlastných slov, aj niekoľko mesiacov nezoberie gitaru do rúk, lebo si jednoducho potrebuje oddýchnuť. Zaujímavosťou je, že spolupracuje výhradne s americkými vokalistami, v tomto prípade to bol Jeff Scott Soto. Nie preto, že v Európe by bola núdza o kvalitných spevákoch, ale Američania sú normálni, prirodzení, ľudskí. Skrátka – netrpia hviezdnymi maniermi. Takto to Axel vníma a to je jediný dôvod, prečo hľadá spevácke útočisko za morom.
Zopár viet k samotnému albumu. Magic je chutná hard & heavy nakladačka, z ktorej vypichnem baladické eposy. Titulná kompozícia má prívlastok výnimočná. Prečo? Ak ste nepreskočili úvod, tak Vám to musí byť jasné. The Clown Is Dead trvá dvanásť minút a kapela má dostatok času na všetko možné. Záverečná The Eyes Of The Lost je perlou tohto diela. Čo tu ešte máme? Intro Swamp Castle Overture je doslova magické. Pri rýchlovkách Nightmare, Playing With Fire, Turned To Stone, Prisoners Of The Sea a Light In The Sky mám pocit, akoby sa spojili najlepší konštruktéri stajní Mercedes, Audi, Porche i BMW, pričom im pomáha tajný tromf od Forda vyvinúť čo najväčšiu rýchlosť…
Toľko na adresu nemeckého gitaristu, ktorého obľubujem. Dodnes  som vďačný Kaktusovi, predajcovi z dnes už neexistujúcej prešovskej predajne hudobných nosičov, že ma zlomil a predal vyššie uvedenú kompiláciu. Možno by moje hudobné cesty viedli úplne iným smerom a nikdy by som nezažil fantastickú pohodu pri nahrávkach Molly Hatchet a Axela Rudiho Pella. Díky!
P. S.: Verím, že blonďáčikovi vydrží jeho predsavzatie z minulosti a nikdy nevydá čisto inštrumentálny album.
SKLADBY:
1. Swamp Castle Overture (Intro) – (02:15)
2. Nightmare – (05:18)
3. Playing With Fire –  04:23
4. Magic – (09:23)
5. Turned To Stone – (05:13)
6. The Clown Is Dead – (12:10)
7. Prisoners Of The Sea – (05:13)
8. Light In The Sky – (04:56)
9. The Eyes Of The Lost – (07:03)

Time: 56:04 min.
Producer: Axel Rudi Pell & Ulli Pösselt.
All Music, Melodies And Lyrics Written And Composed by Axel Rudi Pell. 
NOTES:
Recorded and mixed at Ra.Sh. Studio Gelsenkirchen, Germany from January to March 1997.
Some vocals recorded at Ocean Blue Recorders, Los Angeles.
Mastered at Sterling Sound, New York.
ZOSTAVA:
Axel Rudi Pell – guitars
Jeff Scott Soto – vocals
Jörg Michael – drums
Volker Krawczak – bass
Christian Wolff – keyboards 
Magic
Axel Rudi Pell
Heavy Metal, Hard Rock
Steamhammer/SPV
1997
CD
9
CD - Steamhammer ‎– SPV 085-18362 CD /1997/