Americká bluesová scéna konce šedesátých let byla poměrně bohatá na řadu skupin, které vytvářely různé hudební deriváty, vycházející z bluesové formy. Ve snaze přitáhnout na sebe pozornost publika a nahrávacích firem, snažily se vkládat do této hudby různé prvky, které je měly odlišit od těch ostatních, lovících ve stejných vodách.

Pacific Gas And Electric není jenom dvaatřicetipodlažní mrakodrap v kalifornském San Francisku a název společnosti. Byla to také skupina, která vznikla v r. 1968 tamtéž. Svoji hudební orientaci nasměrovala na rhythm and blues a že to nedělali vůbec špatně, byli v r. 1970 v USA vyhodnoceni jako "Nejlepší americká bluesová skupina". Pacific Gas And Electric se dá přeneseně přeložit jako "Usměrněný plyn a elektřina". Kapela to ovšem neměla lehké. Rasističtí fanatici skupině často vyhrožovali a nakonec ji i napadli během koncertu, protože skupina nebyla složena jenom z "bílých" hudebníků. Zůstalo po nich jenom několik alb. To, které teď podrobím recenzi, je obecně považováno za nejlepší. 
BLUESBUSTER – Úvodní skladba se odvíjí ve cválavém tempu a dává pocítit nijak nezastíraný emocionální potenciál zpěváka, v projevu orientovaném až téměř k soulu. Skupina šlape v přesném rytmu a kytarista Schwartz rozehraje úderné kytarové sólo. Na počátek alba docela slibný úvod.
DEATH ROW #172 – Druhá skladba má v sobě jakési vnitřní napětí, které se zračí zejména v pěveckém projevu, doprovázeném dlouhými tóny dechové sekce a smyčci. Hudební složka je koncipována tak, aby nepřekrývala výtečný pěvecký projev, takže nástroje zde nijak výrazněji nevyčnívají, třebaže jim nelze upřít onen dramatický přínos. Práce s dynamikou má prokreslit závažnost sdělení. I když je Allen výtečný zpěvák, svůj vzor – Raye Charlese – nepřekonává.
MISS LUCY – Úderné rockové pojetí blues, tentokrát s kreativními tóny Schwartovy kytary, navozující Micka Taylora v Bluesbreakers. Allen popouští úzdu svým emocím a za Cookovy podpory se mu to daří v tom nejlepším světle.
MY WOMEN – Ukázkové rhythm and blues v tom nejbytostnějším slova smyslu. Výtečné frázování a správně přiostřený vokál s klasickým doprovodem. U tohohle typu hudby, samozřejmě, hodně záleží na tom, jak exponovaný hlas zpěváka osloví posluchače a ne vždy je výsledek přesvědčivý. V tomto případě Charlie Allen splňuje všechna "kritéria" na výbornou. Se stylovou kytarou a všemi následnými atributy je to hudba jak má být.
SHE'S LONG AND SHE'S TALL – Do studiového záznamu je "přimíchán" záznam z koncertu z Fillmore West v San Francisku, který alespoň poodhaluje atmosféru při živé prezentaci. Hillovy hammondky a Schwartova kytara si navzájem propůjčují prostor a zvyšují tak účinnost jejich instrumentálních výkonů.
PACIFIC GAS AND ELECTRIC SUITE: Bezmála sedmnáctminutová suita přináší fúzi jazzu, rocku a blues, kde zainteresovaní hudebníci za asistence smyčců vytvářejí širší instrumentální téma. Bubeník Frank Cook získává prostor pro svoji sólovou exhibici. Jeho jméno si budou možná pamatovat znalci hudby šedesátých let i v jiných souvislostech. V počátcích losangeleských Canned Heat seděl za bicí soupravou v této dnes už legendární skupině. Do jazzového tématu najednou vstoupí v méně výrazné podobě prvky orientální hudby, aby se suita proměnila v rockový základ s kvílívou kytarou, které sekunduje druhá kytara s mírně destruktivními zvuky z pozadí. Závěrečná část suity je hraná na akustickou kytaru. Přináší skutečné klasické blues imitující ranou černošskou variantu, ve stylu tzv. talking-blues s deklamovaným projevem a tak se nám před očima objeví kukuřičný lán, horký tetelící se vzduch a dřevěné nekomfortní baráky se sociálně nejslabšími vrstvami Američanů. A náš pohled na ryzí blues získá jasné kontury.
REDNECK uzavírá album v údernější rockové podobě, v níž Charlie Allen skladbě opět dodává tu správnou tranfúzi energie a evidentně celou kapelu táhne vpřed právě on. Harmonicky nepřináší žádné zásadní překvapení, spíš se drží běžných postupů, kde je posluchačem očekávána a kde víceméně nezklame.
Album se dobře poslouchá, ničím nepopudí, ani neurazí, přesto se nemohu ubránit dojmu, že hlavní těžiště a smysl hudby, kterou Pacic Gas And Electric prezentovali, tkvěl v živých koncertních vystoupeních. Dávám čtyři hvězdičky!
SKLADBY:
1. Bluebuster /C. Allen/ 2:56
2. Death Row #172 /C. Allen, F. Cook, J. Hill/ 3:59
3. Miss Lucy /C. Allen/ 2:28
4. My Women /C. Allen, T. Marshall/ 5:38
5. She's Long And She's Tall /J. L. Hooker/ 6:30
6. Pacific Gas And Electric Suite: 16:41
6. a) The Young Rabbits /W. Henderson/
6. b) Constitutional Strand /B. Block/
6. c) Fat Tom /T. Marshall/
6. d) Boy Wonder /G. Schwartz/
7. Redneck /J. South/ 3:32
SESTAVA:
Charlie Allen – lead singer
Glenn Schwartz – lead guitar
Tom Marshall – rhythm guitar
Brent Block – bass
Frank Cook – drums
+
John Hill – keyboards, producer
Wilton Felder – tenor saxophone
Wayne Henderson – trombone
A.D. Brisbois – trumpet
Freddy Hill – trumpet
Mark Friedman – engineer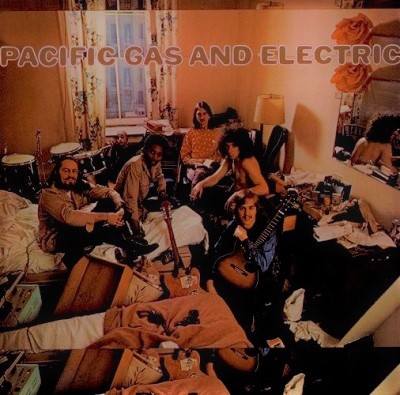 Pacific Gas And Electric
Pacific Gas And Electric
Blues Rock, Jazz Rock, Funk
Columbia
1969
LP
7