CD AMS – AMS133CD /2008/
Venku utěšeně mrzne, jako v Russlandu a to je ta správná chvíle na Winterthrough…
Fabio Zuffanti a jeden z jeho mnoha projektů, třetí díl čtyřdílného cyklu SeasonCycle Suite věnovaného nekonečnému koloběhu "čtvera ročních období". Kytara, basa, buben, dva klávesisté a dechař, zhruba tři čtvrtě hodinky instrumentálního symfonického rocku. A jak už to u těch symfonií bývá, hraje to na jeden zátah. Tedy bez předělů a mezer a kvůli orientaci v tracklistu člověku nezbyde nic jiného, než bedlivě sledovat displej CD přehrávače.
V projektu Hostsonaten se Zuffanti pomalu a jistě přibližuje k tzv. vážné hudbě (důkazem budiž poslední studiové album, Symphony N. 1: Cupid & Psyche z roku 2016) a pro mě je nesmírně obtížné napsat recenzi na takto koncipované a zcela instrumentální album. Jen si zkuste představit libovolnou symfonii, ale bez symfoňáku. Ani tady nechybí velice silné ústřední téma, nádherné harmonie a melodie zároveň a bohaté nástrojové obsazení. A ti, kteří klasické hudbě zrovna neholdují – přesně tak, jako já – nemusí mít strach. On je to totiž, i přes tu barevnou paletu zvuků širokospektrálních kláves a pyšnivé fanfárky dechových nástrojů probleskujících mellotronovou mlhou, pořád ještě rock. A jakej…
Narovinu přiznávám, že jsem se do alba Winterthrough dočista zbláznil a každý jeho poslech si neskutečně užívám. Je to taková hudební terapie a zároveň hojivej balzám pro moje art rocková ouška. Ten zvuk – oproti drtivé většině současné produkce daleko tišší, dynamičtější a "barevnější" – je prostě nádhernej. Koneckonců, velice pěkné je i samotné vydání od AMS. Jak už je u nich dobrým zvykem, v podobě luxusní rozevírací mini vinyl repliky, s obalem i bookletem graficky korespondujícími s hudební náplní alba. Prostě vynikající kousek do každé artrockové sbírky, tedy za pět hvězd.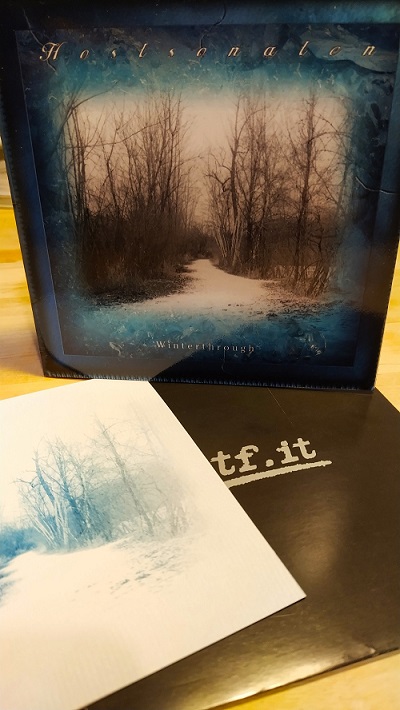 SKLADBY:
01. Entering The Halls Of Winter  10:13
02. Red Sky  3:43
03. White Earth  1:20
04. Snowstorm  3:18
05. Over The Plain  2:04
06. The Crystal Light  6:46
07. Outside  2:18
08. Ruins  2:17
09. Through Winter's Air  1:42
10. Rainsuite (I. Prelude, II. New Year's Theme, III. Winter's End, IV. Celebration / To The Open Fields…)  12:42
SESTAVA:
Matteo Nahum – lead & rhythm guitars
Alessandro Corvaglia – Mellotron, synths (Minimoog, Crumar, Roland, Yamaha), RMI keyboard
Roberto Vigo – grand piano, Hammond, church organ, electric piano, String Ensemble, glockenspiel, horns, sound designer, mixing
Edmondo Romano – soprano saxophone, clarinet, brass
Fabio Zuffanti – bass, bass pedals, rhythm, 12-string & classical guitars, percussion, composer & producer
Maurizio Di Tollo – drums, percussion
NOTES:
Recorded in November / December 2007 at Zerodieci Studio.
Winterthrough (Part III Of SeasonCycle Suite)
Hostsonaten
Art Rock, Prog Rock, Symphonic Rock
AMS
2008
CD, LP
10
CD AMS - AMS133CD /2008/